Published 07-20-22
Submitted by Tractor Supply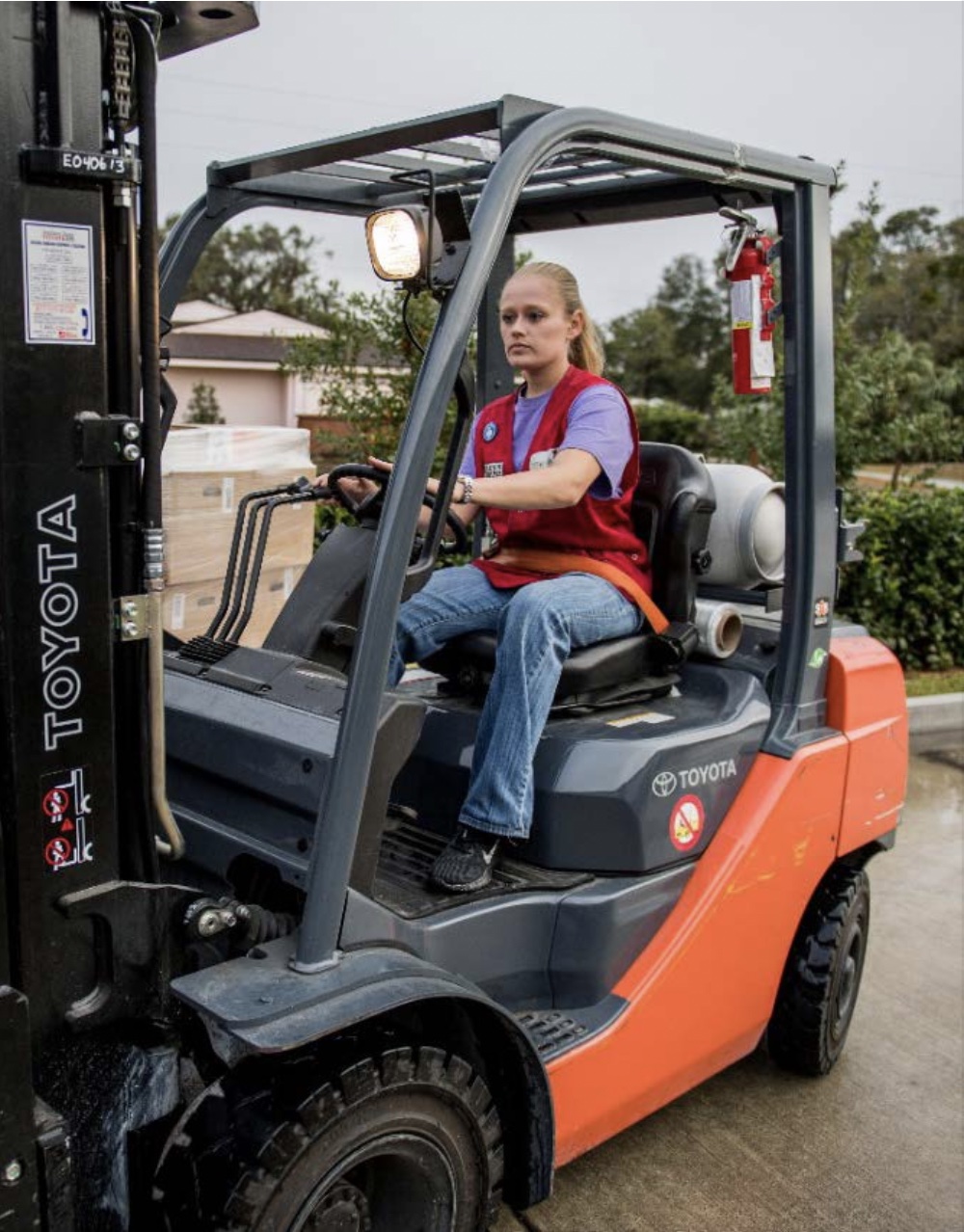 Stewards of Life Out Here: 2021 Sustainability Report
Going the Country Mile for our Team Members
At Tractor Supply, we believe our deep-rooted culture is not just unique; it is the bedrock of our success. Our ability to successfully grow from 200 Stores to over 2,000 Stores in just 25 years is a testament to the durability of our business model and approach for achieving excellence. More than anything, it's about succeeding by doing things and treating people the right way—including the neighbors we serve, the communities where we live and work and, of course, our invaluable Team Members.
Team Member Recruitment
At Tractor Supply, we believe "Your Opportunity is Out Here" and Team Members are our most important strategic asset. We work hard, have fun and make money to win together with a values-driven culture where everyone feels connected, empowerment to serve our customers, community and each other and opportunities for individual and professional growth. Over the last two years, we have created over 13,000 new positions throughout our Stores, Distribution Centers and Store Support Center.
Our peer-to-peer recognition program, "Going the Country Mile" allows Team Members to recognize each other by giving badges. In 2021, we surpassed 1 million badges given since the program's inception in 2015, with over 300,000 badges given in 2021.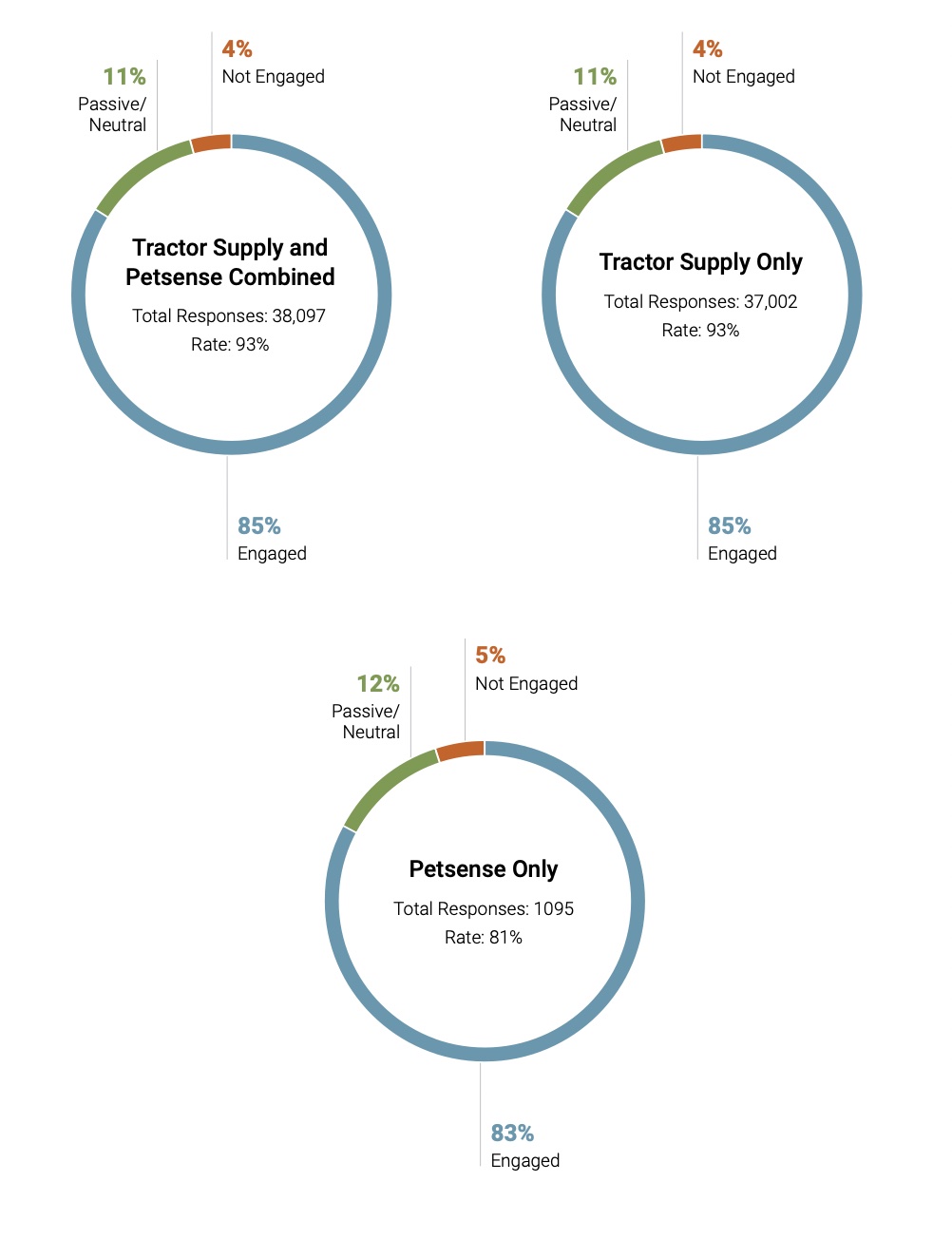 Team Member Engagement
We connect with Team Members to help inform our efforts and ensure we are going the Country Mile for them. We assess Team Member engagement through our annual Team Member Engagement Survey and our favorable scores across the organization are a testament to our culture. In 2021, our survey had a response rate of 94% for stores, 86% for distribution centers and 83% for the Store Support Center. Our Team Member feedback scores place us in the top third or better on most of the engagement categories, compared to our peers. Once feedback has been thoroughly evaluated, leaders cascade results to their department Team Members where they create action plans for the year.
The Team Member engagement score is determined by evaluating Team Member sentiment across these areas:
Energized at work
Overall job satisfaction
Intent to remain employed
Personally committed to Tractor Supply
Talent Development
We are committed to connecting, empowering and growing our Team Members to enhance their lives and the communities where they live, enabling them to provide legendary service to our customers.
Established in 2002, Tractor University provides Team Members at all levels of the organization the opportunity to learn and grow and provides access to additional learning and development resources to further their skills and careers at Tractor Supply.
We actively encourage all Team Members to have an individual development plan and talk with their manager about career aspirations. We encourage growth in job experiences, coaching, mentoring and formal learning through our Tractor University courses.
Over 600,000 hours of training and development completed by our Team Members in 2021.
It all starts with our new Team Member "Tractorization," or company onboarding. All new hires go through a customized orientation that brings the unique culture of Tractor Supply to life. In addition to learning how to perform their job, they learn about our rich history, legacy and our Mission and Values.
Our goal is to ensure that our customers have a legendary experience by ensuring our Team Members have a legendary beginning. In 2021, improvements to our store Tractorization included a new onboarding process that combines time with the manager, e-learning and job shadowing. We also give every new hire a "Training Buddy" who serves as a mentor. These changes created a better experience for our new hires while increasing their confidence, improving their morale and reducing our 90-day turnover rate.
Talent Development and Training
 
Total Team Member Participants*
Total Hours of Training
Stores
273,000
475,000
Store Support Center
2,300
4,100
Distribution Centers
5,700
141,000
* Includes Team Members who participated in more than one training event or program.
Leadership Development
Developing current and future leaders is critical to our success and the achievement of our Life Out Here strategy. We offer leadership development programs for all Team Members, from those in our Store Support Center to those in our Distribution Centers. We have a core set of competencies as well as People Leader competencies that serve as foundations of the curriculum. All courses have a deep focus on practicing our Mission and Values, taking a servant leadership approach and developing the behaviors and skills needed for legendary leadership. We start with our aspiring and emerging leaders and teach them the fundamentals of leadership, taking a personalized approach to developing our leaders.
Leadership Fundamentals is a flagship program for our newly promoted store managers. During this two-day session, new managers hear leadership lessons from the executive team and learn about self-awareness, balance, conflict resolution, the life cycle of a Team Member and how to achieve results through others.
District Learning Centers
In 2021, we established District Learning Centers (DLC), which are top-performing stores that are committed to high quality and consistent training for our Team Members. These stores provide an immersive and welcoming learning environment to effectively develop competencies and skills required for each role.
DLC store managers are leaders among their peers and are individuals other store managers can look to for ideas and suggestions. They are subject matter experts on our processes, and they support the values of Winning Attitude, Communication, Development and Teamwork at the highest levels.
Growing Our Talent
The Merchandise Development Program and Summer College and High School internship programs focus on attracting and retaining early in career talent. We hire over 45 trainees and interns per year and we strive to ensure our development and internship programs are diverse and representative of all communities.
The Merchandise Development Program is an accelerated, rotational training program that introduces our MDP Trainees to the foundations of a retail business. The trainees will apply knowledge gained through participation in classroom, on-the-job, and e-learning activities with the support of a Rotation Manager. Trainees receive an overview of the responsibilities across the Merchandising, Inventory and Planning, Supply Chain, Merchandise Presentation, Marketing, Omni Channel, Product Development and Pricing departments.
Our summer intern program is a 12-week internship that provides interns with professional experience working in our Store Support Center in Brentwood, Tennessee. The interns work alongside Tractor Supply professionals in a variety of areas to make a real impact on our business. They have the opportunity work on projects in a department, get exposure to day-to-day operations and have a successful and meaningful internship.
Internal Promotions
We believe in growing our talent and providing opportunities to grow careers at Tractor Supply. Through skills development and leadership development programs, on the job learning and coaching, we were able to perform over 7,000 internal promotions in 2021. Over 70% of those internal promotions were at the manager level.
Talent Management
Talent Management is about cultivating our talent for future career growth and opportunities. We have processes such as performance management, talent reviews and succession planning with the goal of growing our talent pipelines.
Our performance management process consists of quarterly performance check-ins and an end-of-year performance review.
Our talent review process allows us to assess talent at all levels, plan for succession and differentiate how we invest in development.
Development is one of our Tractor Supply Values. We expect our leaders to teach, coach and listen. We also create an environment where everyone can be a "star." We expect that managers work with all of our salaried Team Members to have an individual development plan which supports this Value.
The foundation for performance and development is our competency model. This model provides six shared competencies across Tractor Supply and three competencies that are for our managers and above. These competencies are aligned and add to the expectations we share in our Tractor Supply Values.
Team Member Value Proposition
Team Members are our top priority at Tractor Supply. We work hard, have fun and make money to win together with: a values-driven culture where everyone feels connected; empowerment to serve our customers, community and each other; and opportunities for individual and professional growth.
View the full 2021 Sustainability Report here.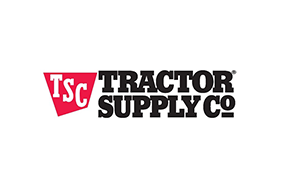 Tractor Supply
Tractor Supply
Tractor Supply Company (NASDAQ: TSCO), the largest rural lifestyle retailer in the United States, has been passionate about serving its unique niche, targeting the needs of recreational farmers, ranchers and all those who enjoy living the rural lifestyle, for more than 80 years.
Tractor Supply offers an extensive mix of products necessary to care for home, land, pets and animals with a focus on product localization, exclusive brands and legendary customer service for the Out Here lifestyle. With more than 46,000 Team Members, the Company's physical store assets, combined with its digital capabilities, offer customers the convenience of purchasing products they need anytime, anywhere and any way they choose at the everyday low prices they deserve. At March 26, 2022, the Company operated 2,003 Tractor Supply stores in 49 states, a customer mobile app and an e-commerce website at www.TractorSupply.com.
Tractor Supply Company also owns and operates Petsense, a small-box pet specialty supply retailer focused on meeting the needs of pet owners, primarily in small and mid-size communities, and offering a variety of pet products and services. At March 26, 2022, the Company operated 178 Petsense stores in 23 states. For more information on Petsense, visit www.Petsense.com
More from Tractor Supply