Published 07-19-22
Submitted by 3M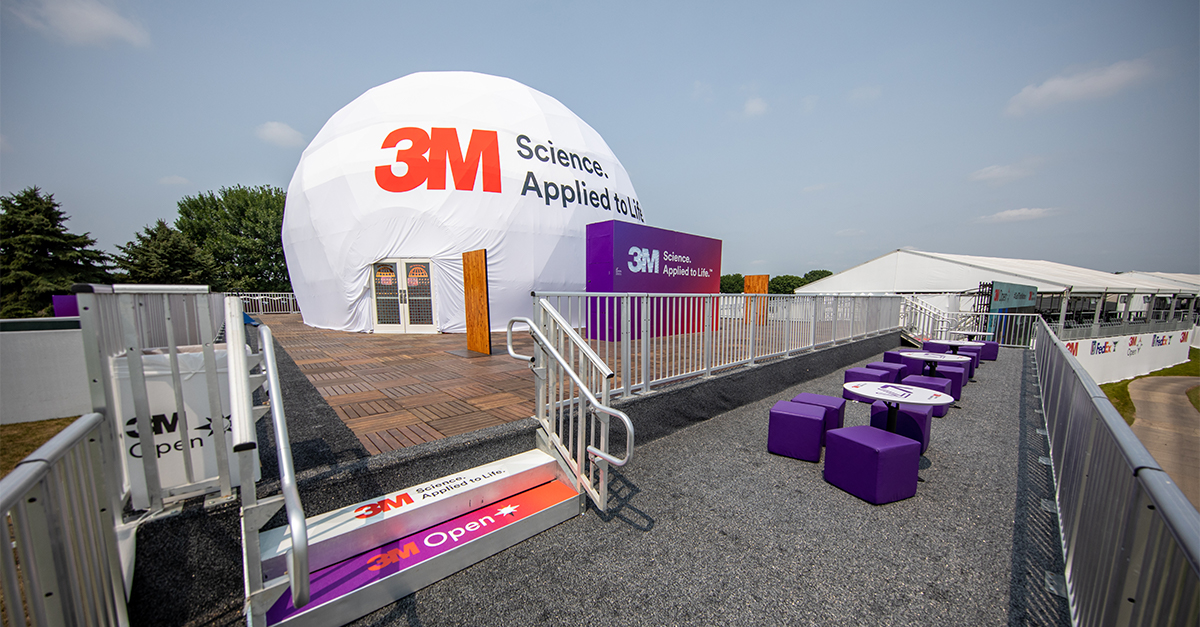 Originally published on 3M News Center
As a company of curious problem-solvers and solution seekers, 3M knows science can help create a brighter world for everyone.
That's why we're focused on "What's Next." with 3M Science as a vital driver – giving everyone who comes to the 3M Open at TPC Twin Cities in Blaine, Minnesota, a chance to experience how science can help contribute to stronger communities, a healthier planet and scientific advancements.
"The 3M Open is 7,468 yards of 3M Science," said Collin Hummel, 3M senior manager of brand sponsorships. "3M is all over the course, from the moment fans arrive to on the tee boxes with the TOUR golfers. We're able to use our products to put on a tournament – not only to highlight our company, but to support a successful event and enhance the fan experience with hands-on and experiential moments that give people a chance to interact with our products and technologies."
Tournament attendees will have plenty of moments July 18-24 to experience 3M Science first-hand, through more than 50 physical and digital activations that show the many unexpected ways 3M Science improves lives.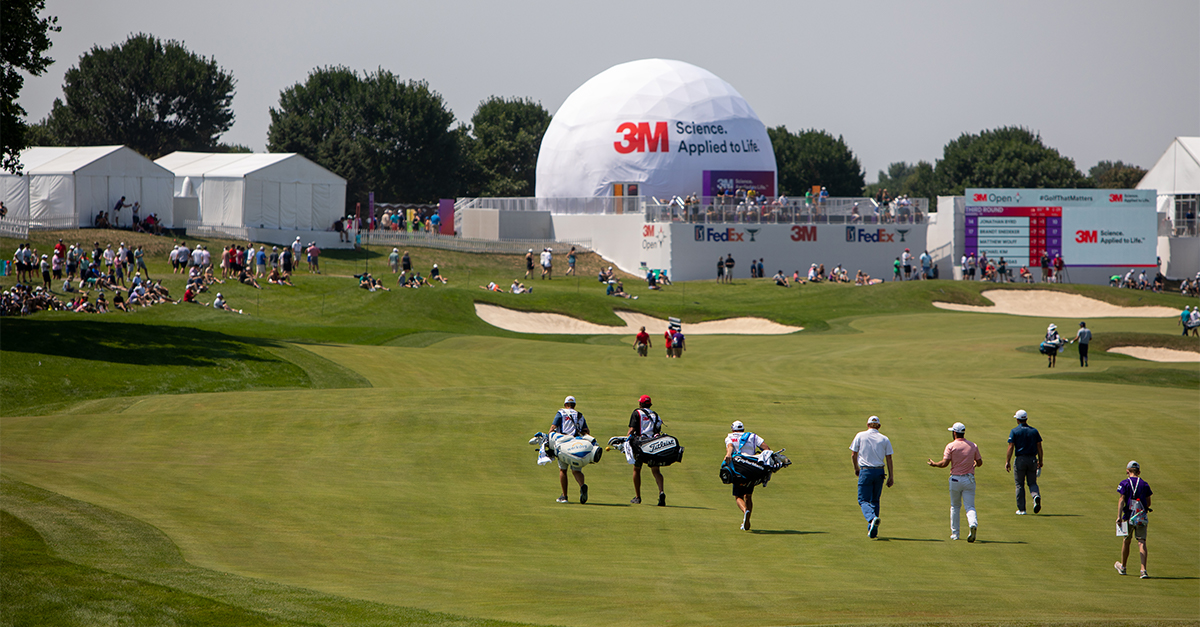 Dome, sweet dome
The 3M Science Dome, located in the TPC Fan Village, is 3M's main area for fans to experience "What's Next." Before they even set foot inside the approximately 1,200-square-foot dome, visitors will experience 3M Science in the entrance tunnel that incorporates 3M™ Flexile Acoustic Material, commonly used in automotive design to effectively manage noise and vibration. Just before entering the dome, visitors will be greeted by a welcome video message from actor Josh Duhamel, hidden behind 3M™ Sensor Camouflage Film.
Inside the dome, fans will experience a 360-degree video, "The Impossible, Possible World," a four-minute inspirational short film that shows how humanity continuously overcomes the impossible and redefines what's possible. Other video content will feature the M Health Fairview Masonic Children's Hospital music therapy program, which 3M supported with room décor and equipment upgrades, plus live 360-degree video from tee boxes on the course, and more.
The 3M Science Dome is also full of stations for fans to explore, including:
A 36-inch, 3D-printed scale replica of NASA's Artemis mission rocket. The model was printed using 3M™ Glass Bubbles and is filled with glass bubbles. Visitors can touch and hold the model to experience how incredibly light the material is. The glass bubbles aren't just for models, though: NASA's 1.25-million-gallon liquid hydrogen tanks store rocket fuel for launches and use 3M's glass bubbles as insulation.
The 3M™ Littmann® CORE Digital Stethoscope goes to the heart of matters, showing guests how this award-winning digital technology helps to elevate telemedicine to a new level – including the potential to monitor astronauts' heartbeats in space. Visitors can use the stethoscope to create and keep a digital recording of their own heartbeat.
Three forms of robotics will be featured in the 3M Science Dome. The new RoboTape™ System for 3M™ Tape, an automated solution for industrial manufacturers with tape applications that require precision, high volume and production speeds that can't be achieved manually. Visitors can watch the RoboTape System create and apply tape in interesting shapes and designs. A FANUC robot will also be on display with an iPad that visitors can use to draw shapes for the robot to mimic. Spot, the Boston Dynamics "robodog," will make a guest appearance in the Dome and occasionally be seen walking around the TPC Fan Village July 21 and 22.
Post-it® Notes have been around for over 40 years. Did you know they also come in digital app form? Science Dome visitors can see this ubiquitous physical product's upgrade for the digital world.
The 3M Magic Mirror uses 3M™ Advanced Polarizer Film, a technology that helps visitors "pose" for photos with their favorite PGA TOUR player.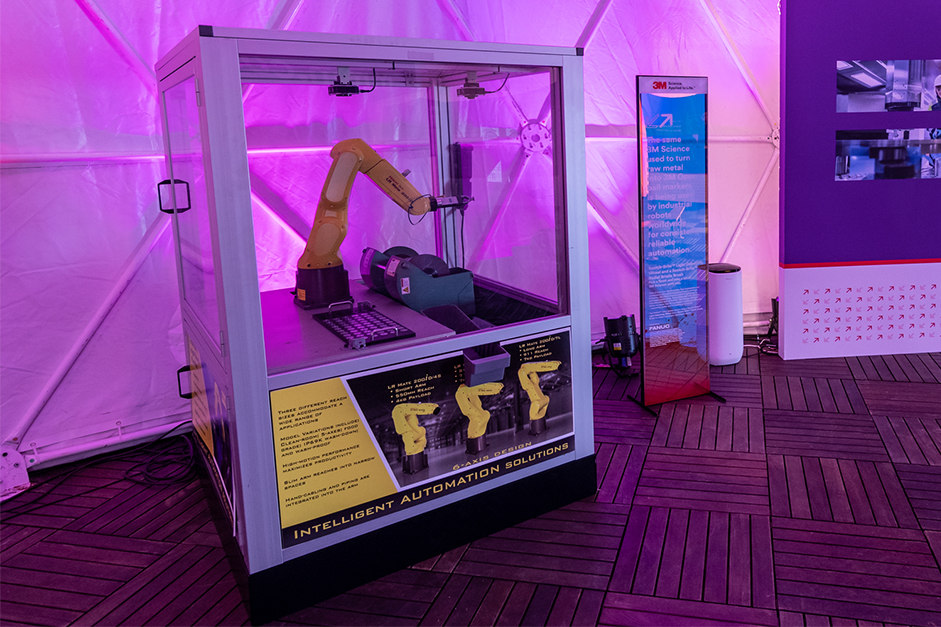 Sustainability solutions
3M sustainability exhibits will help spectators see how they can be more sustainable in their everyday lives. These experiences will be near the TPC Fan Village and high traffic areas around TPC.
A few of the notable sustainability activities include:
New 3M™ Biobased Fabric for compostable materials will be used in the Fan Village to help minimize waste and promote composting.
Two shade stations featuring 3M™ Passive Radiative Cooling Film and 3M™ Sun Control Prestige Series Film will be located at shuttle lots stops to help keep eventgoers comfortable while they wait for shuttle rides back to remote parking lots when they leave TPC. Sun control films are one of six innovative building technology finalists being evaluated by the U.S. General Services Administration's Green Proving Ground (GPG) program.
3M™ Thinsulate™ Featherless Insulation is featured in an interactive display case in the Fan Village. Fans can insert empty plastic bottles into the case for recycling and see how many bottles are offset from landfills by the Thinsulate Featherless Insulation used in the jacket on display.
In addition, specially trained sustainability volunteers will be stationed around the course to answer fans' questions and help them understand their sustainability options at TPC and broader actions the tournament is doing related to sustainability.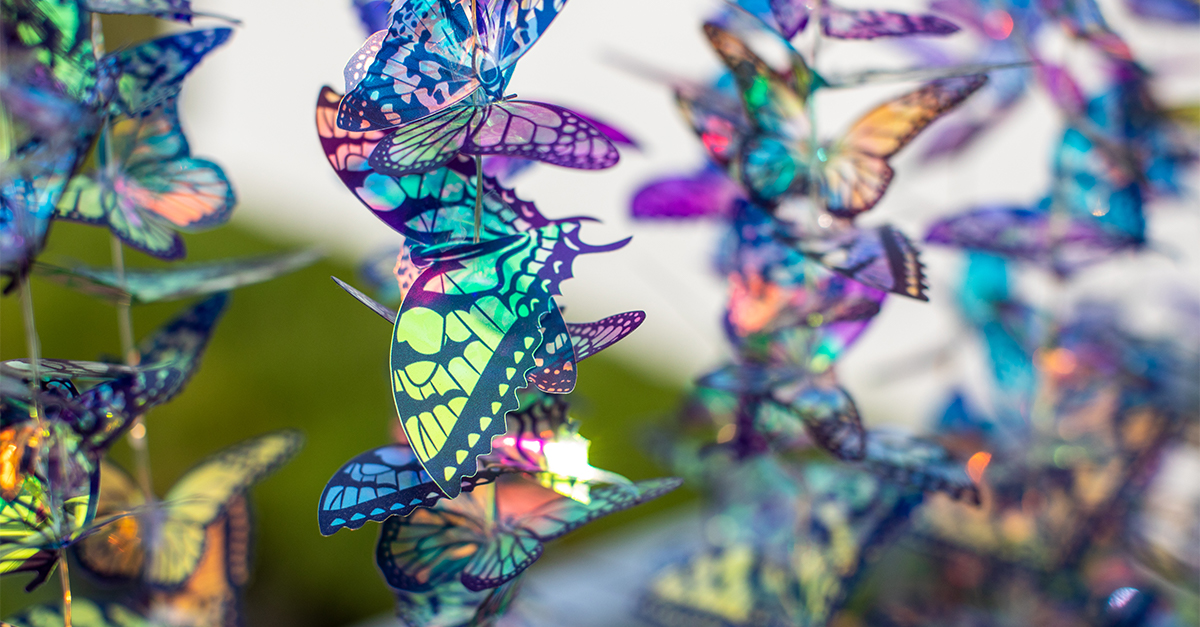 Around the course
Of course, event goers will see many familiar 3M products and brands featured in ways ranging from practical to playful. Some examples include:
A mini golf course near the tournament entrance, featuring replicas of course holes 2, 7, 9, 14, 17 and 18. The mini golf course is sponsored by 3M's Consumer Business Group and showcases 3M home and office products in fun and unexpected ways.
The butterfly wall – thousands of color-shifting butterflies made of 3M™ Dichroic Film – is a popular selfie spot that returns to TPC this year near the entrance.
Floating chairs suspended on glass, plastic, metal and wood surfaces with 3M™ VHB™ tape, plus a swing set in the Fan Village and bench swing in the Northwoods held together by 3M™ Scotch-Weld™, are interactive examples showing the functionality of 3M structural adhesives, while also providing event goers with spots for relaxation and recreation.
Who can resist a goo wall? Located just outside the 3M Science Dome, this interactive display allows visitors to activate a stream of goo that runs down the artwork inside the encased display. The goo slides down but doesn't stick, and a 3M Open logo appears.
The Symphonic Swing is a percussive art installation that commemorates 3M's support for the M Health Fairview Masonic Children's Hospital music therapy program, a major giving/charity activation for this year's 3M Open. This 32-feet by 8-feet interactive, walk-through display is made of 52 golf irons attached to chimes tuned to the natural keys of a piano. The fixture is assembled with 3M™ Scotch-Weld™ Epoxy Adhesive DP420 and it uses 3M™ Sound Damping Foils on the club heads to improve the tone of the ring and lower the volume so the chimes don't disrupt the tournament. The Symphonic Swing will be donated to a non-profit organization after the 3M Open.
With temperatures forecasted in the 90-degree range during the 3M Open, hydration will be important for fans' comfort and safety. 3M's Separation and Purification Sciences Division and Elkay are teaming up again this year to provide complimentary refillable water bottles and filtered drinking water at the event. After the 3M Open, the drinking water systems will be donated to Stepping Stone, an organization that provides shelter, unique programming and support to adults experiencing homelessness.
For more information about the 3M Open, including playing field updates, ticket packages and prices, parking information and more, visit www.3mopen.com.

3M
3M
About 3M
At 3M, we apply science in collaborative ways to improve lives daily as our employees connect with customers all around the world. Learn more about 3M's creative solutions to global challenges at www.3M.com or on Twitter @3M or @3MNews.
More from 3M