Published 07-18-22
Submitted by Yum China
Yum China, the largest restaurant company in China, has upgraded its food safety management practices with a series of new digital initiatives deployed along the supply chain. The efforts are part of the company's strategy to integrate advanced digital and intelligent technology into every aspect of its business and support its vision to become the world's most innovative pioneer in the restaurant industry. The use of cutting-edge technologies enables Yum China to combine traditional control measures with real-time data collection and analysis, key process visibility, and deviation rectification, improving the efficiencies and timeliness of its safety management strategy.
In 2021, Yum China launched a Supply Chain Data Integration (SCDI) platform that is transforming the way it manages food safety through advanced digital technologies such as artificial intelligence (AI). With SCDI, the company can visualize the supply chain process and accurately locate and trace batches of purchased goods from all channels, ensuring the transparency of upstream raw material information. Additionally, SCDI enables more accurate risk management through visualized supply chain KPI aggregation and improves supply chain risk perception, strengthening Yum China's supply chain resilience.
Intelligent Food Safety (iFS) codified Yum China's long history of food safety and quality management experience, and integrated internal and external food safety big data. iFS uses technologies and algorithms including Knowledge Graphs, natural language processing, and named entity recognition. As a scientific and machine learning-based artificial intelligence tool, iFS can significantly improve Yum China's ability to identify potential risks, enabling rapid assessment and proactive risk prevention.
eQA enables online management of the entire value chain from farm to fork and can automatically verify regulatory compliance for food additives used in raw materials. It greatly increases Yum China's capabilities and efficiency in managing suppliers and their products. iQA is a critical part of Yum China's intelligent supply chain management. iQA divides the production process into seven data modules and defines control points within each module. During the production cycle, key data are transmitted to the system in real-time. By 2021, Yum China has rolled out iQA in more than 200 suppliers' plants.
Meanwhile, real-time temperature monitoring in the logistics cold chain is essential to ensure the food safety and quality of Yum China's products. For this reason, Yum China logistics has built a comprehensive real-time cold chain monitoring system. The company's round-the-clock digitalized cold chain management system integrates the Internet of Things (IoT), big data, cloud computing, and other cutting-edge technologies, to safeguard food safety.
Food safety is Yum China's top priority and one of the company's key sustainability commitments. The company has not only implemented a standardized food safety system in every restaurant, but also ensures that all its suppliers comply with relevant laws, regulations, and Yum China's food safety standards.
To learn more about Yum China's sustainability commitments and progress towards its sustainability goals, read the 2021 Sustainability report here.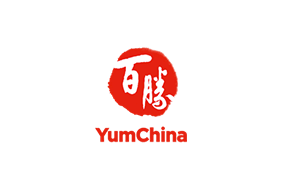 Yum China
Yum China
About Yum China Holdings, Inc.
Yum China Holdings, Inc. is a licensee of Yum! Brands in mainland China. It has exclusive rights in mainland China to KFC, China's leading quick-service restaurant brand, Pizza Hut, the leading casual dining restaurant brand in China, and Taco Bell, a California-based restaurant chain serving innovative Mexican-inspired food. Yum China also owns the Little Sheep, Huang Ji Huang, East Dawning and COFFii & JOY concepts outright. In addition, Yum China has partnered with Lavazza to explore and develop the Lavazza coffee shop concept in China. The Company had over 12,000 restaurants in over 1,700 cities at the end of February 2022.
In 2021, Yum China ranked # 363 on the Fortune 500 list and was named to TIME100 Most Influential Companies list. Yum China has also been selected as member of both Dow Jones Sustainability Indices (DJSI): World Index and Emerging Market Index. In 2022, the Company was named to the Bloomberg Gender-Equality Index and was certified as a Top Employer 2022 in China by the Top Employers Institute, both for the fourth consecutive year. For more information, please visit http://ir.yumchina.com.
More from Yum China