Published 07-08-22
Submitted by WSP

By James Peet
Why focus on ports?
The maritime sector plays a major role in the global economy, transporting a high volume of freight around the world. As such, maritime, and ports in particular, are a visible part of transport decarbonization discussions. However, the sector is responsible for only 2.9 percent of global greenhouse gas emissions1 and moves freight with some of the lowest carbon emissions per tonne.kilometre (t.km)2 of any transport sector.
Maritime emissions are expected to increase as global trade grows and other sectors decarbonise. Therefore, the sector will need to decarbonise. To drive this change, the International Maritime Organisation (IMO) has set a carbon intensity reduction target (emission per t.km of freight) of 40 percent, based on a 2008 baseline, by 2030.
Although freight handling in ports only accounts for a small proportion of the emissions from the freight movement chain, port's shore-based assets are attracting attention in light of the IMO target. This, combined with local policies and legislation, means there is added stakeholder pressure on ports to reduce their emissions from operation and construction.
Decarbonising Construction
Ports have already been decarbonising their operations. Containerisation and today's state-of-the-art automated systems have minimised the number of times freight is moved within the port, resulting in improved margins and thereby supporting emissions reduction. The same motive has also driven more energy-efficient handling equipment, and, more recently, the electrification of equipment. These trends are expected to continue and combine with other trends—including the roll-out of renewable energy and broader state-level electricity grid decarbonisation—to deliver zero-carbon port operations.
For this reason, the proportion of emissions generated from port construction is an increasingly larger component of the whole-life-carbon impact of a port. With construction already estimated to be up to 40 percent of the whole-life-carbon footprint of some ports, construction emissions are clearly material to the sector. Heightened attention to port construction emissions derives from an increased focus on construction emissions more generally, and in particular during project consenting, which has become more challenging on climate grounds in some jurisdictions. Therefore, it is essential to consider construction decarbonisation during port design and construction.
Following a Clear Path
Fortunately, there is a global standard for reducing emissions during the design and construction of infrastructure–PAS 2080.
This standard provides a breakdown of responsibilities and activities that all members of the value chain need to assume so they can jointly deliver the decarbonisation of infrastructure. It is relatively straightforward to apply the PAS 2080 framework to the port context. The key elements of this process are as follows:
Leadership to drive the decarbonisation of the project
Decarbonisation targets agreed by stakeholders
Identification and implementation of carbon reduction interventions across the construction value chain
Monitoring and reporting of emissions against the decarbonisation targets
Governance to implement the process
One of the most important concepts employed by PAS 2080 is the carbon-reduction hierarchy. This is a useful framework within which to consider how to reduce emissions from ports.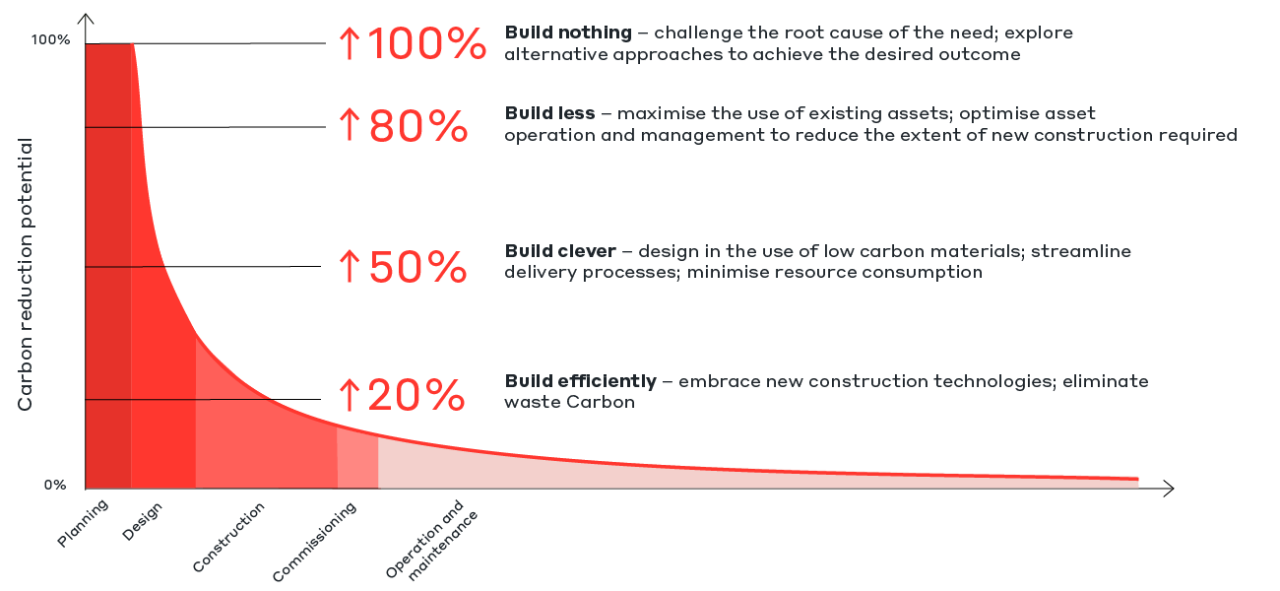 Putting Process Into Practice
Each port is different; however, there are a number of common approaches to carbon reduction that are relevant to the design of any port.
BUILD NOTHING - Is it possible to provide the same port capacity in another way so that new port infrastructure is not required?
BUILD LESS - Is it possible to reuse existing port infrastructure (such as a quay wall)? or is it possible to site a port near a deep-water channel to minimise dredging?
BUILD CLEVER - Ports often require large quantities of concrete and steel. Is it possible to minimise these materials through modern stacking systems? Is it possible to use alternatives such as timber in appropriate settings (such as warehousing)? Can lower-carbon versions of the steel and concrete be used (such as cements with large quantities of recycled and secondary content)?
BUILD EFFICIENT - Can offsite and modular construction techniques be used? Can electric plants be used? For plants harder to decarbonise, such as dredgers, will it be possible to use biofuels, or, in the future, hydrogen?
While there is increased scrutiny on the climate action of the maritime sector, and port construction in particular, there is also a clear path for reducing emissions generated from the construction of infrastructure projects. By utilising the PAS 2080 process in the port context - to identify where emissions from port construction come from and what pragmatic solutions can be applied - ports can reduce emissions, delivering an enhanced licence to operate within an evolving context.
1 Fourth Greenhouse Gas Study 2020, International Maritime Organization, (IMO)
2 A tonne.kilometre (t.km), is a unit of measure of freight transport which represents the transport of one tonne of goods (including packaging and tare weights of intermodal transport units) being transported a distance of one kilometre.

WSP
WSP
WSP is among the world's largest environmental, engineering, advisory and sustainability consulting firms, with more than 55,000 professionals worldwide. We design lasting solutions in the buildings, transportation, energy, water and environment markets, and develop equitable, ESG-centered strategies that help organizations and communities adapt to changing conditions and become more resilient. Reckon with the past. Innovate for the future. Learn more at wsp.com.
More from WSP