Published 07-07-22
Submitted by HP Inc.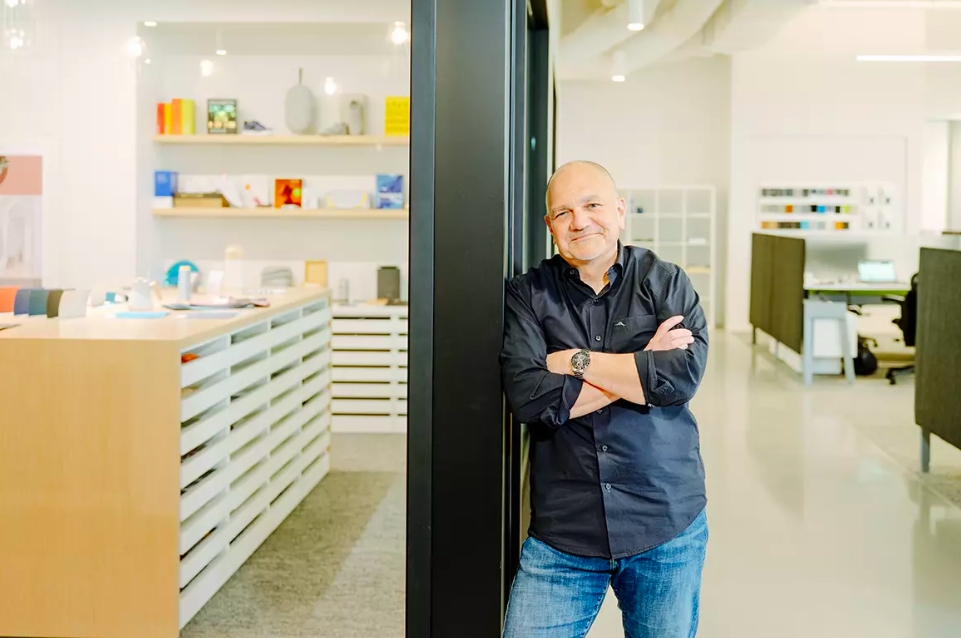 In a conference room at HP's Silicon Valley campus, a cornucopia of materials is placed all around. On the table and walls are swatches in fashion-forward colors (teal green, scarlet, rose gold) and novel textures (mycelium foam, crushed seashells, recycled rubber from running tracks, fabric from recycled jeans). Even more unexpected: pairs of high-end athletic shoes, and lots of them; luggage and backpacks, teapots and totes; stacks of gorgeous coffee-table books on topics ranging from furniture to architecture — all to inspire the look and feel of devices that HP has yet to imagine.
Being able to touch, test, and debate about these items in person is part of the process, a creative collaboration Global Head of Design & Sustainability Stacy Wolff and his talented team of designers are grateful to be able to do side by side again inside their light-filled studio in Palo Alto. With each iteration of an HP laptop, desktop, or gaming rig, they endeavor to push the bounds of sustainable design while offering consumers a device that they're proud to use each day.
For the last few years, HP's design work has gained recognition, evidenced by the studio's gleaming rows of awards. But there's not a single name listed on any of them. "Everything we do is by collective effort. We win as a group, and we lose as a group," says Wolff. "If you won an award, someone else had to do maybe a less glamorous job to give you the freedom to do that."
The team of 73 creatives in California, Houston, and Taipei are from backgrounds as varied as design, engineering, graphics, anthropology, poetry, ergonomics, and sports journalism. There's one thing they have in common, though. Disagreements are dealt with by amping up their communication and doubling down on what they know to be their source of truth. "If we let the customer be the North Star, it tends to resolve almost all conflict," Wolff says.
HP's head of design has led a massive shift in how HP approaches design since its split from HPE in 2015, steering the company toward a more unified, yet distinct, visual identity, and a willingness to experiment with both luxury and mass-market trends. Wolff's team is responsible for delivering the award-winning HP Spectre and ENVY lines, including the HP Spectre 13 (at the time of launch, hailed as the world's thinnest laptop); the HP Spectre Folio (the first laptop with a leather chassis); the HP ENVY Wood series (made with sustainably-sourced, genuine wood inlays); and the HP Elite Dragonfly (the world's first notebook to use ocean-bound plastic). Among the honors: In 2021, HP received seven Green Good Design Awards from the European Centre for Architecture Art Design and Urban Studies and the Chicago Athenaeum: Museum of Architecture and Design.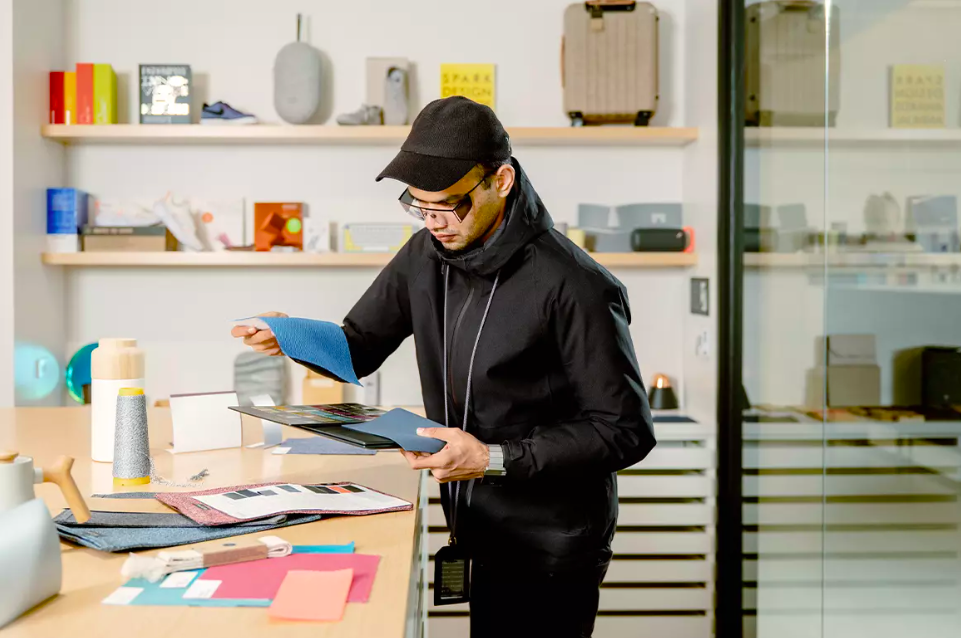 Today, Wolff and his team are in their recently outfitted studio, which opened late last year in HP's Palo Alto headquarters. In the common areas, there is an inviting atmosphere of warm wood and soft, textured surfaces. Designers are tapping away at their keyboards, breaking off to share quick sketches and notes in an informal huddle around a digital whiteboard. In the gallery — an airy space that looks a lot like an upscale retail store — foam models, proof-of concept designs, and an array of laptop parts, keycaps, speakers, and circuit boards are splayed out on stark white countertops. Light from the courtyard pours in from the floor-to-ceiling windows.
"The studio has become a home," says Wolff, who's been with the company for 27 years. "When you think about a house, where does everybody go? Where is the love, and creation, and the stories being told? All that is shared in the kitchen."
Granted this kitchen also has a really, really nice espresso maker.
The new space, like the kitchen, bubbles with energy and fuels the collaborative process, which was somewhat stifled when everyone was working remotely. "Creativity is a magical thing," Wolff says. "That's why it's so important to design in a common space. We took for granted the process of organic product development. When you work from home, it becomes almost serial development. There's no serendipity."
After months of improvising the tools they needed to work together, the team finds that being back in the office is where they can be most creative and efficient. "Designers are very hands-on," says Kevin Massaro, vice president of consumer design. "Everything in the studio is tactile."
Yet, the time spent working remotely produced valuable insights that are informing future products, such as a PC camera disaggregated from the monitor so it can be manipulated to capture something on a person's desk (like a sketch); super-wide-screen displays with integrated light bars that offer a soft backlight for people working late at night; and monitors that adjust to taller heights, to better accommodate a standing desk.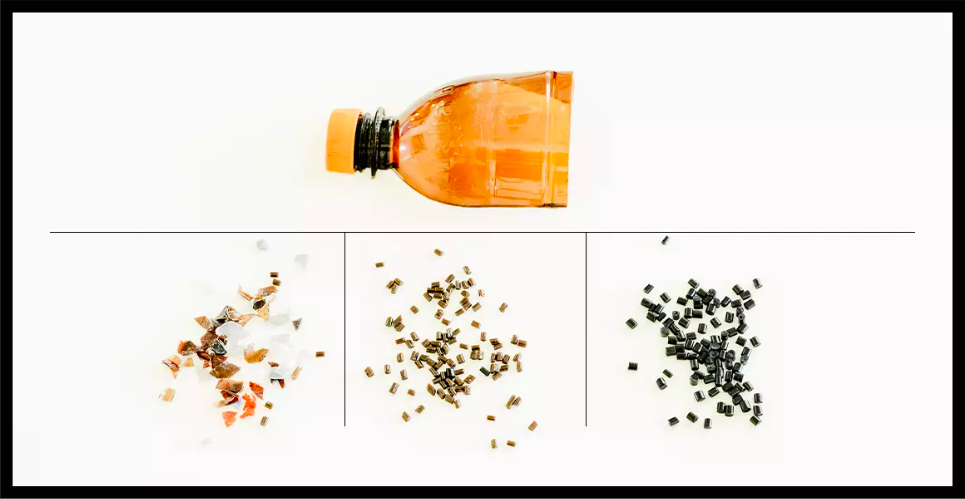 In recent years, the team has also turned its sights toward defining — and redefining — what sustainable design means for HP. In 2021 HP announced some of the most aggressive and comprehensive climate goals in the technology industry, bringing new complexity — and new gravitas — to what Wolff and his team are aiming to accomplish.
"You're no longer just a company that's manufacturing technology, you're a company that's helping to better people's lives," Wolff says. Working toward HP's goal to become the most sustainable and just technology company is less about integrating greater percentages of recycled materials into new products, and more about an accounting of the entire life cycle of a device, from the electricity used over its lifetime and the minerals mined for its batteries, to the chemicals used in its painted powder coating and what exactly happens to a product when returned for recycling.
When a customer opens a box made of 100% recycled molded fiber packaging to reveal the premium Elite Dragonfly PC, which made waves for being the first notebook with ocean-bound plastic, that's where this team's efforts become tangible.
The Dragonfly isn't only a triumph of design, it proved that circularity can be an integral part of mass-manufacturing for personal electronics. The third generation of that same device, released in March (see "How the HP Elite Dragonfly Took Flight," page 36), raised the bar for battery life and weight with a new process that fuses aluminum and magnesium in the chassis, the latter of which is both lightweight and 100% recyclable.
This was a feat of engineering alchemy, says Chad Paris, Global Senior Design Manager. "Not only do you have different properties of how these metals work together, it was a challenge to make sure that it's seamless," he says. The team innovated and came up with a thermofusion process that lends a premium feel to the Dragonfly while keeping its weight at just a kilogram.
This inventiveness dovetails with Wolff's pragmatic approach to sustainability. Not only does each change have to scale for a manufacturer the size of HP, it has to strike the right balance between brand integrity and forward-leaning design. "We can take waste and make great things," Wolff says, gesturing at a pile of uniform plastic pellets that used to be a discarded bottle. "But ultimately, we want our products to live longer, so we're designing them to have second lives."

A sustainable HP notebook, no matter what materials it's made from, needs to look and feel like HP made it, says Sandie Cheng, Global CMF Director. The CMF (colors, materials, finishes) library holds thousands of fabric swatches, colored tiles, and paint chips and samples, which Cheng uses as inspiration for the look and feel of fine details such as the touch pad on a laptop, the smooth glide of a hinge, or the sparkle of the HP logo peeking through a laser-etched cutout.
Cheng and her team head out on scouting trips to gather objects from a variety of places and bring them back to the studio, composing their own ever-changing mood board. In the CMF library, there are Zen-like ceramic-and-bamboo vessels picked up from an upscale housewares boutique in San Francisco alongside scores of upholstery samples in chic color palettes, hunks of charred wood, and Nike's Space Hippie trainers.
Most of these materials will never make it to production, but they offer up a rich playground for the team's collective imagination. Foam made from mycelium (i.e., fungi threads) is an organic material that can be grown in just two weeks. Perhaps one day it could be used as material to cover the Dragonfly chassis, even if right now it couldn't survive the daily wear and tear we put on our PCs. Or its spongy, earthy texture might inspire a new textile that lends a softer feel to an otherwise hard-edged device on your desk.
"We as designers have to think outside the box to stay creative and inspired, but we also have to develop materials that can be used for production," Cheng says. "It's a balance of staying creative and also being realistic."
The same holds true for how the materials are made. Manufacturing with fabric is notorious for producing massive amounts of waste because of the way patterns are cut, but HP wants to change that with its own soft goods, such as the HP Renew Sleeve. It's made with 96% recycled plastic bottle material, and importantly, the 3D knitting process used to make the laptop sleeve leaves virtually zero waste, generating only a few stray threads.
Earlier this month, Cheng and her team went to Milan, Italy, for fresh inspiration. They attended Salone del Mobile 2022, one of the industry's largest textile, furniture, and home design trade shows, to get a sense of the big design trends of the next few years, including what Cheng calls "the centered home," which evokes feelings of comfort, coziness, and calm.
She explains that the blurring of work and life means that what consumers want in their next device, whether it's one issued by their company or selected from a store shelf, is something that looks and feels like it fits into their personal spaces. "Your PC should be really versatile and adapt to whichever environment you're in and how you want to use it," she says.
Consumers also want to feel good about their purchase, which increasingly means choosing brands that care for the finite resources on our shared planet. A 2021 report by research firm IDC found that 43% of 1,000 decision-makers said sustainability was a critical factor in their tech-buying choices.
As the Personal Systems designers charge ahead into a sustainable future — whatever it brings — they'll surely do it in their iterative, measured, and collaborative way.
"When it comes to sustainability, it's all about forward progress, and everyone's job is a sustainability job," Wolff says. "As founder Dave Packard said, 'The betterment of our society is not a job to be left to the few. It's a responsibility to be shared by all.'"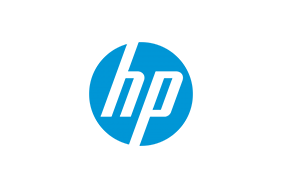 HP Inc.
HP Inc.
HP Inc. creates technology that makes life better for everyone, everywhere. Through our portfolio of printers, PCs, mobile devices, solutions, and services, we engineer experiences that amaze. More information about HP (NYSE: HPQ) is available at www.hp.com.
Sustainable Impact at HP, Inc.
Sustainable Impact is our commitment to create positive, lasting change for the planet, its people and our communities. Click here for more information on HP's Sustainable Impact initiatives, goals and progress.
More from HP Inc.