Published 07-06-22
Submitted by DOW
By Jim Fitterling
Living your values during a season of success can feel simple. In the face of challenges, however, it can be far more difficult. The last 125 years have presented their fair share of both. What matters most in these moments is less the result of our efforts, but more so our willingness to keep moving forward no matter the challenge.
We should always remember that today is the result of yesterday's resilience.
That's important because today is a remarkable day for Dow, and for our employees across the globe.
Today, we celebrate Dow's 125th Anniversary.
This is a unique achievement.
The average lifespan of a U.S. S&P 500 company today is only 15 years. Very few companies can lean into the equity of being 125 years old.
And time and time again, I see exactly why we made it this far: hard work, determination, and an unwavering allegiance to our core values: integrity, respect for people and protecting our planet. Advocating for what is right – for our culture, for our customers, for our communities – has never gone out of style. In fact, it provides the basis for us to move forward and create solutions to the world's biggest challenges and help transform the world for the better.
Our heritage, team, and purpose have all played different but equally important roles in building the last 125 years at Dow. And they will continue to strengthen us through the next 125 years.
DOING IT BETTER
Many fondly share this quote from our founding father H.H. Dow, "If you can't do it better, why do it?"
And simply put, we don't. We have spent more than a century establishing a foundation that is a catalyst for something more.
"Today, and every day, we are actively laying the groundwork for the next 125 years of technological advances that will transform our lives and our world."
We imagine better.
The genesis of this phrase underscores our vision, our core mission and values. Inspired by our Seek Together brand line and philosophy, this sentiment allows us to boldly harness the wonder of the future.
Our 125 years of experience comes with responsibility and opportunity to address new or growing challenges.
Capturing the combined power of science and sustainability to propel innovations in both products and systems— we are partnering across the value chain to accelerate our growth while committing to multi-decade targets to put us on a path to achieve carbon neutrality and eliminate plastic waste.
Today, and every day, we are actively laying the groundwork for the next generation of technological advances that will transform our lives and our world.
WHAT DOES THE FUTURE HOLD?
Imagining a better future means creating a more sustainable and equitable next world.
It means continuing to cultivate a culture of ingenuity – in an inclusive environment – to challenge the status quo and partner with others around a shared purpose.
From innovation to customer experience, and sustainability to inclusion – every employee, every function, every region is contributing to shaping the future by what they are doing on this very day.
And it's not just about us. It's about you: our customers, our shareholders, our communities.
You are an integral part of both our history and our future.
How will you join us in building the future today? How do you imagine better?
Jim Fitterling, Chairman and Chief Executive Officer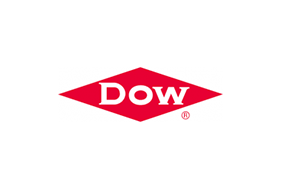 DOW
DOW
Dow (NYSE: DOW) combines global breadth; asset integration and scale; focused innovation and materials science expertise; leading business positions; and environmental, social and governance leadership to achieve profitable growth and help deliver a sustainable future. The Company's ambition is to become the most innovative, customer centric, inclusive and sustainable materials science company in the world. Dow's portfolio of plastics, industrial intermediates, coatings and silicones businesses delivers a broad range of differentiated, science-based products and solutions for its customers in high-growth market segments, such as packaging, infrastructure, mobility and consumer applications. Dow operates manufacturing sites in 31 countries and employs approximately 37,800 people. Dow delivered sales of approximately $57 billion in 2022. References to Dow or the Company mean Dow Inc. and its subsidiaries.  For more information, please visit www.dow.com or follow @DowNewsroom on Twitter.
More from DOW