Published 07-05-22
Submitted by CooperCompanies

Cooper has been recognized as a Top 50 Inspiring Workplace in North America by The Inspiring Workplaces Group. With more than 200 companies participating, Cooper Companies was ranked #14 overall.
An independent expert judging panel assessed six key elements considered to be fundamental to creating an Inspiring Workplace. These include:
Culture and Purpose
Leadership
Wellbeing
Inclusion & Diversity
Internal Communication
Employee Experience and Engagement
"This is a tremendous result for our first year of participation" said Glen Sunnergren, Vice President, Global Human Resources. "Our efforts to drive engagement is reflected in our latest employee engagement survey, with more than 70% of employees saying that the purpose of the company makes them feel their job is important. This survey is one of the ways we seek feedback from our employees and identify meaningful actions that continue to make Cooper a great place to work."
Working at Cooper means being part of a purpose-driven, dynamic team that cares about making the world a better place. We are proud of our 12,000+ employees who come from all backgrounds, perspectives, and regions. We are committed to building a culture of belonging where employees are accepted for who they are and can make connections that help unlock their full potential.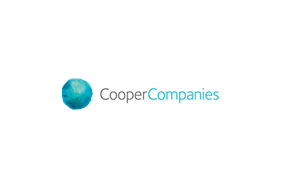 CooperCompanies
CooperCompanies
CooperCompanies ("Cooper") is a global medical device company publicly traded on the NYSE (NYSE: COO). Cooper operates through two business units, CooperVision and CooperSurgical. CooperVision brings a refreshing perspective on vision care with a commitment to developing a wide range of high-quality products for contact lens wearers and providing focused practitioner support. CooperSurgical is committed to advancing the health of women, babies and families with its diversified portfolio of products and services focusing on medical devices and fertility & genomics. Headquartered in San Ramon, CA, Cooper has a workforce of more than 12,000 with products sold in over 100 countries. For more information, please visit www.coopercos.com.
More from CooperCompanies