Published 07-01-22
Submitted by DOW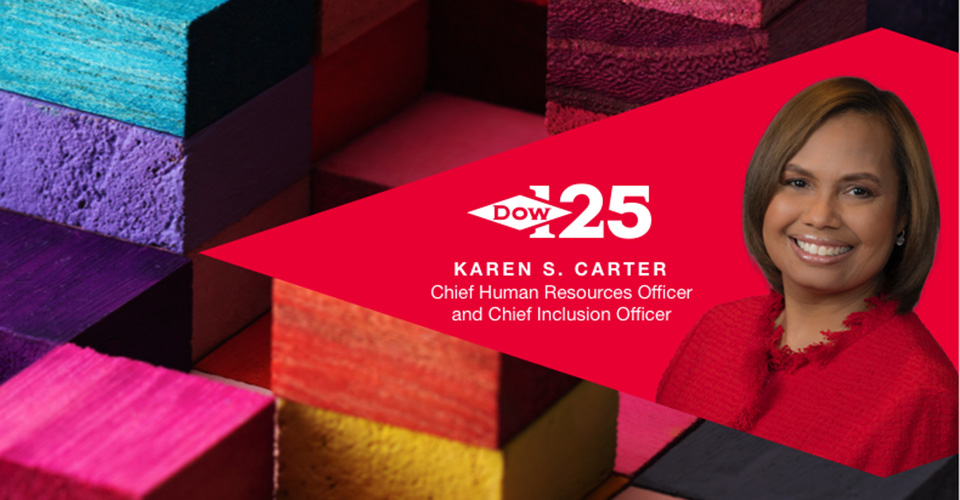 With our 125-year anniversary upon us, we spoke with our chief Human Resources Officer and chief Inclusion Officer, Karen S. Carter, to reflect on Dow's journey and progress in the space of inclusion, diversity and equity (ID&E) and what she expects the next 125 years will bring.
Karen, you have been at Dow for more than 25 years and worked across many divisions and businesses...what inspired you to take on your current role as chief Human Resources Officer and chief Inclusion Officer?
When I was a business leader in the commercial organization, my focus was on helping the Company prosper and thrive, become more innovative and capture market share and new customers. I have the same opportunity in my current role. I am still charged with helping the Company prosper and thrive, helping Dow grow. But now, I have the awesome opportunity to do it through our people and our culture. An inclusive culture, a diverse workforce and an equitable workplace strongly position us to address the most pressing challenges of the world, capitalize on new opportunities and anticipate and overcome the challenges ahead.
I feel an incredible sense of urgency to do my part to leave Dow better….to leave the planet better….to leave society better. Our children and their children will look back on this very moment and talk about what we did or did not do, and the world they live in will determine if we made a positive difference.
As we celebrate our 125-year anniversary, we can't help but wonder how far Dow has come. What are some key highlights in Dow's journey to build a more inclusive culture?
Dow has made progress and I am proud of that. But I also recognize and acknowledge that there is still more progress to be made.
Some people think focusing on inclusion and diversity is new at Dow – but it is not. Inclusion and diversity has been a priority for decades, and I along with many others have been involved in these efforts throughout my entire career. But I think the decision to create an Office of Inclusion and the role of Chief Inclusion Officer in 2017 – a role reporting directly to the CEO – was a turning point. It was less about who was named to the job, but more about the focus, intentionality and elevation of inclusion and diversity as a business imperative that made the difference. It was then that we began taking even more deliberate steps to integrate inclusion into our corporate strategy.
When Jim Fitterling – our Chairman and CEO – defined his ambition for our company in 2018 – which is to become the most innovative, customer-centric, inclusive, and sustainable materials science company in the world – inclusion was there, front and center, from the beginning. He said, "Our goal is to build a culture where everyone is respected and valued and has an equal opportunity to develop, advance and be heard." What employee is not inspired by that statement? And what employee doesn't hear the message in this ambition that we see them, we hear them, and they belong here?
And there have been many other milestones, including publishing our first Inclusion Report, in 2018 which is now a part of our annual ESG report. This allows us to be transparent about our achievements and the stakes we've put in the ground for future progress and gives voice to Dow people around the world who make a difference in creating a more inclusive and diverse Dow.
How is Dow approaching ID&E space today?
In 2021, we updated Dow's ID&E Strategy which still focuses on leading with inclusion and elevating our focus on diversity, but also importantly includes embedding equity into our practices, policies, and processes. We outlined bold new actions to deliver breakthrough results by 2025, while amplifying transparency and accountability.
I can't talk about progress at Dow, without talking about our ERGs. They are the catalysts for sustained engagement and driving change inside and outside of Dow. Today, we have 10 ERGs with more than 600 local chapters. About 52% of Dow employees participate around the world. And Dow contractors can also join an ERG and participate in most activities. We have ERGs that cover the dimensions of diversity that most people think about, like ethnic minorities, veterans, people with disabilities and LGBTQ+ populations, but we also have ERGs for newer hires and those in the prime of their careers. These groups are safe havens for employees to see themselves, be themselves, and to be heard. ERGs are places where allies engage to learn and advocate for people who may be unlike them. And more and more, ERGs are drivers of business success.
And our CEO has made clear his expectation that all people leaders participate in at least one ERG of their choice – as a personal development opportunity, and to demonstrate to their teams the importance of engagement. Why do we encourage ERG participation so much? Because research and our own data tell us that employees who participate are more engaged. Our annual employee survey data shows that Dow's ERG participants have 9 percentage points higher satisfaction with the company than non-ERG participants. And higher satisfaction leads to higher engagement.
It's important to also acknowledge that a lot has changed over the past few years, and expectations have changed for many of our stakeholders including our colleagues, community leaders, investors and more. They expect us to be accountable and transparent. So, at Dow, we are committed to both and have put stakes in the ground that define where we want to be by the year 2025, and we are proactively sharing our progress on annual basis in our ESG report. At the same time, ID&E has been pushed beyond our fence line and into our communities, with greater consideration for issues like social justice. Which is why we have put a social justice council in place to help guide our actions and our advocacy efforts.
What work are you particularly proud of right now as it relates to ERGs across the organization?
Let's talk about EMERGE, our all-ERG conference. And calling it a conference doesn't do it justice, I prefer to call it a premier employee experience that's designed to mobilize ERG participants to advance Dow's strategic priorities through inclusion, diversity and equity. It empowers them to take action, and to have a stronger voice. People from all roles and job levels – from the CEO to the shop floor – come to EMERGE. It's interactive. It's hands on. It's a tremendous learning and motivational experience. And if that wasn't enough, we also host a Day of Service, where participants team up to volunteer in the community and demonstrate our strong corporate citizenship.
We are bringing EMERGE back this year for the first time since 2019, and it will be a hybrid event. About 500 Dow colleagues representing 33 countries and all 10 of our ERG groups will be in Houston, Texas. Over 900 Dow colleagues will stream in virtually from around the world and will also engage in activities at their location. This event is the most inspirational time of the year for me and my team. It leaves us energized, fueled with new ideas and geared up to make change. And the return on this investment is what EMERGE participants do after they leave, through the numerous grass-roots actions they initiate at the local level which creates a ripple of change.
As we reflect on Dow's 125th Anniversary, what's next for ID&E?
At Dow, our strategy is to Decarbonize and Grow. This will not be easy; it is ambitious, and it is only achievable with a diverse team where everyone can grow and thrive in a workplace that is inclusive and fair for all.
That is why this work is important, and this is what is next for ID&E. Ensuring equity in all that we do is essential to achieving visible and meaningful progress in our culture, in our workforce and in our business results. It is not enough to have an inclusive culture without a diverse workforce. And it is not enough to have a diverse workforce that does not have a fair shot at opportunities.
I look back on our 125 years with great pride for all we've been able to achieve. But the ongoing issues of hate, violence, discrimination, and divisiveness serve as stark reminders of the progress we have yet to make, and also serves as fuel for the sense of urgency necessary to achieve more, together.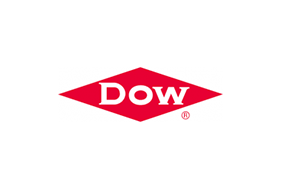 DOW
DOW
Dow (NYSE: DOW) combines global breadth; asset integration and scale; focused innovation and materials science expertise; leading business positions; and environmental, social and governance leadership to achieve profitable growth and help deliver a sustainable future. The Company's ambition is to become the most innovative, customer centric, inclusive and sustainable materials science company in the world. Dow's portfolio of plastics, industrial intermediates, coatings and silicones businesses delivers a broad range of differentiated, science-based products and solutions for its customers in high-growth market segments, such as packaging, infrastructure, mobility and consumer applications. Dow operates manufacturing sites in 31 countries and employs approximately 37,800 people. Dow delivered sales of approximately $57 billion in 2022. References to Dow or the Company mean Dow Inc. and its subsidiaries.  For more information, please visit www.dow.com or follow @DowNewsroom on Twitter.
More from DOW