Published 06-30-22
Submitted by Ericsson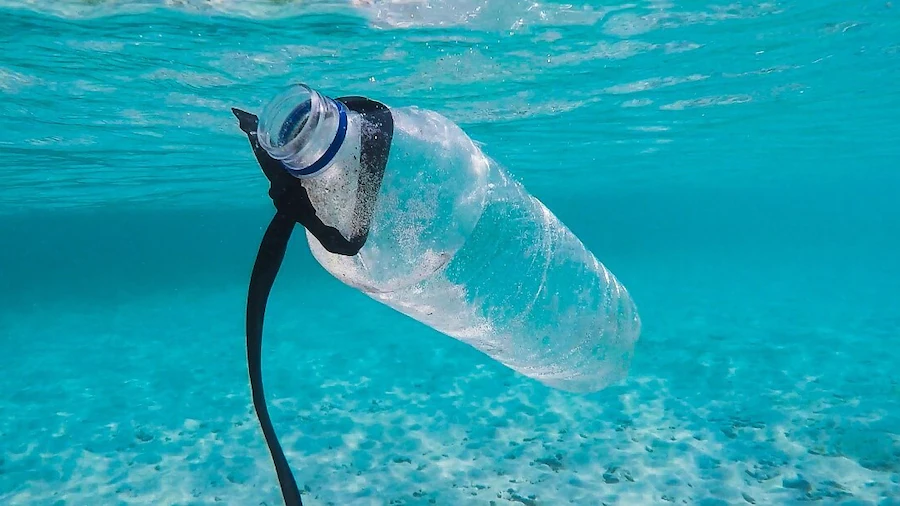 Originally published by Ericsson
We are in a plastic crisis: a material that we depend on, but are now drowning in. Turning 'trash into cash' – the latest spark to emerge from Ericsson ONE, Ericsson's internal accelerator for intrapreneurs – is one of many breakthrough technologies that is using the circular economy model to tackle the issue head on. Below, we explore why such innovations can prove so decisive in curbing consumption and waste at a critical juncture in the Earth's history.
Our reliance on single-use products and plastic packaging is causing irreversible damage. Landfills are exploding, mountain ranges and vast oceans are being choked and more waste is being burned than ever before. According to Science Journal, there are currently about 450 million tons of plastic produced each year, and production is set to double by 2045. Here's another staggering statistic: The Great Pacific Garbage Patch (GPGP) covers an estimated surface area of 1.6 million square kilometers – an area twice the size of Texas or three times the size of France. While there are a lot of great initiatives that are dealing with the plastic problem, such as the Ocean Cleanup environmental organization, we need to stop the problem from occurring in the first place by moving away from our linear production system. But must environmental initiatives come at the cost of good business? Is there a way to gradually move away from using virgin resources, while really encouraging innovation, sustainable growth and robust employment opportunities?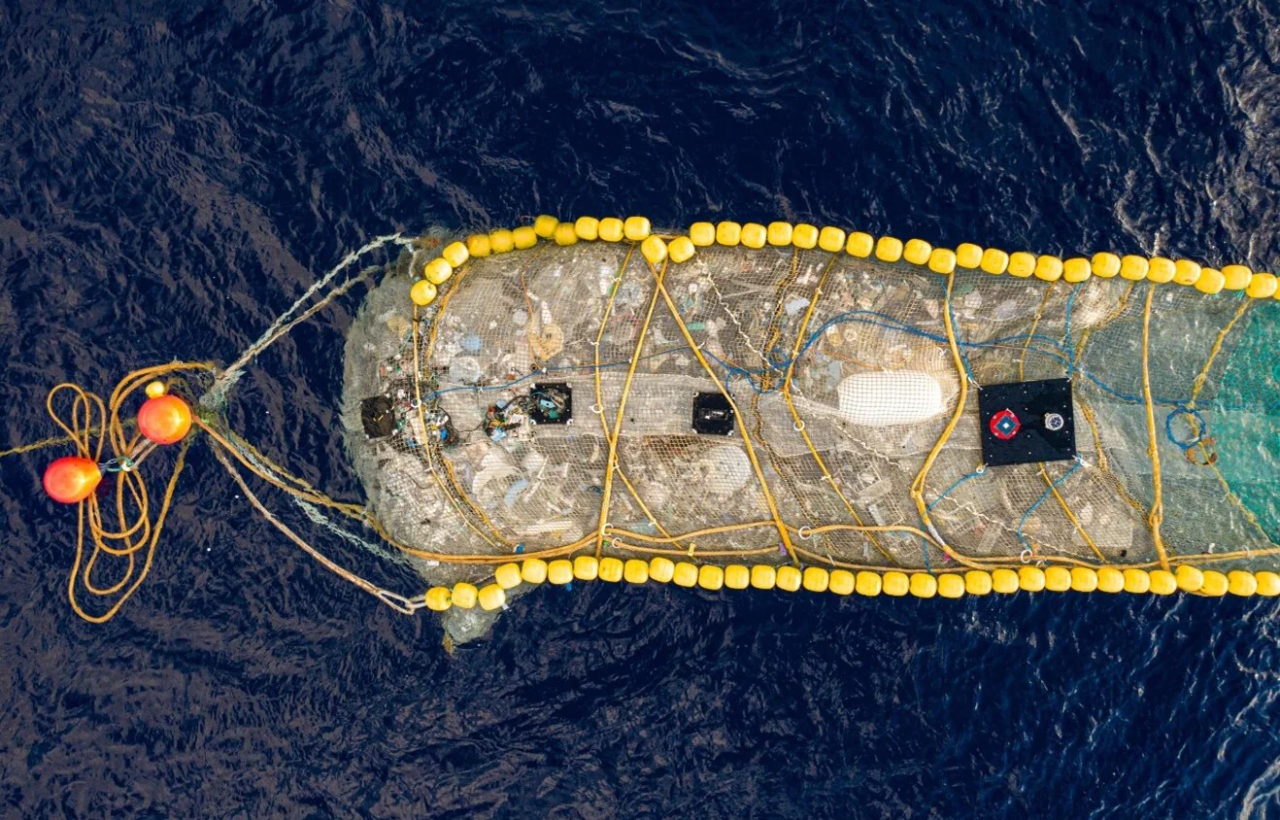 Ericsson Connected Recycling: A platform to reduce and reuse waste
For Ericsson Connected Recycling, a new business dreamt up by Ericsson ONE intrapreneurs, the answer is a resounding yes. Ericsson Connected Recycling is an international solution for transacting and tracking polyethylene terephthalate (PET) bottles via an end-to-end recycling tracking platform. The tracking platform is set to revolutionize the industry on a global scale by increasing waste transparency and creating a circular value chain. It's designed to massively remove waste from landfills and incineration – turning trash into cash.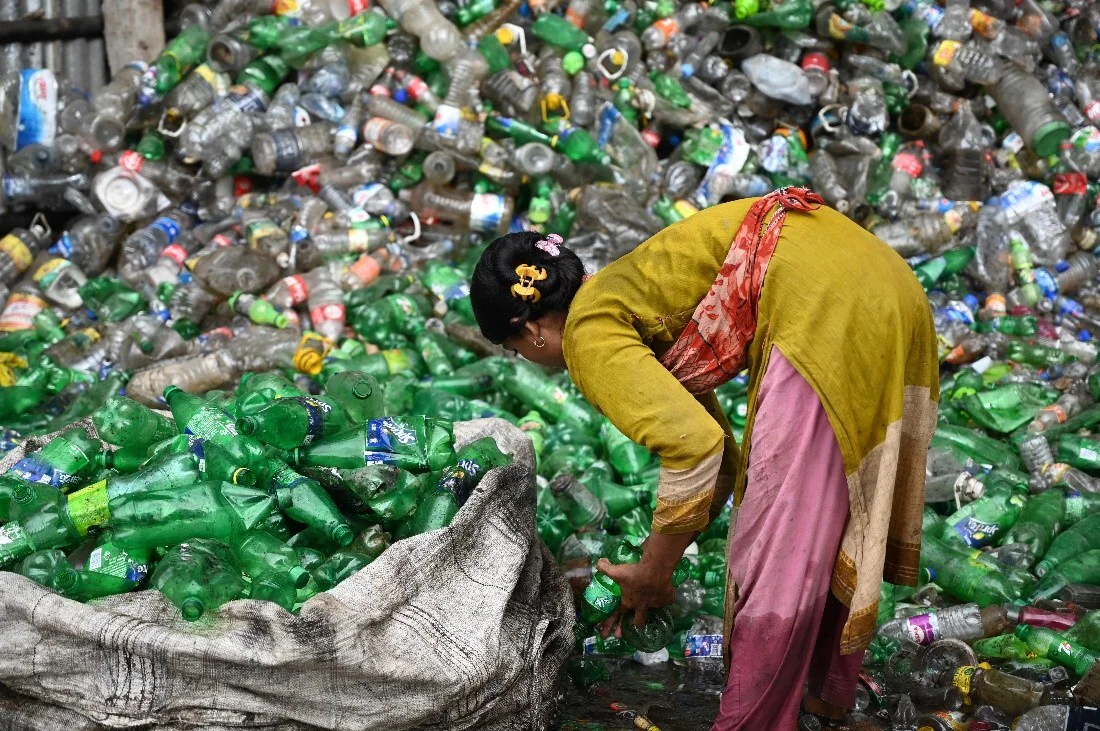 The problem: minor accountability and responsibility
To combat the sheer volume of plastic waste, in the European union drink manufacturers must reimburse governments for the cost associated with disposing plastic waste. However, outside of Europe, drink manufacturers usually don't have any financial responsibility for waste management. Disposal, however, ultimately isn't the answer – instead, we must encourage reuse. But today it often costs recycling companies more to collect the used plastic than they get from selling it. Yet at the early stage of the process companies pay a lot of money for the material, just to have it thrown in a trash can and eventually burned. Imagine doing the same thing with clothing: using them once and then throwing them in the trash. Also, virgin PET comes from oil production, meaning production itself is a massive environmental concern. And we just produce, produce, produce without recycling something that is fully recyclable and very valuable.
In Northern European countries, PET has been recycled for many years. This isn't the case for developing countries, where the necessary infrastructure isn't in place, with recycling either not occurring or occurring in unregulated markets in an unstructured way. To create a universal value chain, the Ericsson Connected Recycling team is creating a system where, instead of having large drink corporations buy virgin material from producers, PET material could be sourced from a recycler who paid collectors for the return of bottles. This creates a closed loop system: a way to source PET bottles more easily.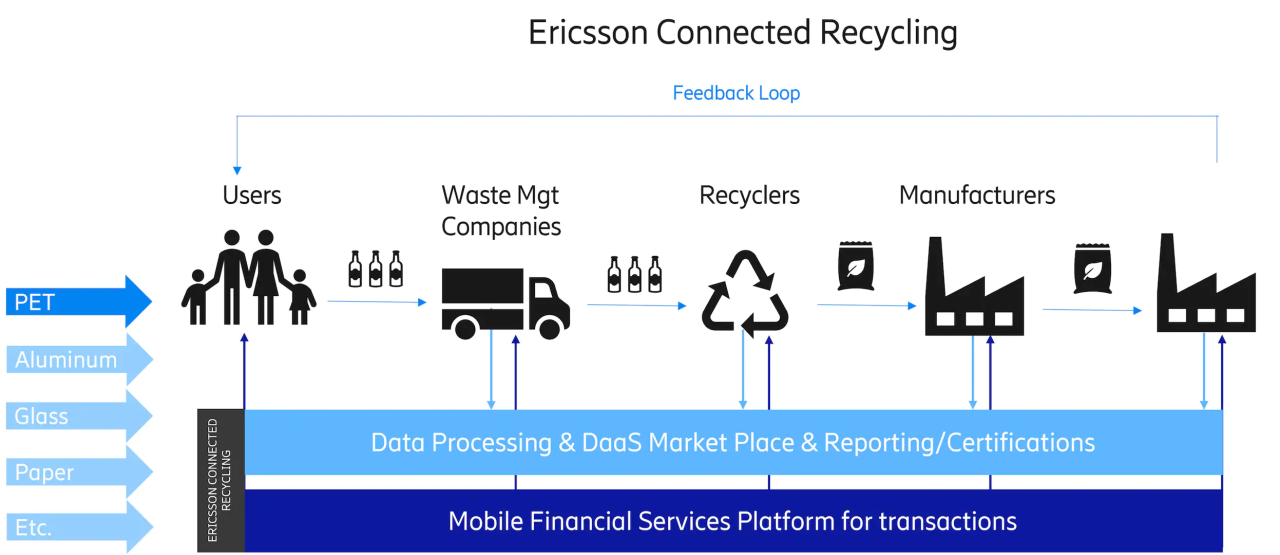 The solution: combining technology with an incentive to recycle
The Ericsson Connected Recycling team needed to determine: "How can we combine easily accessible technology and a financial incentive to solve this problem by massively increasing collection volumes?" The answer: the fintech initiative Ericsson Wallet Platform. The Ericsson Wallet Platform is already being used by 300 million people today and is easily scalable. It provides the ability to financially incentivize recycling at scale in the Middle East and Africa region, by financially compensating the general population. By recycling items such as PET bottles consumers would receive incentives to their e-wallet, contributing to higher volumes of recycled material to be provided for key global Fast Moving Consumer Goods (FMCG) companies. In addition to providing this ability to incentivize consumers at scale, a state-of-the-art data tracking platform is under development that will give a total and reliable end-to-end tracking of recycling of raw materials in circular economies. And much more. This system could also be rolled out worldwide to assist with the recycling of other materials such as aluminium and glass.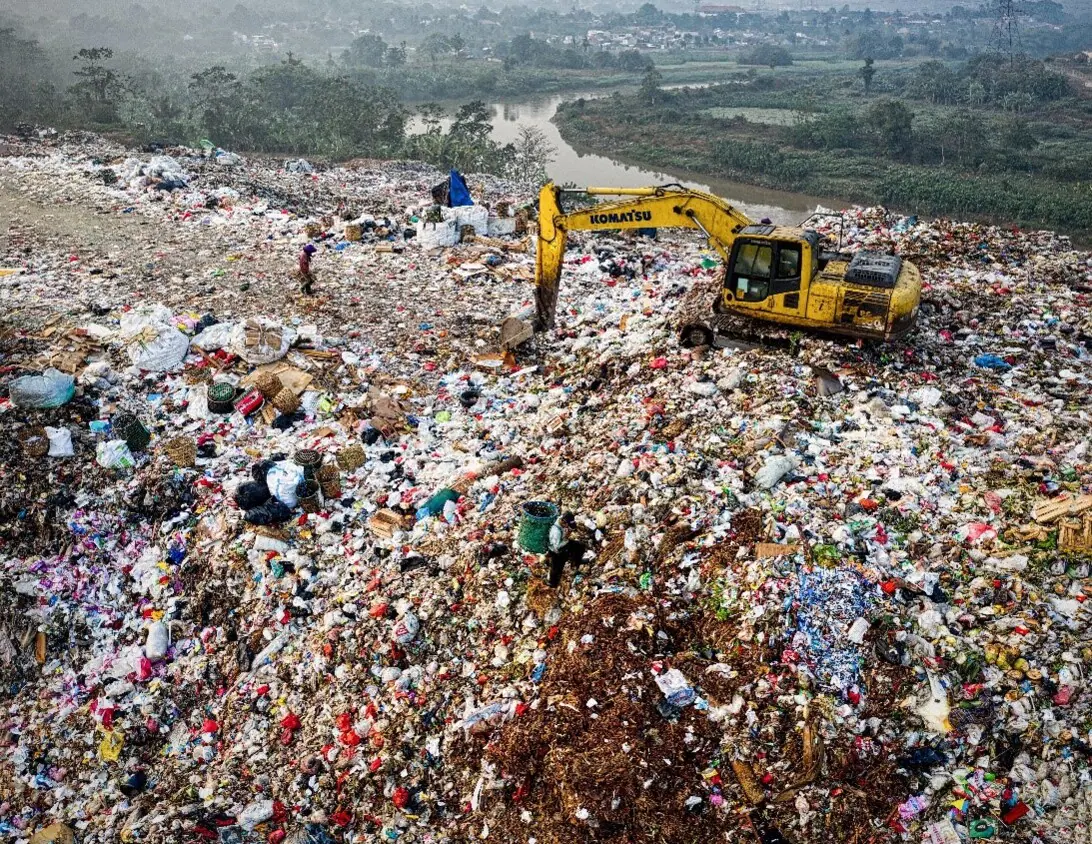 How does Ericsson Connected Recycling work?
Together with the Ericsson Wallet Platform, Ericsson Connected Recycling has created a unique orchestrator platform – a data layer– that allows governments and manufacturers to see where the PET bottles are ending up in order to encourage people to recycle them and create a chain of responsibility.
Creation of a value chain
The Ericsson Connected Recycling initiative can follow each transaction that happens throughout the value chain. If a general member of the public comes to the waste collection point with 10 bottles, they are paid for those bottles by the waste management collection company through the Ericsson Mobile Wallet Platform, and this transaction is recorded. Waste management then sells the bottles to the recycler, with payment and volume being recorded by the Ericsson Connected Recycling application. The recycler reprocesses the PET bottles and sells them again – back to the large drink corporations – closing the loop. The orchestrator platform is able to collect all sorts of information about each step, in terms of brands and volume, and issues certificates to verify that the products have been handed over to authorized recyclers – this process tracks the value chain. The project is set to be rolled out in the Middle East and replicated in countries where the Wallet Platform exists. Looking ahead, the easy scalability of this project means it could get adopted by other countries, eventually becoming the 'information backbone' of recycling materials.
Challenges and opportunities: scaling up to make an impact
One of the big issues when it comes to solving environmental issues, especially in relation to plastic waste, is that it's such a large-scale, global issue. Small solutions being implemented in isolation aren't going to solve the problem, instead we need to think internationally, to think big – to fix the problem on a global scale. This unfortunately makes it difficult for start-ups or small businesses with great ideas to get their foot in the door, unless they are part of a large global incubator such as Ericsson ONE. Arguably, large-scale companies need to be more proactive in working with smaller organizations with big ideas, to use their connections to help open the door for them.
It's also important that governments and international legislators set rules and regulations to demand circularity. For companies to adhere to these rules and regulations and for governments to monitor them, you need transparency and accurate data, which this platform provides. Companies with a digitalization focus can help with logistics and IoT solutions. For Ericsson Connected Recycling it's really about connectivity through data. At the end of the day, this project has the potential to transform the future logistics of waste management by increasing the transparency among actors and transactions in the value chain.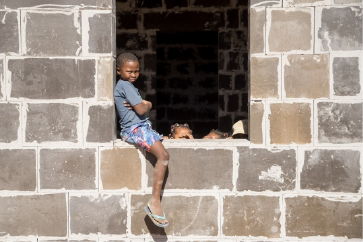 The UN and a circular economy model for plastics
The Ericsson Connected Recycling initiative ties in with the landmark resolution from the United Nations (UN) Environmental Assembly. In March 2022, Heads of State, environment ministers and other representatives from 175 nations, endorsed a historic resolution to adopt a global plastic treaty to stop plastic pollution through a circular economy model. Not only is the treaty set to address the issue of plastic waste, but it will address the full lifecycle of plastics: from the extraction of chemicals, the design of reusable and recyclable products and materials, and the need for enhanced international collaboration to facilitate access to technology, to allow the revolutionary plan to be realized. This treaty, which is expected to be enforced as an international legally binding agreement by the end of 2024, signals the move away for a linear economy: the take-make-dispose plan where raw materials are collected, then transformed into products that are used until they are finally discarded as waste.
Together, with a focus on a Net Zero economy, it is part of the international community's two-pronged approach to minimizing further environmental damage. While a Net Zero economy focuses on tackling carbon emissions, the circular economy deals with the minimization of waste, and will be an important tool to reach Net Zero.
The impact of the circular economy on businesses
Is this new model the death knell for businesses? The circular economy is actually positive for business. This closed loop system supports economic growth, but without the devastating environmental impacts, while also recognizing the need of the economy to work effectively at all scales – for big and small businesses, for organizations and individuals, globally and locally. It also includes the creation of new profit opportunities, reduced costs due to lower virgin-material requirements and stronger relationships with customers. There are numerous macroeconomic benefits inherent in this new economic model, which is why it is being pushed by businesses and governments alike. The reality is that every business and entrepreneur will be impacted by the policy push for sustainability.
Innovation is also a focus of the circular economy. If you follow the World Economic Forum, you will see all sorts of amazing recycling ideas. From using crushed bottle to create sand – the sand produced from crushed glass bottles is stronger than the ordinary sand used in construction because of its high silica content – to Polyblocks created by Polycare, a company that has created zero waste, reusable building blocks that fit together like Lego. While in the Republic of Congo, FDA Group is turning plastic waste into paving.
While there are different variations of the circular economy model, at its core it's a regenerative, restorative and reusable approach to creating value, and ultimately prosperity, by extending a product's lifespan and relocating waste from the end of the supply chain to the beginning – in effect, materials for new products come from old products, allowing resources to be used with more efficiency by using them more than once. The Organisation for Economic Co-operation and Development (OECD) describes it as a "way of creating value and increasing prosperity by extending product lifespan and relocating waste from the end of the supply chain to the beginning." That's why the circular economy approach is gaining momentum among policymakers, economists, industry large corporations and even start-ups. Earth, after all, is a closed system, meaning there isn't an unlimited amount of resources. We need to create a closed-loop system – today – or risk destroying our planet
Discover more:
Ericsson ONE: The Ericsson ONE incubator is an internal accelerator for Ericsson employees with pioneering new business ideas. We give our talented people the chance to develop these ideas and build successful ventures beyond our core business. By leveraging Ericsson's global scale, technology, relationships and expertise we help make their start-ups a success.
Read more
Learn more about Ericsson's sustainability initiatives in our 2021 Sustainability and Corporate Responsibility Report
Read our blog post: Making a positive impact: how tech is helping us restore planet earth

Ericsson
Ericsson
Ericsson is one of the leading providers of Information and Communication Technology (ICT) to service providers. We enable the full value of connectivity by creating game-changing technology and services that are easy to use, adopt, and scale, making our customers successful in a fully connected world.
Our comprehensive portfolio ranges across Networks, Digital Services, Managed Services and Emerging Business; powered by 5G and IoT platforms.
More from Ericsson