Published 06-28-22
Submitted by GoDaddy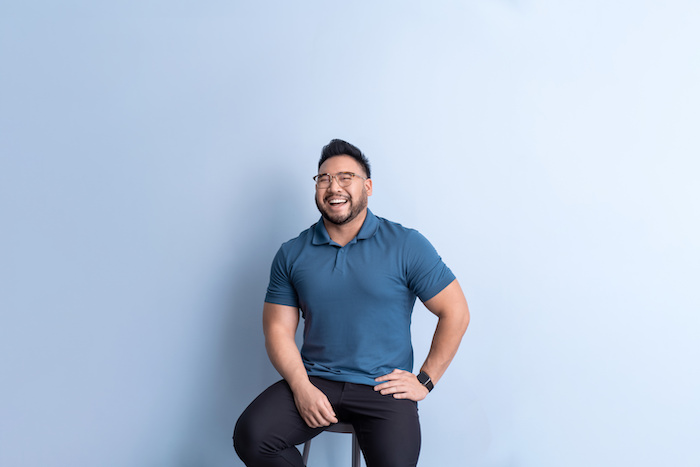 Originally published on GoDaddy For Good
We put the success of our employees at the heart of everything we do.
GoDaddy strives for a workplace culture where everyone has the opportunity to thrive. We continually challenge ourselves to evolve and meet the changing needs of our employees.
Our human-centered approach
Business is more than just the bottom line — it's a group of people working together to create something greater in the world. At GoDaddy, our employees give us their time, loyalty, dedication and trust. We know that's not a one-sided commitment, which is why we take our responsibility regarding their financial, physical and mental well-being so seriously. This commitment to protecting and nurturing our employees surged in importance during the pandemic, but it is an evergreen objective. It mattered before the pandemic, and it will matter every day we are in business.
Adapting to the new business landscape means embracing flexibility and taking a deeply human approach to talent management. That means supporting the whole person across several aspects:
Social: We provide and promote opportunities for employee engagement and socialization, even when they're not physically together with their colleagues.

Practical: In addition to initiatives that make it easier and more cost effective to work from home, we expanded our Global Employee Assistance program that delivers a wide range of support, including legal and financial advice resources.

Personal growth: Delivering continuous learning and development opportunities, even from a distance, remains a key priority.

Mental/emotional: Life can be stressful, especially during times of change, which is why we offer mental health and relationship support with up to five counseling sessions per person per issue — available 24/7 and in 16 languages.
In a remote work environment, it is critical to strengthen employee connections and instill a sense of community. The GoDaddy Fun Fund provides resources for employees to have fun and create morale-boosting opportunities for themselves and their teams.
Learning and development
We strive to create a work environment where everyone can think creatively, have fun and achieve personal growth. Through unique and varied opportunities, employees can develop their skills and advance their careers.
Personal and professional development
To enable our people to advance their personal and professional development, we provide many opportunities for individuals to learn, stretch and contribute.
2021 was the first full year of MyCareer, an internal career management website that provides a one-stop shop of curated resources for career development planning. The MyCareer platform empowers employees to proactively take charge of their careers by connecting them to on-demand training, workshops, rotational programs and professional networks.
Approximately 36% of all roles in 2021 were filled internally, highlighting our dedication to recognizing and investing in our employees through internal growth.
In 2021, we introduced LinkedIn Learning and completed the development of Decision Lab, along with two pilot sessions:
LinkedIn Learning: Offers a digital library of over 16,000 courses covering a wide range of technical, business, software and creative topics. By opening up access to this resource, GoDaddy employees have the opportunity to refine or develop professional skills, learn new software and explore other areas as they plan their career growth.

Decision Lab: The Decision Lab effort is focused on making better decisions, faster and in a way that "sticks" to drive outcomes and contribute to us achieving our business goals. These experiential sessions are built to help employees learn about potential road blocks and enablers that are unique to our GoDaddy culture, give participants strategies on how they might navigate decision-making in different ways, and provide a decision making framework that can help set employees up for success.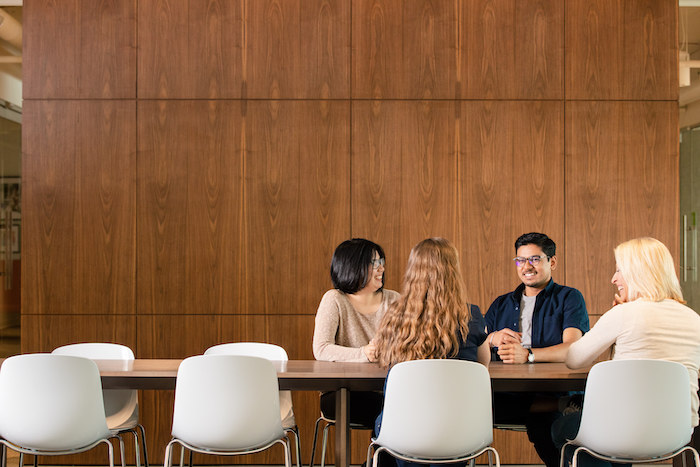 Photo: GoDaddy Kirkland
We also offer opportunities for employees to explore new pathways and train across teams within GoDaddy. Through GROW, our six-month rotation program, participants can explore their interests in a specific function outside their current role, network with teams through project-based roles, gain valuable knowledge and skills and learn more about GoDaddy.
In 2021, we launched Elevate, a Care and Services leadership program for GoDaddy Guides. During the yearlong training program, we connect GoDaddy Guides with opportunities to learn, practice and apply new skills and knowledge. Elevate participants gain insights into how the business works while expanding their operational and leadership capabilities.
The pursuit of further education and advancement through external sources is important to us. We support many of our employees by sponsoring their attendance at conferences and seminars, and we provide full-time employees with up to $5,250 (depending on geographic location) per year toward approved tuition costs through our Education Reimbursement Program.
"Being a part of GROW was a great opportunity to step outside of my comfort zone, find ways to apply my existing skills in a new environment and learn new ones along the way. Coming from Care and Services, Marketing was a new and exciting world with its own intricacies, and I'm so glad I took the plunge! GROW gave me the ability to challenge myself and adapt quickly — and provided the perfect jumping-off point to successfully continue working in Marketing after the program."

–Viky Kalyta Senior Marketing Specialist
Leadership training
At GoDaddy, we encourage our leaders to continue developing their knowledge and skills as people leaders. We offer several learning opportunities, including:
New manager onboarding: This required six-week course for managers teaches them about the high standards required for those in GoDaddy management positions and the resources available to help them succeed.

Manager and leadership development: Ongoing support is offered through a suite of courses covering topics such as leading virtually, leading through change, giving feedback, coaching and having difficult conversations.
Exceptional employee experiences
We take pride in providing our employees with a supportive workplace environment that empowers them to do meaningful work while being their true selves, fulfilling their passions and balancing professional goals with life goals. We want to help each one shine.
Performance reviews
Our approach: Let's talk about it. Consistent feedback is essential for career development, but so is taking an introspective look at our own work. That's why each year we launch self-evaluation assessments for all eligible employees, giving them space to reflect on how they feel about their work and how they fit into their teams.
We have a traditional performance review process that's structured around a formal mid-year and year-end process, both of which include setting goals, exploring performance feedback and peer feedback, and having career development conversations. With the exception of GoDaddy Guides, who receive feedback on a monthly basis, approximately 93% of GoDaddy employees participate in this process. In a recent analysis, 83% of respondents said they'd engaged in a recent career conversation with their manager, and 91% reported that they had received feedback on their performance.
In Q1 2022, we also rolled out pay transparency, giving the majority of our employees visibility into the salary range for their role in their geography. With this roll out we provided trainings for all employees and managers to deepen their understanding of compensation and how pay works at GoDaddy.
Benefits
We offer financial perks that support our employees' futures, health benefits that keep them well and programs that both reward and inspire great work.
In many of our locations, benefits include:
A first-class benefits package offering comprehensive medical, dental, vision and disability plans.

401(k) and IRA retirement plans, with generous employer matching

An equity plan and employee stock purchase program to promote a sense of ownership.

Professional development opportunities and tuition support.

Liberal time away to rest and recharge.

Family benefits, such as a day care subsidy, paid parental leave, adoption assistance and fertility coverage.

Company-wide celebrations and events.

Peer recognition programs.

Employee donation matching programs and paid time off for volunteer opportunities.
For a full list of our employee benefits, please visit careers.godaddy.com/culture to see how we put our beliefs into action.
Employee feedback
We strive to make sure all our folks feel supported, connected and heard. Through GoDaddy Voice, our annual engagement survey, we ask our employees for feedback to understand what is and isn't working and to identify opportunities for improvement.
We're proud of and encouraged by our high levels of employee engagement with the survey, and we believe it's a testament to how much our employees know we listen to and value their input. For our 2021 GoDaddy Voice survey, 90% of our employees responded — which was a 3% increase from 2020. Despite the global challenges of the past two years, we believe these results showed that our employees believe GoDaddy is succeeding in creating a culture of trust and respect with transparent communication.
Some of the impressive stats from the survey include:
94% believe colleagues treat each other with respect.

92% believe that their manager creates an environment that allows them to be themselves at work.

92% believe GoDaddy's leaders maintain high ethical standards.

93% have the flexibility to manage other aspects of life while working from home.
As part of our effort to understand what our employees need and want and how we can better support them, we frequently make adjustments to existing initiatives and introduce new ones. Here are a few highlights from 2021:
We allocated additional resources to our Fun Fund, an employee morale program.

We launched Everyday Champions, a global employee recognition tool.

To support those working from home, we started and continue to offer a pandemic-related quarterly reimbursement.

In line with our whole-person, human- centric approach to employee care, we continued to offer support with the goal of providing flexibility and work-life balance.

Because the pandemic has changed where and how we live, we prioritized our review of relocation requests.
Our employees are a force for good in their local communities. We aim to amplify their efforts. Each year, each GoDaddy employee receives a $1,500 budget to award grants and matching donations to the nonprofits where they volunteer. Employees are also provided with 20 hours of paid time off annually to volunteer in their local communities. In 2021, inclusive of company match, GoDaddy employees gave more than $820,000 back to their communities.
Download the 2021 GoDaddy Sustainability Report here
About This Report
Unless otherwise noted, GoDaddy's 2021 Sustainability Report covers the company's environmental, social and governance strategies, activities, progress, metrics and performance for the fiscal year that ended December 31, 2021. This report references the Global Reporting Initiative (GRI) Standards and the Sustainability Accounting Standards Board (SASB) Standards for the Internet Media and Services sector. GoDaddy is committed to regular, transparent communication of our sustainability progress, and to that end, we will share case studies, updates and articles on an ongoing basis through our website and other key resources. We intend to continue providing updates about our sustainability journey by publishing an annual sustainability report.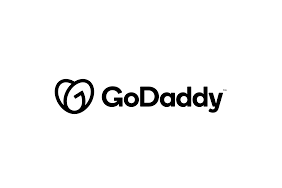 GoDaddy
GoDaddy
GoDaddy is empowering everyday entrepreneurs around the world by providing all of the help and tools to succeed online. GoDaddy is the place people come to name their idea, build a professional website, attract customers, sell their products and services, and manage their work. Our mission is to give our customers the tools, insights and the people to transform their ideas and personal initiative into success. To learn more about the company, visit www.GoDaddy.com.
GoDaddy focuses on making opportunity more inclusive for all in the communities where we work, live and play across the globe. We rally behind inclusive entrepreneurship and other critical local needs that empower people to succeed through philanthropic and in-kind donations, volunteerism, strategic partnerships and advocacy.
Empower by GoDaddy is GoDaddy's global community and philanthropic program equipping entrepreneurs in underserved communities with training, tools and peer networks to accelerate their journeys. GoDaddy rallies behind entrepreneurs in underserved communities by building their confidence and skills to strengthen their small business' digital presence.  Entrepreneurs engage in customized learning experiences, work 1-1 with GoDaddy volunteer coaches and local mentors, and gain access to wrap-around services, in-kind products and networks boosting their small businesses success.
More from GoDaddy