Published 06-23-22
Submitted by Biogen
Armany is a rising junior at Northeastern University majoring in electrical and computer engineering who developed a passion for science during his time as a Biogen Community Lab student and as a Red Sox Foundation Scholar. This weekend he threw out the first pitch at a Boston Red Sox game, helping us kick off celebrations for the 20th anniversary of the Biogen Foundation & Community Lab.
The Biogen Foundation and the Biogen Community Lab are celebrating 20 years of caring deeply. The Biogen Foundation was established in 2002 and has since provided $70 million to help underserved communities in advancing science education, health equity and food security. In 2002, Biogen also established the first-ever corporate Community Lab in Cambridge, Mass., a free science education program for students in middle and high school. Since then, the Company also opened a second Community Lab in North Carolina, and together more than 61,000 students have participated in the program. The Community Lab aims to inspire the next generation of science leaders in collaboration with teachers and local non-profit collaborators.
Learn more about the Biogen Foundation & Community Lab
About the Biogen Foundation
The Biogen Foundation supports access to science education and to essential human services for children and their families in the communities in which Biogen facilities are located. The Biogen Foundation is committed to sparking a passion for science and discovery, supporting effective science education initiatives and strengthening efforts to make science education and science careers accessible to diverse populations.
About the Biogen Community Lab
The Biogen Community Lab program is a signature example of the company's commitment to science education. The mission of the Lab is to excite more young people about science and inspire the next generation of STEM leaders. With locations at Biogen's world headquarters in Cambridge, Massachusetts and in Research Triangle Park (RTP), North Carolina, the Community Lab is a state-of-the-art laboratory classroom where local middle and high school students engage in hands-on biotechnology experiments and interact with scientists and other biotech professionals. It offers free daylong, interactive science activities, rigorous summer programs and teacher professional development.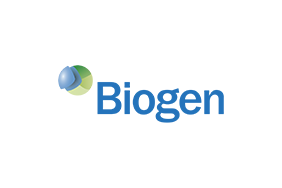 Biogen
Biogen
At Biogen, our mission is clear: we are pioneers in neuroscience. Biogen discovers, develops and delivers worldwide innovative therapies for people living with serious neurological and neurodegenerative diseases as well as related therapeutic adjacencies. One of the world's first global biotechnology companies, Biogen was founded in 1978 by Charles Weissmann, Heinz Schaller, Kenneth Murray and Nobel Prize winners Walter Gilbert and Phillip Sharp. Today Biogen has the leading portfolio of medicines to treat multiple sclerosis, has introduced the first approved treatment for spinal muscular atrophy, commercializes biosimilars of advanced biologics and is focused on advancing research programs in multiple sclerosis and neuroimmunology, Alzheimer's disease and dementia, neuromuscular disorders, movement disorders, ophthalmology, immunology, neurocognitive disorders, acute neurology and pain. We routinely post information that may be important to investors on our website at www.biogen.com. To learn more, please visit www.biogen.com and follow us on social media - Twitter, LinkedIn, Facebook, YouTube.
More from Biogen