Published 06-17-22
Submitted by Essity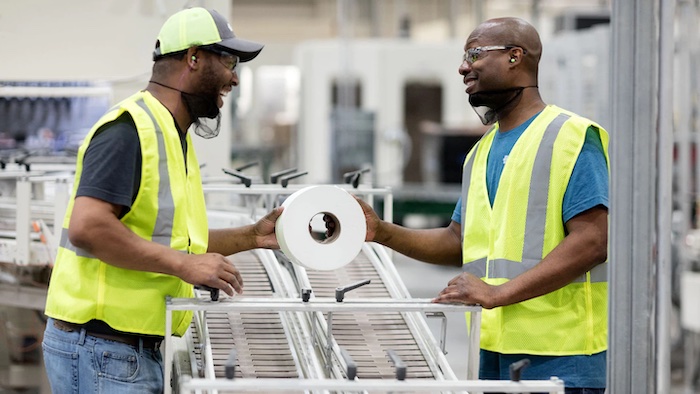 Originally published on Essity.com
Resource efficiency
The global consumption of resources contributes to a growing scarcity of materials and an increase in emissions. At Essity, we have longstanding experience of working with resource efficiency.
Small streams make great rivers. By nurturing a culture of resource efficiency, we have successfully cut emissions from energy use by 15% between 2016 and 2021. When working toward 2050, we must leave no stone unturned and engage all employees on our journey to net zero.
Investing in state-of-the-art technology
We cooperate with external stakeholders, such as machinery suppliers and expert organizations, to ensure continued leadership, energy efficiency in materials and continuous improvements. All new equipment is resource efficient by design and when we invest in rebuilds, we always include state-of-the-art technological solutions. 
Sharing best practices worldwide
Listening to and involving our employees in our daily improvement activities is key to our success in becoming more resource efficient. We leverage knowledge-sharing across the company through trainings and networks. Best practices are shared digitally in real-time to achieve energy excellence by learning from others.
Digitalization in manufacturing
Digitalization in manufacturing We are implementing digital solutions throughout our operations, including AI-powered prescriptive maintenance, smart sensors, advanced data analytics, robotization and automation to achieve resource efficiency. This enables efficient runnability and lower waste from our machines.
Breakthrough Technology
We believe that breakthrough technology is pivotal for decarbonization. By mobilizing internal teams and cooperating externally with research institutes and leading technology partners, Essity is taking responsibility for driving a sustainable net zero transition.
We build test labs and show proof-of-concept for ground-breaking ideas to accelerate the necessary transition of manufacturing. We have already shown that we can scale up breakthrough technology by developing the first integrated tissue mill in the world to start large-scale production of tissue from wheat straw.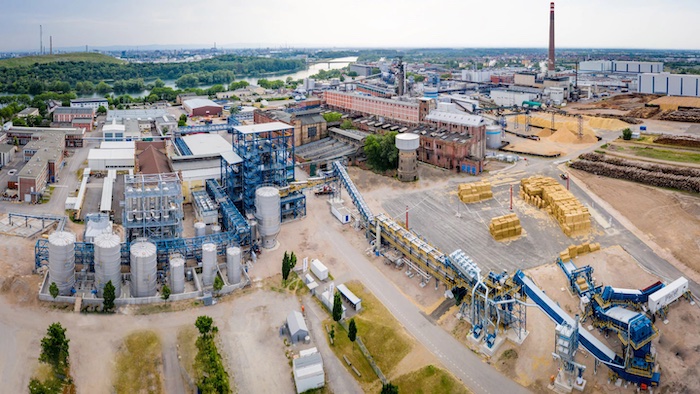 Learn more about Essity's Journey to Net Zero here
Download Essity's Journey to Net Zero report here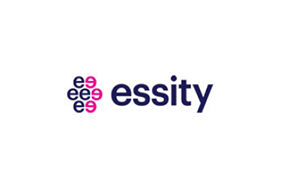 Essity
Essity
Essity is a leading global hygiene and health company that develops, produces and sells Personal Care (Baby Care, Feminine Care, Incontinence Products and Medical Solutions), Consumer Tissue and Professional Hygiene products and solutions. 
Our vision is; Dedicated to improving well-being through leading hygiene and health solutions. The name Essity stems from the words essentials and necessities. Sales are conducted in approximately 150 countries under many strong brands, including the leading global brands TENA and Tork, and other brands, such as Leukoplast, Libero, Libresse, Lotus, Nosotras, Saba, Tempo, Vinda and Zewa. Essity has about 48,000 employees and net sales in 2017 amounted to approximately 12.8 bn USD (SEK 109bn, EUR 11.3bn). The business operations are based on a sustainable business model with focus on value creation for people and nature.
The company has its headquarters in Stockholm, Sweden, and is listed on Nasdaq Stockholm. Essity used to be part of the SCA Group.
About Tork
Tork is a brand of Essity. Essity is a leading global hygiene and health company that develops personal care, professional hygiene and consumer tissue products and solutions. Essity offers Tork paper towels, toilet paper, skin care products, facial tissue,  wipers, wet wipes, napkins and other hygiene products for washrooms, wash stations, healthcare areas, food and beverage handling, food preparation, manufacturing and maintenance. For more information, visit http://www.torkusa.com/
More from Essity