Published 06-08-22
Submitted by The Chemours Company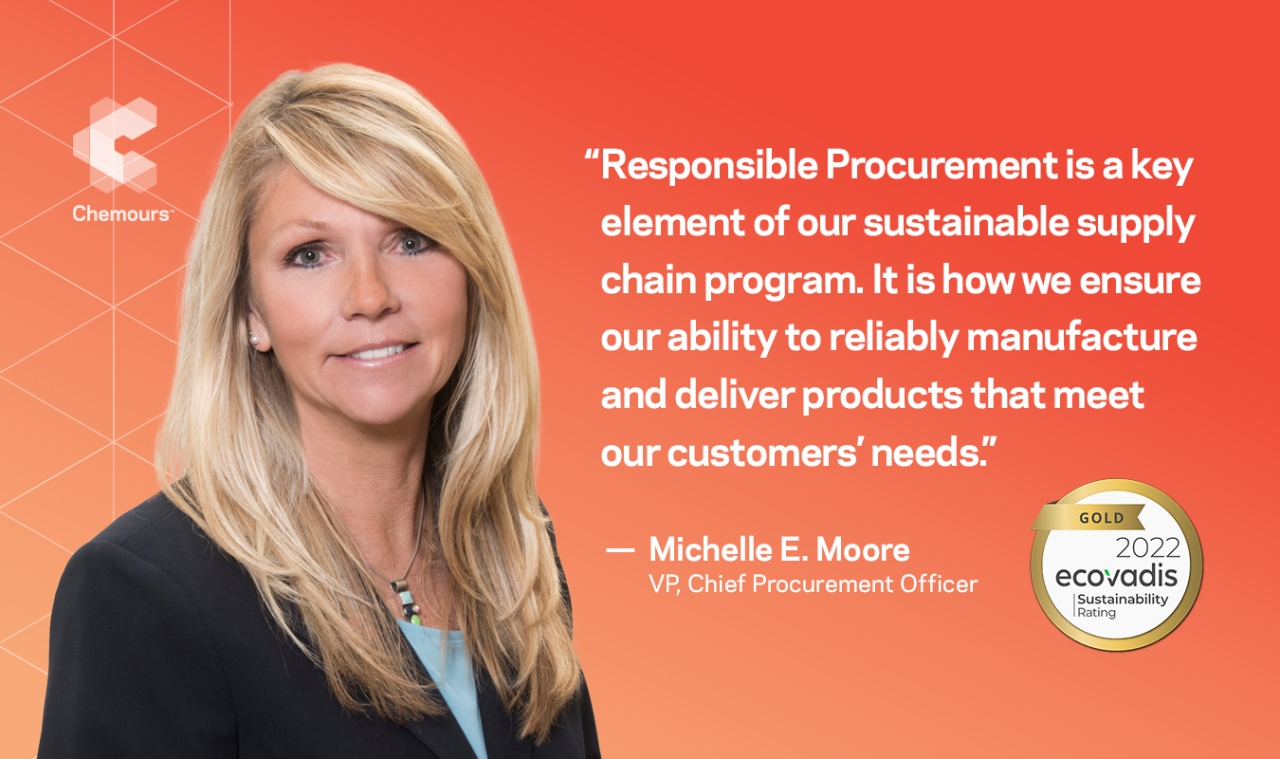 Chemours is a different kind of chemistry company – focused on working together with our suppliers, customers, communities, and employees – to create a better world through the power of our chemistry. As part of that commitment, we're proud to announce that Chemours has received a gold medal from EcoVadis for our sustainability management system. This rating now places Chemours in the top 5% of all responding companies.  
For the 2022 assessment, Chemours performed strongly against all assessment categories but increased our performance in Labor & Human Rights and Sustainable Procurement by 10 points each.
"Sustainability is part and parcel of Chemours vision and strategy, and we are extremely proud to achieve this gold recognition from EcoVadis," said Michelle Moore, Chief Procurement Officer at Chemours. "Responsible Procurement is a key element of our sustainable supply chain program. It is how we ensure our ability to reliably manufacture and deliver products that meet our customers' needs. We view our suppliers as an extension of ourselves, and we are committed to working with those who share our commitment to operating responsibly and adding value for Chemours and our customers."
Chemours' commitment to corporate responsibility and sustainability are embedded in everything we do and articulated through our Corporative Responsibility Commitment goals. One of those goals is our sustainable supply chain goal which calls for baselining the sustainability performance of 80% of suppliers by spend and demonstrating a 15% improvement by 2030.
We invite our suppliers to become part of our Supplier Corporate Responsibility Assessment (SCRA) and join us in demonstrating their sustainability performance and continuous improvement commitment.
No one can solve the world's biggest challenges alone, but through transformative partnerships with our suppliers, we look to amplify the impact of our effort to create more benefits for more people.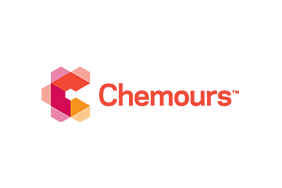 The Chemours Company
The Chemours Company
The Chemours Company (NYSE: CC) is a global leader in Titanium Technologies, Thermal & Specialized Solutions, and Advanced Performance Materials providing its customers
with solutions in a wide range of industries with market-defining products, application expertise and chemistry-based innovations. We deliver customized solutions with a wide range of industrial and specialty chemicals products for markets, including coatings, plastics, refrigeration and air conditioning, transportation, semiconductor and consumer electronics, general industrial, and oil and gas. Our flagship products are sold under prominent brands such as Ti-Pure™, Opteon™, Freon™, Teflon™, Viton™, Nafion™, and Krytox™. The company has approximately 6,600 employees and 29 manufacturing sites serving approximately 2,900 customers in approximately 120 countries. Chemours is headquartered in Wilmington, Delaware and is listed on the NYSE under the symbol CC.
More from The Chemours Company