Published 06-06-22
Submitted by Ericsson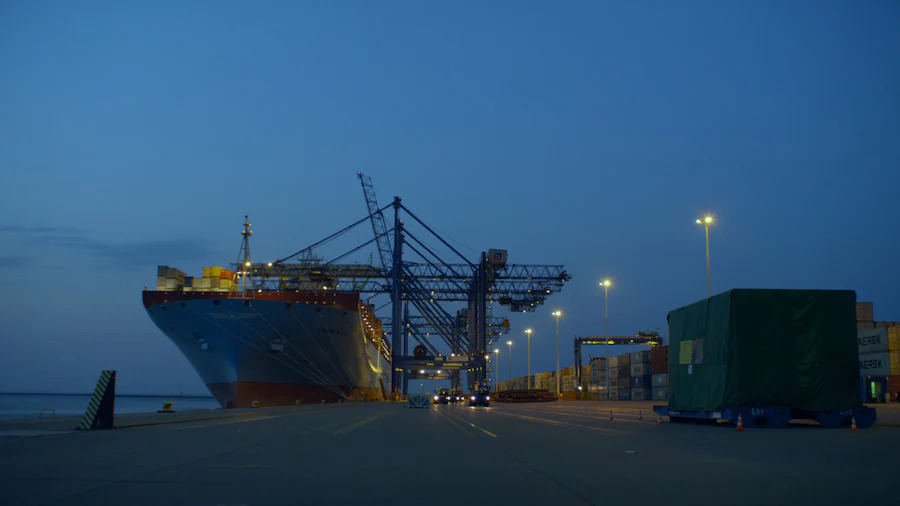 In our earlier blog posts in this series – we've made a strong case that a private network is the smart choice for any port that wants to accelerate its digital transformation, increase job satisfaction, productivity and safety, and meet sustainability initiatives. Now that the 'why' is clear, we want to shift focus to the 'how'. The process we outline here is designed to ensure that port operators avoid potential use case adoption barriers and experience a smooth transition from proof of concept to full rollout to steady state adoption of port digitalization.
By Jan Diekmann Technical Account Manager – Advanced Industries, Transportation and
Adam Schipper Director of Business Development, Transportation & Logistics, Ericsson North America
Port operators can leverage private networks to improve all aspect of operations to achieve greater efficiency, lower costs, better monitoring, higher productivity, safer operations and stronger bottom lines. But as we all know, the key to success with any new technology is the ability to implement the most impactful use cases quickly and efficiently – that is, to move from proof of concept to rollout to steady state of port digitalization without unnecessary delays. Our tried and true journey from proof of concept to steady state consists of six steps.
Step one: Identify and prioritize pain points
Truly value-creating use cases are always closely linked with the wider business goals of the organization, which is why the first step is to identify and prioritize the challenges (pain points) that a port is facing and consider them in the context of the overall business strategy. Our research suggests that port operators' priorities tend to fall into five categories:
Optimizing yard and terminal operations
Reducing yard congestion
Improving worker safety
Meeting environmental and climate targets
Making the port an attractive workplace.
According to Port Technology, 76 percent of port providers see optimizing yard and terminal operations as their number one priority and challenge. Better asset condition monitoring is needed to reduce equipment failures and the downtime of critical equipment such as cranes. Congestion is compounded by both the increasing size and growing number of vessels and vehicles that need access to a limited space.
Along with making their processes run more smoothly, increasing worker safety is also a top concern for port operators. Working with heavy cargo and dangerous equipment puts port workers at risk of injury on a daily basis. According to the European Maritime Safety Agency (EMSA), almost 42 percent of marine casualties or incidents took place in the port area. To attract and retain qualified staff, it is important to make the port an attractive, future-oriented workplace.
Last but not least, the need to meet environmental and climate targets is an issue of growing importance for port operators. Many ports already have their own sustainability goals and ambitions in place, and regulatory bodies are taking action to require that ports reduce their greenhouse gas emissions in half by 2030.
Step two: Select use cases that address the pain points
Based on the assessment of a particular port's specific pain points and priorities in step one, the next step of port digitalization is to identify and select the use cases that will help the port meet its targets.
Because we know that determining the return on an investment in new technology tends to be a complex calculation, we decided to create the Smart Ports Value Calculator with ifm and Arthur D Little. This tool helps port operators determine the impact of five key use cases that span the entire container port operation chain and tend to be the most relevant cases for the cellular-powered smart port:
Automated RTG cranes
Remote control of ship-to-shore cranes
Cellular connected AGVs
Condition monitoring
The use of drones for surveillance and deliveries.
To gauge the net economic, social, and environmental value of these five use cases, we defined a baseline port based on concrete and validated key performance indicators from actual ports. From the bottom up, we analyzed the incremental value created by each cellular connectivity-enabled use case, from deployment until operational steady state. We've made this calculator readily available to the ports community to help them assess their own situations.
Step three: Find the appropriate partners
Once a port operator has determined which smart port use cases best aligns with its own pain points and priorities, it's time for a port to think about the kind of partnerships that will be required to make them a reality. Important questions to address in this step include:
Do you want to keep some of the communications infrastructure you already have, or does it make more sense to rip and replace?
What kind of integration with existing systems will be required?
Who will manage the project (an internal or external resource)?
What is the timetable?
Who will provide the radio spectrum for the cellular communication network?
Step four: Define current state versus future state
After a port operator has identified the right partners to develop the selected use case(s), it's essential to work together with them to define the success criteria for port digitalization. This involves an assessment of the ecosystem readiness, as well as writing detailed descriptions of the current state, the desired future state and the markers that will indicate when the future state has been reached.
Make sure to align all involved parties (including internal champions and project influencers) and get them all to sign off on the success criteria before project kick-off.
Step five: Delivery assessment
The delivery assessment step includes both a site survey and a delivery plan sign-off. These exercises are typically done in partnership with your partner/system integrator or with the help the technology provider.
Step six: Delivery plan and contract
It is essential to include this step as part of the success criteria and to make sure that it gets started no later than 30 days into the Proof of Value process. This is to ensure there are no surprises at the end of the project.
We're here to help
Private network/cellular technology is essential to support the use cases that will drive the smart ports of the future and advance port digitalization. Ericsson can assist in evaluating the connectivity requirements for the chosen use case(s), supporting either a mobile network operator or system integrator in selecting the right technical solution for the task. In the past several years we have established a solid track record in providing smart-port solutions based on private networks in major port cities including Livorno and Rotterdam, for example.
You can learn more about our smart port offering here.

Ericsson
Ericsson
Ericsson is one of the leading providers of Information and Communication Technology (ICT) to service providers. We enable the full value of connectivity by creating game-changing technology and services that are easy to use, adopt, and scale, making our customers successful in a fully connected world.
Our comprehensive portfolio ranges across Networks, Digital Services, Managed Services and Emerging Business; powered by 5G and IoT platforms.
More from Ericsson