Published 06-03-22
Submitted by Essity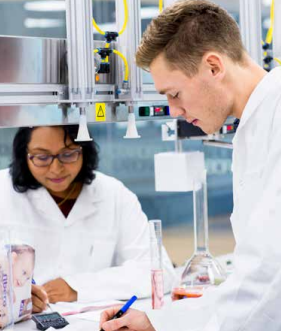 Originally published on Essity.com
Raw material accounts for a fifth of Essity's emissions. On the journey to net zero, we work to identify and shift to low-carbon materials. At the same time, we act to mitigate deforestation and increase biodiversity.
The largest share of the emissions from sourced raw materials is derived from the fresh fiber, plastics and pulp that we use for our products and packaging. We work closely together with our suppliers to reduce the footprint of sourced materials. This includes encouraging adoption of targets according to SBTi, increase the use of renewable energy and promoting sustainable innovations related to sourced raw materials and packaging. We invest in machinery that enables processing alternative raw material with a lower carbon footprint.
Increasing renewable and alternative materials
In our efforts to reduce our greenhouse gas emissions, we are increasing the share of recycled and renewable materials as well as introducing alternative materials. Renewable materials include responsibly sourced fresh fibers, recycled fibers and alternative fibers such as wheat straw. We are also increasing the share of renewable or recycled plastics in our packaging. An important milestone was the investment of approximately EUR 11m in our Hondouville mill in France, allowing it to extract 98% of paper fibers contained in food and beverage cartons.
Fighting deforestation and forest degradation
Ensuring the health of the world's forests will play a key role in reducing greenhouse gas emissions globally. To ensure that all woodbased fresh fiber used in an Essity product or packaging comes from responsible forestry, we only source certified fiber in accordance with the Forest Stewardship Council (FSC) or the Programme for the Endorsement of Forest Certification (PEFC). These schemes give special attention to protecting the function of forests as net removers of CO2 from the atmosphere. We invest in concrete projects to strengthen sustainable forest management and prevent deforestation. To act against global deforestation, we take part in global forums, such as the Consumer Goods Forum (CGF) Forest Positive Coalition of Action.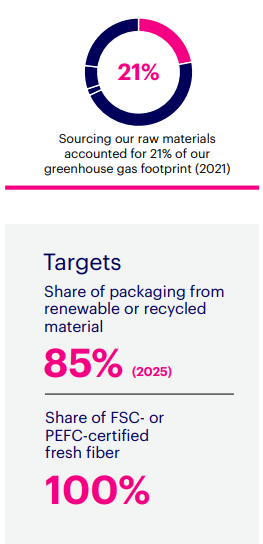 Our calls for action to policymakers
We need policymakers to support the green transition by:
Applying life cycle assessments, standards and harmonized labeling to stimulate demand for low-carbon options.
Recognizing certification systems, such as FSC and PEFC, in policy development to secure a credible chain of custody for renewable materials.
Promoting well-functioning markets for secondary raw materials.
Tissue made from agricultural by-products
At Essity, we develop innovative materials for our products to reduce the climate impact in our value chain. In 2021, our mill in Mannheim, Germany, was the first integrated tissue mill in the world to start large-scale production of tissue from wheat straw, an agricultural by-product that often remains unused.
The wheat straw grows in close proximity to the mill which reduces the need for import and long distance transportation of wood-based pulp.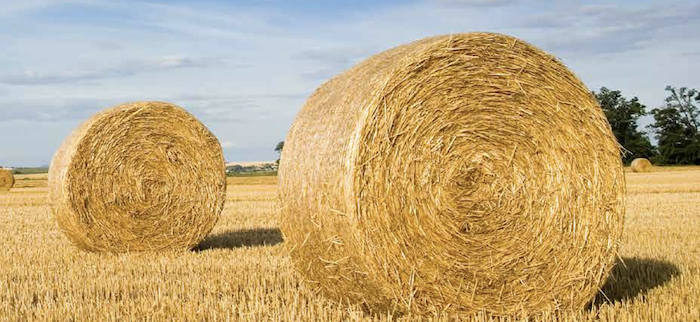 On our journey to net zero, we will start up and scale production of alternative materials, adapted for the specific prerequisites at our various production sites.
Learn more about Essity's Journey to Net Zero here
Download Essity's Journey to Net Zero report here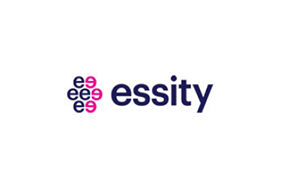 Essity
Essity
Essity is a leading global hygiene and health company that develops, produces and sells Personal Care (Baby Care, Feminine Care, Incontinence Products and Medical Solutions), Consumer Tissue and Professional Hygiene products and solutions. 
Our vision is; Dedicated to improving well-being through leading hygiene and health solutions. The name Essity stems from the words essentials and necessities. Sales are conducted in approximately 150 countries under many strong brands, including the leading global brands TENA and Tork, and other brands, such as Leukoplast, Libero, Libresse, Lotus, Nosotras, Saba, Tempo, Vinda and Zewa. Essity has about 48,000 employees and net sales in 2017 amounted to approximately 12.8 bn USD (SEK 109bn, EUR 11.3bn). The business operations are based on a sustainable business model with focus on value creation for people and nature.
The company has its headquarters in Stockholm, Sweden, and is listed on Nasdaq Stockholm. Essity used to be part of the SCA Group.
About Tork
Tork is a brand of Essity. Essity is a leading global hygiene and health company that develops personal care, professional hygiene and consumer tissue products and solutions. Essity offers Tork paper towels, toilet paper, skin care products, facial tissue,  wipers, wet wipes, napkins and other hygiene products for washrooms, wash stations, healthcare areas, food and beverage handling, food preparation, manufacturing and maintenance. For more information, visit http://www.torkusa.com/
More from Essity