Published 06-03-22
Submitted by NRG Energy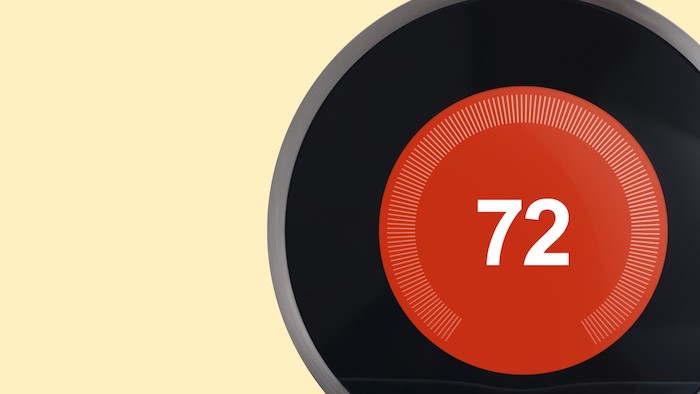 Originally published on NRG Energy Insights
Summer is fast approaching with 100+° F days along with increased energy demands and the risk of price spikes. Making matters worse, ongoing supply chain issues and geopolitical unrest have led to the highest prices for natural gas and other energy commodities in years. Now is the time to protect your business by planning an energy strategy to navigate high commodity prices and summer's demand-heavy energy market.
High commodity prices plus high demand hurts the bottom line
The benchmark spot market price for natural gas in the United States is the highest it has been in nearly a decade, just as summer is approaching.* That's important because the price of natural gas is highly correlated with the price of electricity.
In addition to the potential for a high day-to-day cost of electricity this summer due to surging commodity prices, oppressive heat and grid stress can lead to wildly fluctuating energy costs. In fact, the independent grid operators serving the Midwest and Texas — the Midcontinent Independent System Operator (MISO) and Electric Reliability Council of Texas (ERCOT) — already issued warnings about that exact scenario in late April and early May when extreme heat spread across the central United States. ERCOT, specifically, issued a warning of a possible future emergency condition of reserve capacity deficiency for the afternoons of May 10 and 11.
When the heat is on, so is price volatility
With an increase in temperature, there is an in-step rise in cooling demands, making summer a season of air conditioners, fans, dehumidifiers, and other cooling equipment. It's a recipe for grid congestion and overloads that can cause substantial price increases.
The summer of 2021 witnessed record-breaking heat waves, including the highest temperature ever recorded in Canada, 121° F. In June, the Phoenix area experienced six consecutive 115° F days. At the same time, New England and the mid-Atlantic baked under record-breaking June heat, reaching the upper 90s from New Jersey to Maine.*
Record-breaking temperatures are becoming more frequent. A recent UN climate report showed that extreme weather events have surged five-fold over the past 50 years.
As the map below indicates, above-average heat is expected throughout much of the United States.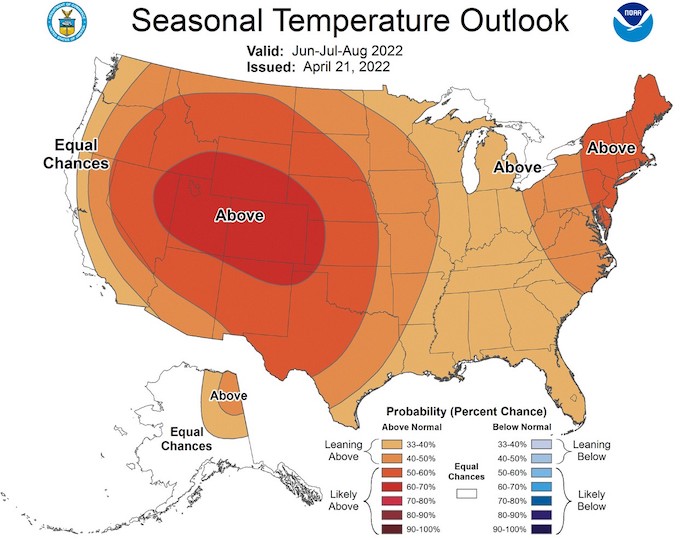 How to reduce the impact of high commodity prices and a demand-heavy energy market
As an energy customer, you need to know how to best prepare a summer energy strategy. Here are steps you can take and products and services to think about now.
Reduce energy use – Consider investing in energy efficient equipment, such as Energy Star central air conditioning units or air source heat pumps. Recent improvements in HVAC technologies have greatly increased efficiencies. Economizers that use outdoor air for free cooling and properly configured system controls can also save energy. Take advantage of demand control ventilation to ensure you are setting indoor climate based on occupancy. Reduce lighting loads through daylight-responsive or occupant sensor controls. Finally, you can stagger equipment use to avoid large, consolidated draws of energy.

Shop energy programs and contracts – Ensure your supply contracts match your level of risk/reward tolerance. A fixed price plan can provide you with price security regardless of energy commodity price fluctuations or electricity price spikes during high demand. Other plans offer various degrees of exposure to the market and risk mitigation. An expert energy advisor can help you determine which plans are best for both your power and natural gas needs.

Participate in a demand response program – During excessive summer heat, taking load off the grid does everyone a favor by helping keep supply and demand in check. Demand response programs are a no-risk way to do this, and they pay you for energy curtailment. Case in point, Calspan, a leading aviation testing firm, made $275k in revenue and reduced 7.4 megawatts of load in one year by participating in a demand response program.

Implement distributed energy resources – Rooftop solar, battery storage, and onsite generation can provide energy control for a variety of situations.
Take action and collaborate with energy experts
Extreme weather events are expected to increase in the coming years. High commodity price inflation is proving stubborn. A trusted energy partner can work with you to find approaches that best suit your operation and complement each other. As an integrated energy company with a comprehensive understanding of the market, NRG is a ready and collaborative partner. Please contact us with any questions.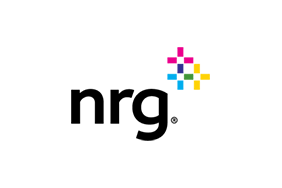 NRG Energy
NRG Energy
At NRG, we're bringing the power of energy to people and organizations by putting customers at the center of everything we do. We generate electricity and provide energy solutions and natural gas to millions of customers through our diverse portfolio of retail brands. A Fortune 500 company, operating in the United States and Canada, NRG delivers innovative solutions while advocating for competitive energy markets and customer choice, working towards a sustainable energy future.
More from NRG Energy