Published 05-27-22
Submitted by Regions Bank
"You belong here."
It's both an invitation and affirmation that the game of golf is for everyone.
This week, professional golf takes center stage in Greater Birmingham, Alabama, as fans gather for the Regions Tradition, a Major Championship on the PGA TOUR Champions sponsored by Regions Bank and benefiting area charities including Children's of Alabama.
On May 9, representatives from Regions Bank, the PGA TOUR, Miles College, civic leaders and students gathered at the Roebuck Hawkins Park and Recreation Center and municipal golf course in Birmingham, Alabama, for a panel discussion exploring diversity, representation and access in the game of golf. The goal: to get more Black youth onto the golf course.
"We are kicking off this week the Regions Tradition, which is our annual golf tournament," said Clara Green, head of Diversity, Equity and Inclusion for Regions Bank. "Last year we started having conversations about diversity in golf and how do we drive more diversity in golf? And so, we wanted to continue the conversation this year."
Leroy Abrahams, head of Community Affairs for Regions Bank, welcomed local students, parents and community leaders to the event by sharing why Regions has a stake in creating more diversity in the game of golf.
"When we think about education and workforce readiness and getting young people ready to take on challenges in society, we realize that a lot of times things get done on the golf course that don't get done elsewhere," said Abrahams. "We want to make sure that the youth in our communities, all of the youth in our communities, have the opportunity for that same type of access and the same type of success. Because we think that's important from the standpoint of growing our entire community."
Green facilitated the discussion with panelists Marsha Oliver, PGA TOUR Vice President for Community & Inclusion; Leonard Smoot, Miles College Head Golf Coach; Crystal Smitherman, attorney and Birmingham City Councilor; Troy Wilson, Miles College graduate and golf team member; and Madison Fleming, Bumpus Middle School girl's golf team member.
"The individuals that are here are here by design," Green explained. "They are all very much entrenched in some way in the game of golf, either on the administrative side, coaching or playing the sport itself."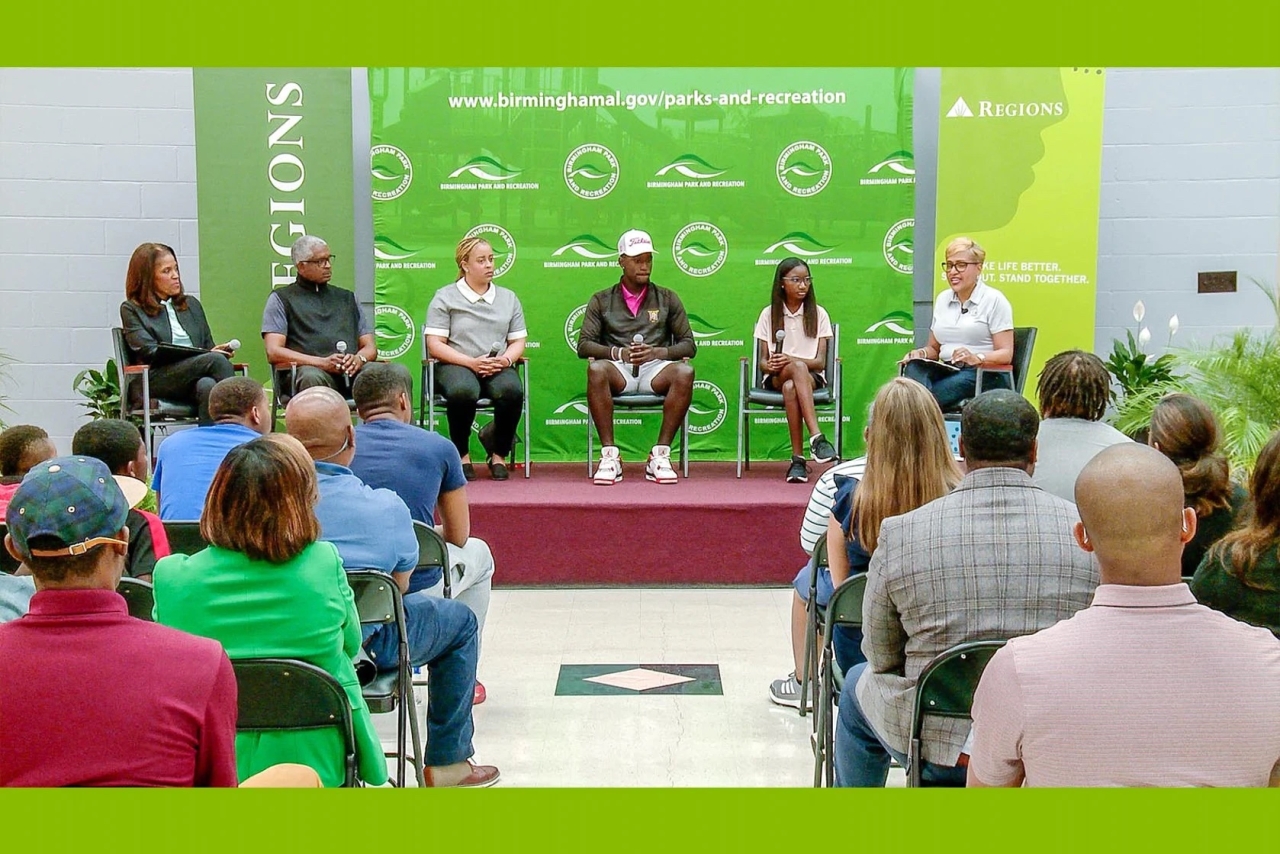 An Invitation to Play
Throughout the discussion, panelists shared the importance of community, invitation and seeing "someone like me" on the golf course as pivotal to their own stories and the necessary ingredients to increase diversity in the game of golf.
When asked about the gap in diverse representation in golf, Oliver recounted her own experience joining the PGA TOUR three years ago following a successful career in public relations and marketing.
"I didn't grow up around golf so I really couldn't see myself (having) a place in the industry," she said. "It wasn't until a PGA TOUR executive recruiter actually said three words to me: 'You belong here.'"
"What we've learned is we have to be more than just welcoming, we have to be invitational," continued Oliver. "And when we think about the sport of golf and the game of golf, it primarily begins with an invitation to play. We know that there are barriers of access, customs and costs. And it's important for us to have conversations like we have today with civic leaders, and champions and corporate partners, who want to work together to remove those barriers to increase that representation."
Coaching with Intention
Like Oliver, Smoot believes that for young people, seeing players who look like them, especially at a local level, makes a difference.
"Many of our kids don't see us. They don't see us out there participating. And it's just like any other sport that we've all grew up playing, basketball, football. If they see this sport in our communities, of course they're going to be drawn to it. But if they don't see it, they're not going to be drawn to a sport that they know nothing about," he shared. "They've got to see a Black man out there on the golf course, they've got to see a Black woman out there on the golf course … and I'm very intentional about that."
Smoot taught himself the game while serving in the United States Marine Corps, eventually becoming the third Black golfer to make the Marine Golf Team. Following his successful military career, he started the golf team at Miles College, a historically Black college and university (HBCU) in Fairfield, Alabama. Today he is a strong advocate for the game, encouraging young people from all backgrounds — and especially Black students — to play golf.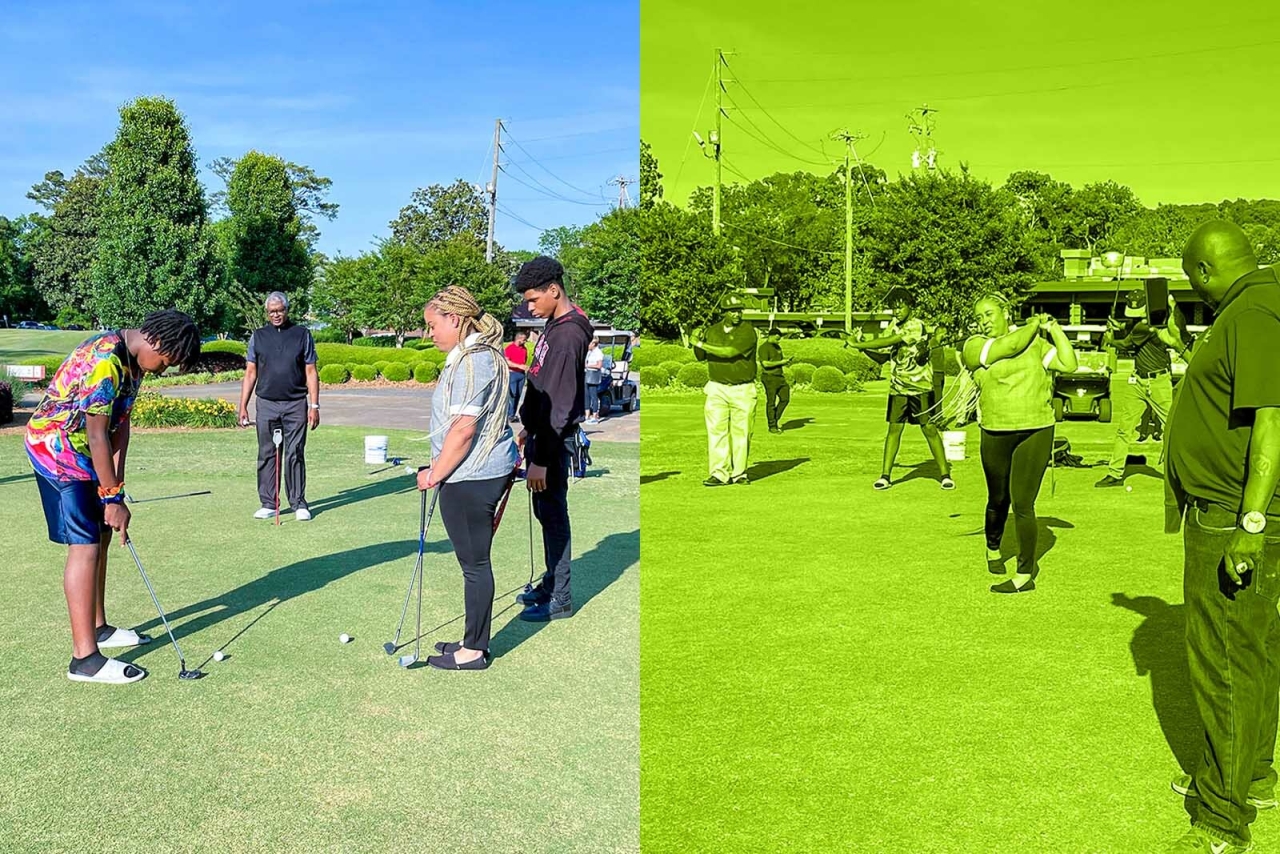 The Next Generation of Golfers
Troy Wilson is one such student. A 2022 graduate of Miles College, Wilson played multiple sports growing up. It wasn't until his sophomore year of high school that he turned his attention to golf, practicing regularly and joining a small but enthusiastic golf team. Wilson's dedication earned him a scholarship to Miles College and a spot on the men's golf team.
As a freshly minted college graduate, Wilson has already experienced benefits of golf that go beyond the game itself. In addition to playing, he has begun caddying and is seeing doors open as relationships are built on the golf course.
"Golf has given me a lot," said Wilson. "Because of the character development skills that I've learned through golf, through trust and integrity. It's given me a lot of different opportunities like internships, just speaking with people and knowing how to hold myself or manage myself."
Fleming, a seventh-grade student, began playing golf at age 5, well before her fellow panelists. Today she competes as part of the Bumpus Middle School girl's golf team in Hoover, Alabama. For her, seeing other kids playing the game inspired her to give it a try.
"I got started playing golf when I went to a kids' golf tournament that my dad was caddying at. And just watching those kids play, it just showed me that kids can play too, not just adults. And so I got my own set of clubs not long after, and I started taking lessons. And I've been playing ever since."
First Tee and Giving Back
Attorney and Birmingham City Councilor Crystal Smitherman began playing golf at a young age as a member of the First Tee, a youth development organization introducing the game of golf to young people.
"First Tee was such a great program; all of my summers were full of fun. We would basically spend the day at the golf course," Smitherman shared. "I really gained a lot of good friends, a very diverse group of friends."
She described how the program opened doors for her, including a college scholarship at Hampton University, a HBCU in Virginia, where she played on the women's golf team.
"First Tee allowed me to compete on the national level with the youth games. And that allowed me to extend my golf competition outside of Alabama, and we competed in California and Florida. And just getting the exposure at a young age really helped to set me up to play college golf as well."
Today, in addition to her law career and her public service, Smitherman is among a group of local community leaders working to relaunch a First Tee chapter in Birmingham in the coming years. Seeing young players like Fleming is what inspires her.
"When I was out there — and this was 2001 — I didn't really see a lot of people like me, I didn't see a lot of Black girls like me," said Smitherman. "It makes me really proud now, 20 years later, to see girls like Madison out there and knowing that she's not the only one."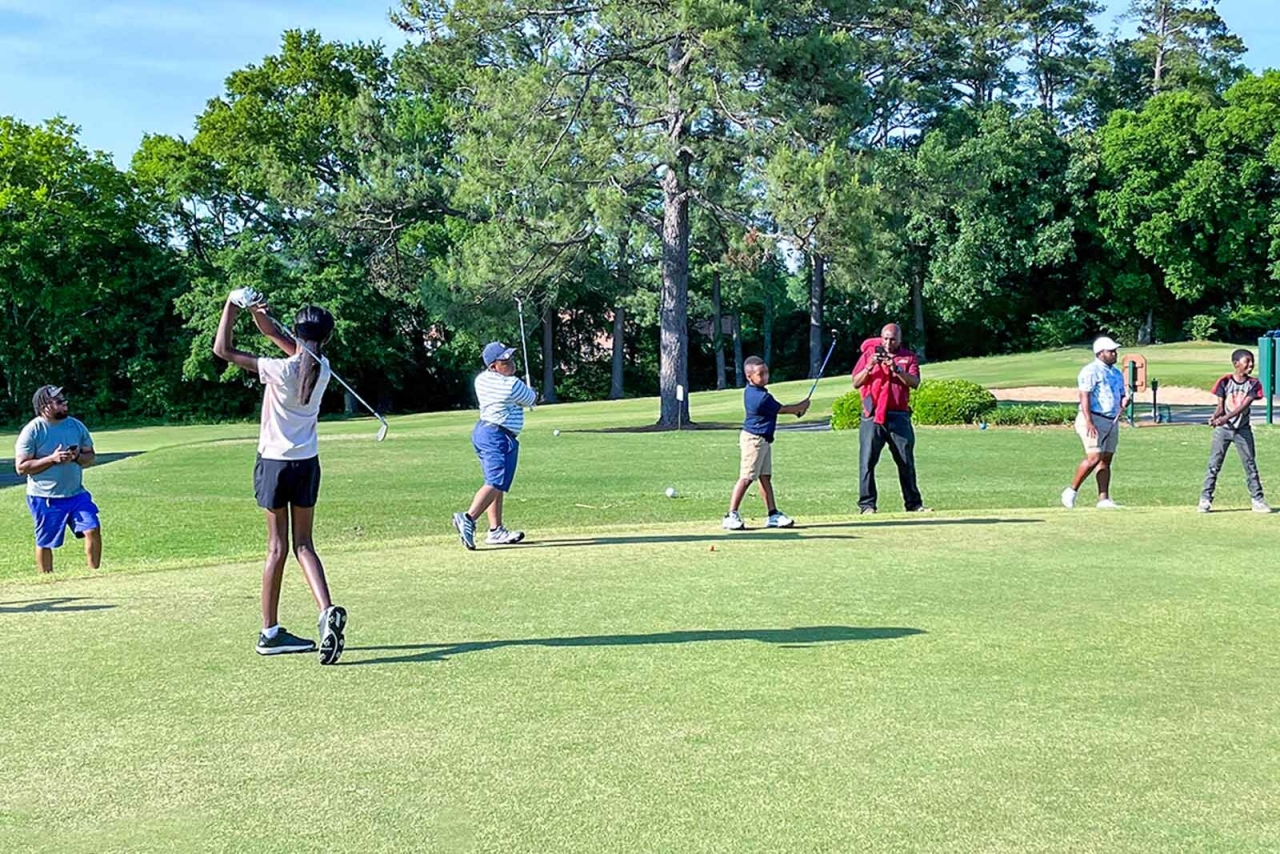 The PGA TOUR – Changing the Sport
For its part, the PGA TOUR continues to invest in a variety of programs to increase diversity and access in the game of golf.
"I am committed to ensuring that we're not just sitting in Ponte Vedra Beach in our desk in our conference rooms," said Oliver. "We're coming from behind our desks to be here at the Roebuck Community Center, to go to the PGA Works Collegiate Championship, where we can listen and learn from those who we want to reach, those who we want to serve, those who we want to be curious about the game, those we want to work in the space as well. So this has been a real gift I think for all of us to be able to learn here and align with efforts that we know will increase representation and change our sport and ultimately change our world."
Regions Bank, the Regions Foundation and the PGA TOUR share a commitment to investing in communities and championing diversity, equity and inclusion both in the workplace and in local communities.
Want to learn more? Visit the following sites for details and resources you can use.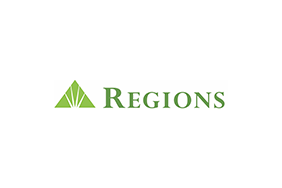 Regions Bank
Regions Bank
Regions Financial Corporation (NYSE:RF), with  $147 billion  in assets, is a member of the S&P 500 Index and is one of the nation's largest full-service providers of consumer and commercial banking, wealth management, and mortgage products and services. Regions serves customers across the South, Midwest and  Texas , and through its subsidiary, Regions Bank, operates more than 1,300 banking offices and 2,000 ATMs. Regions Bank is an Equal Housing Lender and Member FDIC. Additional information about Regions and its full line of products and services can be found at www.regions.com.
More from Regions Bank