Published 05-27-22
Submitted by Essity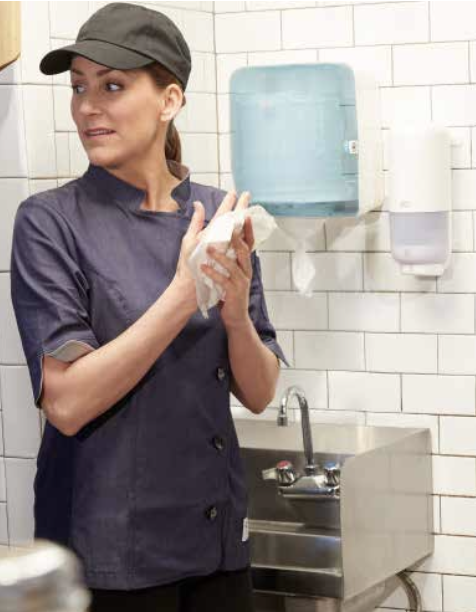 Originally published on Essity.com
Our leading hygiene and health solutions constitute the core of our business. Together with partners, we use our experience and resources to accelerate innovation to ensure that our portfolio satisfies customer and consumer demands while contributing to a circular society and net zero future.
Essity develops products and solutions that require less material and that use low-carbon materials in their production. Our key strategies focus on reusable products and designing to reduce consumption.
Using less material
We are working continuously to develop smarter designs and superior materials to reduce climate impact throughout the product lifecycle. Thinner products for Incontinence, Baby and Feminine Care help reduce the use of resources while delivering the same or even better performance. Compressed tissue paper and coreless toilet paper rolls are other examples of product innovation leading to less transport resources and waste.
Introducing more reusable products
We are developing new sustainable products by introducing reusable products in our assortment. Examples include menstrual cups, washable period pants and TENA washable absorbent underwear, providing users with better environmental performance.
Looking toward 2050, we will develop ways of scaling up and commercializing these solutions. We are working to find materials and innovations that can meet our high demands on high quality products and at the same time contribute to lower environmental impact and improved circularity.
Target >50% sustainable innovations
New collaboration models to accelerate innovation
Essity Ventures is a strategic initiative within Essity to lead the change toward more sustainable and digitally advanced health and hygiene solutions. We actively seek partners with sustainable innovations to speed up the journey toward a circular society, creating solutions for new life after use, as well as new business models.
Sustainable innovations
Designing for reduced consumption
Another important focus area within sustainable products is designing to help users to consume less. Essity's globally leading Tork brand offers products that minimize consumption during use. One example is Tork Reflex™, a single-sheet dispensing systems that reduces wiping paper usage by up to 37%.
The TENA SmartCare Change Indicator™ uses the latest digital health technology to help caregivers understand when incontinence products need to be changed if caretakers are unable to communicate their needs. This means increased well-being for caretakers, but also less consumption and waste.
Period pants
We are accelerating innovation and making our portfolio fit for the future. By introducing reusable products such as washable period pants, we want to provide our consumers with an alternative to single-use period products as well as a great experience. Intimawear, which is sold under the Essity brands of Bodyform, Libresse and Saba, among others, reduces the carbon footprint to approximately one third of that of a disposable towel.
Life cycle approach yields results
We have extensive experience of working with a life cycle approach when analyzing the carbon footprint of a product. Together with suppliers, logistics providers, customers and consumers, we work to improve where it matters the most.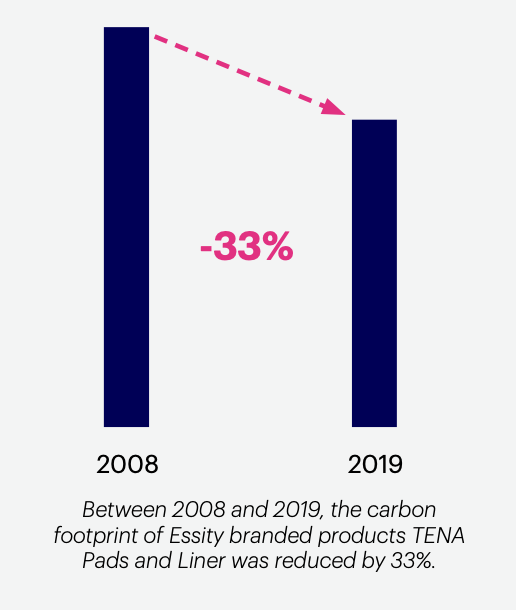 Our calls for action to policymakers
We need policymakers to support the green transition by:
Developing a regulatory framework wich enables sustainable innovations, not limiting incentives to short-term solutions.
Considering different recycling possibilities for different materials and products.
Developing incentives to stretch the boundaries for circularity.
Learn more about Essity's Journey to Net Zero here
Download Essity's Journey to Net Zero report here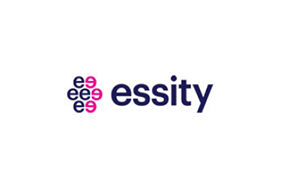 Essity
Essity
Essity is a leading global hygiene and health company that develops, produces and sells Personal Care (Baby Care, Feminine Care, Incontinence Products and Medical Solutions), Consumer Tissue and Professional Hygiene products and solutions. 
Our vision is; Dedicated to improving well-being through leading hygiene and health solutions. The name Essity stems from the words essentials and necessities. Sales are conducted in approximately 150 countries under many strong brands, including the leading global brands TENA and Tork, and other brands, such as Leukoplast, Libero, Libresse, Lotus, Nosotras, Saba, Tempo, Vinda and Zewa. Essity has about 48,000 employees and net sales in 2017 amounted to approximately 12.8 bn USD (SEK 109bn, EUR 11.3bn). The business operations are based on a sustainable business model with focus on value creation for people and nature.
The company has its headquarters in Stockholm, Sweden, and is listed on Nasdaq Stockholm. Essity used to be part of the SCA Group.
About Tork
Tork is a brand of Essity. Essity is a leading global hygiene and health company that develops personal care, professional hygiene and consumer tissue products and solutions. Essity offers Tork paper towels, toilet paper, skin care products, facial tissue,  wipers, wet wipes, napkins and other hygiene products for washrooms, wash stations, healthcare areas, food and beverage handling, food preparation, manufacturing and maintenance. For more information, visit http://www.torkusa.com/
More from Essity