Published 05-27-22
Submitted by Chevron Corporation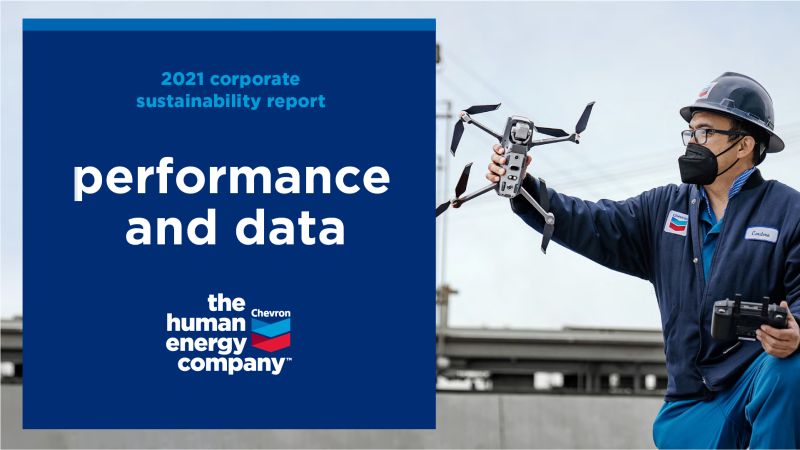 Chevron 2021 Corporate Sustainability Report: Performance and Data
At Chevron, we strive to be transparent and improve our reporting on sustainability-related topics to help provide comparable and decision-useful information for investors and other stakeholders. We are working with peers, stakeholders and regulators to achieve greater consistency and comparability of reporting.
We consider environmental, social, and governance information in both voluntary and mandatory disclosures. For voluntary reporting, we consider the reporting guidelines, indicators and terminology in the Sustainability Reporting Guidance for the Oil and Gas Industry (2020) by Ipieca, the International Association of Oil and Gas Producers (IOGP), and the American Petroleum Institute (API). We also consider other leading reporting frameworks, such as the Stakeholder Capitalism metrics developed by the World Economic Forum, to determine which data to include in our tables. Chevron uses the World Resources Institute/World Business Council for Sustainable Development Greenhouse Gas Protocol: A Corporate Accounting and Reporting Standard (2015) definition of three "scopes" to report GHG emissions.
enhancing our reporting
We provide index columns that map our current reporting data to the relevant Sustainability Accounting Standards Board (SASB) and Ipieca frameworks. The indices are based solely on Chevron's interpretation and judgment and do not indicate the application of definitions, metrics, measurements, standards or approaches set forth in the SASB and Ipieca frameworks. Please refer to the relevant footnotes for information about Chevron's data-reporting basis.
In this year's Corporate Sustainability Report, we added a new table that tracks our progress toward our 2028 GHG emissions intensity targets. We also expanded our global employee diversity data to provide region and gender information. In line with our approach to provide comparable and transparent data, we developed the portfolio carbon intensity (PCI) methodology to enable the comparison of Scope 1, 2 and 3 GHG emissions of companies that may participate in different parts of the value chain. In addition, we are also providing a separate GHG data performance table based on the API Template for GHG Reporting (March 2022) and API Guidance Document for GHG Reporting (March 2022). We aspire to continue to achieve real results and transparently communicate progress on our performance.
ESG data quality
The accuracy of the information reflected in our report is important to us. Since 2004, Chevron has engaged an accredited assurance provider, Lloyd's Register Quality Assurance, Inc. (LRQA), to verify that our Operational Excellence Management System (OEMS) meets international environmental and safety management system standards and specifications. In 2021, we obtained a Certificate of Approval that demonstrates the alignment of our OEMS with ISO 14001:2015 and 45001:2018 standards, as well as the integrity and strength of our Chevron Technical Center in setting the strategic direction of the OEMS and providing oversight and verification of its effectiveness throughout the corporation.
We also engaged LRQA to provide independent assurance on Chevron's processes used to create the Corporate Sustainability Report for calendar year 2021 to a reasonable level. LRQA's assurance engagement covered Chevron's operations and activities worldwide and evaluated how effective Chevron's reporting processes were in delivering health, safety and environmental indicators that are useful for assessing corporate performance and reporting information consistent with core and additional reporting elements in the Ipieca/API/IOGP Sustainability Reporting Guidance for the Oil and Gas Industry (2020) and SASB Oil and Gas – Exploration and Production, Midstream, and Refining & Marketing accounting metrics referenced in the performance data tables. In some cases, Ipieca elements and SASB metrics referenced are partially reported. 
For more than 10 years, we have conducted independent third-party assurance of Chevron's GHG emissions. In 2021, we expanded this assurance to include Chevron's performance data, Scope 3 emissions and GHG emissions on an operational control basis. The objective is to assess whether the assured emissions data are reported in accordance with the principles of completeness, comparability across the organization and accuracy, including calculations, use of appropriate conversion factors and consolidation.
to create customized charts and tables using our performance data, visit: chevron.com/sustainability/performance/chart-generator
for complete reporting, visit chevron.com/sustainability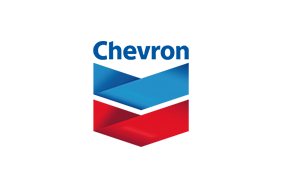 Chevron Corporation
Chevron Corporation
Chevron Corporation is one of the world's leading integrated energy companies. Through its subsidiaries that conduct business worldwide, the company is involved in virtually every facet of the energy industry. Chevron explores for, produces and transports crude oil and natural gas; refines, markets and distributes transportation fuels and lubricants; manufactures and sells petrochemicals and additives; generates power; and develops and deploys technologies that enhance business value in every aspect of the company's operations. Chevron is based in San Ramon, California. 
Affordable energy is a catalyst for economic growth and prosperity. Our company's values drive us to provide that energy responsibly while protecting the environment and working with our partners to strengthen communities because our success is tied to the success of the communities where we operate.
We conduct our business in a socially responsible and ethical manner, protect people and the environment, support universal human rights, and benefit the communities where we work.
More from Chevron Corporation