Published 05-24-22
Submitted by Biogen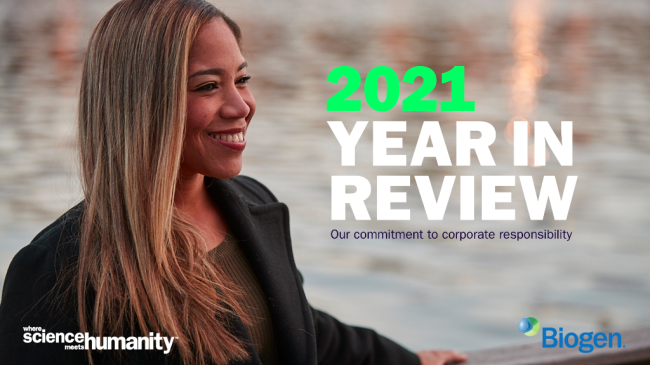 As a purpose-driven company, Biogen seeks ways to reinforce our commitment to climate, health and equity. Our newly released 2021 Year in Review reports on our progress on these and other priorities to create a healthier, more equitable and sustainable world. Highlights include:
Climate: Conducted the company's first Biosimilars life cycle assessment (LCA), which provides a roadmap for delivering on Biogen's plan to go fossil fuel free and reducing the environmental impact of key products. The company also disclosed an accelerated goal for a net zero supply chain by 2045 as part of its 20-year, $250 million Healthy Climate, Healthy Lives initiative.
Health: Launched Biogen Trial Link, a resource designed with input from Biogen's Community Advisory Board to help deliver on the company's goal to exceed industry standards for clinical trial diversity. Also, 100% of U.S. clinical trial studies initiated in 2021 included a plan to recruit underrepresented patients.
Equity: Enhancing DE&I transparency, sharing the results of Biogen's global gender pay gap analysis. This work builds on the company's pay equity analysis, and is part of its commitment to ensure employees receive equal pay for equal work.
With its Year In Review, Biogen also kicked off the 20th anniversary of the Biogen Foundation and the Biogen Community Lab, which have served more than 3 million people in 50+ countries, inspiring students' life-long journeys in science, reducing health disparities and helping neighbors in need.
This kind of progress is possible, in part, due to Biogen's commitment to governance of corporate responsibility issues. The company has formalized Board oversight of ESG, and once again tied a portion of employees' and executive officers' compensation to ESG metrics.
Biogen's 2021 Year In Review is aligned with GRI, SASB, the World Economic Forum Stakeholder Capitalism Metrics, the UN SDGs and the Task Force on Climate-Related Financial Disclosures (TCFD). Not only is Biogen a signatory of the United Nations Global Compact, this year the company has become an early adopter of the UN's new reporting standards.
Read more by visiting Biogen's Year in Review website.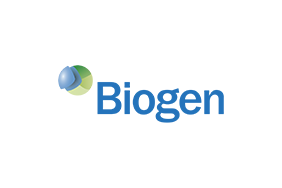 Biogen
Biogen
At Biogen, our mission is clear: we are pioneers in neuroscience. Biogen discovers, develops and delivers worldwide innovative therapies for people living with serious neurological and neurodegenerative diseases as well as related therapeutic adjacencies. One of the world's first global biotechnology companies, Biogen was founded in 1978 by Charles Weissmann, Heinz Schaller, Kenneth Murray and Nobel Prize winners Walter Gilbert and Phillip Sharp. Today Biogen has the leading portfolio of medicines to treat multiple sclerosis, has introduced the first approved treatment for spinal muscular atrophy, commercializes biosimilars of advanced biologics and is focused on advancing research programs in multiple sclerosis and neuroimmunology, Alzheimer's disease and dementia, neuromuscular disorders, movement disorders, ophthalmology, immunology, neurocognitive disorders, acute neurology and pain. We routinely post information that may be important to investors on our website at www.biogen.com. To learn more, please visit www.biogen.com and follow us on social media - Twitter, LinkedIn, Facebook, YouTube.
More from Biogen