Published 05-24-22
Submitted by Mondelez International
Mondelēz 2021 Snacking Made Right Report
This year's report marks an important milestone at Mondelēz International. We embark on our 10th year as a standalone snacking company, reflect on 10 years of sustainability integrated into our business growth strategy and look ahead to accelerate our ESG strategy continuing to focus where we can have a bigger impact while contributing to where the world needs it most.
Cocoa — and our signature sourcing program Cocoa Life — is an excellent example. As one of the world's leading chocolate makers, cocoa is essential to our business. Looking after this core ingredient by developing more sustainable farming practices and positively contributing to the livelihoods of cocoa farming communities is arguably our single biggest opportunity to have a positive impact on people and the planet.
10 years ago, we pioneered our own program, Cocoa Life, because certification labels didn't go far enough in addressing the underlying, interrelated issues in cocoa. We wanted to tackle the challenges on the ground in the most effective way. Created with third-party experts, Cocoa Life is integrated into our business strategy, funded through our chocolate business, driven by impact data and continuous learning, and independently verified by outside, third-party verification. As part of our journey to lead a thriving cocoa sector, in 2012, we committed to invest $400 million over 10 years to empower 200,000 cocoa farmers and improve the lives of approximately one million people living in cocoa communities. And in 2019, we set a new goal to source 100% of our cocoa volumes for chocolate brands through Cocoa Life by 2025.
10 years on, we have delivered on our original 2022 goals, and are well on the way to meeting our 2025 goal – 75% of our 2021 cocoa volumes for chocolate brands is sourced through Cocoa Life, including 100% for our much-loved global chocolate brands such as Cadbury Dairy Milk, Côte d'Or, Milka and Toblerone.
We have been making ongoing progress against our goals to improve yields, improve farmer incomes, reduce deforestation, empower women to create additional sources of income, and encourage more children to attend school. Importantly, our impact data – the only impact data publicly published across our industry – confirms our program is having the positive impact we want to see, and we are learning, improving and scaling up our signature sourcing programs, informed by this data.
Cocoa Life has made the difference on the ground in three key areas:
Creating more sustainable cocoa farming businesses

Increased Cocoa Life farmer net incomes in West Africa by +14% - +15% vs. 2019

Strengthening cocoa communities

96% (2,482) of communities with Community Action Plans (CAPs) in place, of which 70% are supported by local governments

Conserving and restoring forests

We see near to no deforestation in close proximity to our Cocoa Life farms in West Africa since 2018 (0.1% in Ghana & 0.4% in Côte d'Ivoire)
With Cocoa Life, we are going beyond more sustainable sourcing, we're leading the way in building a thriving cocoa sector. And we have 10 years under our belt demonstrating our ESG strategy in action – leading where we can make the biggest impact and contributing to where the world needs it most. Our mission is simple - lead sector transformation by driving holistic solutions that address root causes and create systemic, lasting change. Over time these efforts will contribute to reducing our total greenhouse gas (GHG) footprint in our long-term goal to realize net zero CO2e emissions.
The issues the world faces such as climate change, poverty, and plastic pollution are systemic and cannot be solved by one company alone. Collective action with our peers, suppliers, governments, NGOs, farmers, and communities is critical. This is why we're investing time and resources in key coalitions to transform systems and achieve even greater impact together.
Leading Sustainability for the past 10 years at Mondelēz has been the most meaningful experience of my career so far. It is a privilege to work with so many passionate and creative colleagues and partners around the world who are driven to make a difference. Their determination combined with our results and learning so far gives me great hope for the future that we are building not only a sustainable snacking company, but a more sustainable world.
Read more in the Mondelēz 2021 Snacking Made Right Report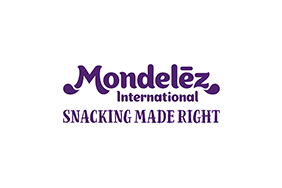 Mondelez International
Mondelez International
Mondelēz International, Inc. (NASDAQ: MDLZ) empowers people to snack right in over 150 countries around the world. With 2019 net revenues of approximately $26 billion, MDLZ is leading the future of snacking with iconic global and local brands such as OREO, belVita and LU biscuits; Cadbury Dairy Milk, Milka and Toblerone chocolate; Sour Patch Kids candy and Trident gum. Mondelēz International is a proud member of the Standard and Poor's 500, Nasdaq 100 and Dow Jones Sustainability Index. Visit www.mondelezinternational.com or follow the company on Twitter at www.twitter.com/MDLZ.
More from Mondelez International