Published 05-16-22
Submitted by Koch Industries

Koch Strategic Platforms is investing $30 million in Blue Current, a manufacturer of advanced solid-state batteries for electric vehicles, consumer electronics, grid storage and more.
HOW IT WORKS: Blue Current's proprietary battery maximizes safety and performance, stabilizes temperature, and enables greater scalability across uses. The fully dry high silicon elastic composite battery combines the mechanical properties of polymers with the ionic conductivity of glass ceramics.
WHY KOCH INVESTED: As production of battery-powered devices increases, more forms of energy storage are necessary. Blue Current's technology enables fire resistance, high energy density and a longer life cycle.
The funding will accelerate commercialization of the company's technology and the construction of its first megawatt-scale factory in California.
"Solid-state battery technology will play a pivotal role in global energy transformation," said Jeremy Bezdek, managing director for KSP. "Our extensive diligence indicated that Blue Current has an advantaged intellectual property position that has the potential to be disruptive in the solid-state battery space."
WHAT'S NEXT: Blue Current is developing a 22,000-foot production-ready facility in Hayward, California, with state-of-the-art wet and dry labs, battery cycling and high-bay logistics space. The battery is in early-stage testing with automotive customers and will expand to consumer electronics and other market segments.
THE BIG PICTURE: Blue Current is the latest investment from KSP in the energy value chain, part of over $1.2 billion since 2021.
These include investments in Li-Cycle, Aspen Aerogels, Eos and Standard Lithium.
GO DEEPER: Read more about the announcement here.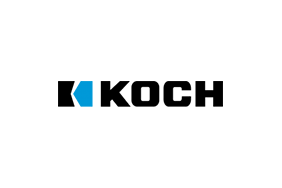 Koch Industries
Koch Industries
Creating value. Improving life.
From life's basics to tomorrow's technological breakthroughs, it's our job to create and innovate a wide spectrum of products and services that make life better – and to do so responsibly while consuming fewer resources. Below are 16 of the ways we do exactly that.
Responsibility is our highest priority.
For us, creating value goes far beyond economic performance. It means doing the right thing. In the right way. Always. For our customers. For our employees. For our communities. For our environment.
Five steps we take.
Every day, we work to create more value, using fewer resources than the day before. We do it by managing our resources in a way that benefits our customers, employees, partners, community members and society with a philosophy of mutual benefit. With more than 300 manufacturing sites across the United States, we're one of America's largest manufacturers. To stay in business for the long term, we must constantly improve and innovate – both in the products we make and how we make them.
Reducing Waste
Saving Energy
Recycling Resources
Preventing Pollution
Community Partnerships
Ways we work to be responsible.
In our view, the role of business in society is to create products and services people want and need, but to do so responsibly. This means finding ways to use fewer resources, operating safely, protecting the environment and always acting ethically.
Safe Operations
Organizational Efforts
Environmental Performance
More from Koch Industries