Published 05-16-22
Submitted by T-Mobile
As the country honors its servicemen and women this month, T-Mobile renews its lead sponsorship of a nonprofit helping veterans and their families meet the challenges of life after the military. In the second installment of this three-part series, we bring you a special story of how this employee found herself demonstrating what Military Appreciation Month in action truly means.
A Military Spouse
"In the words of Johnny Cash, we got married in a fever," laughs Laura Linderman Barker, a senior director on the Government Affairs team at T-Mobile.
Laura says she met her husband Andrew when he was doing reserve duty in the Navy and working with the Department of Justice. They fell in love quickly — then married quickly — because he was scheduled to deploy to Afghanistan. They got hitched in San Diego in 2008, and a day later he began his seventh deployment. It was always meant to be his last, but not for the reasons that came to be.
"Unfortunately, when he was there, Andrew was in close proximity to a blast and suffered a Traumatic Brain Injury," says Laura. "TBIs are complicated. I had no idea what it meant to be a military wife. I was someone who always planned everything and felt in control, but then became someone who never felt so emotionally vulnerable. And I deeply missed my husband."
Laura says she had no concept of what to expect of supporting a navy veteran reintegrating into civilian life but they just kept moving forward as life took over. They were busy working and raising their two daughters. While on the outside they may have looked like any other family, Laura says in no uncertain terms they were struggling with very complex issues at home and she felt overwhelmed.
When Paula first mentioned her chance encounter with the board members she met from Warrior & Quiet Waters, she says she saw it as a wonderful opportunity for T-Mobile. The company could sponsor the Warrior Taste Fest to continue its work of supporting veterans, and the part of Montana where the organization is located was a rural area in need of better connectivity.
"Our boss Tony Russo, VP of Government Affairs, saw an obvious alignment with the brand's values," says Paula, "but he too saw Laura struggling and once I pitched it to him, he said he would support the sponsorship — so Laura and I headed to Montana to represent T-Mobile."
Laura says when they arrived and she shared her personal story with some of the staff at Warriors & Quiet Waters, someone referred to her as a caregiver and it was the first time she had ever even thought of herself that way. It's no surprise that members of the organization saw Laura for exactly who she was, as Warriors & Quiet Waters was beginning to work on a caregiver focused fishing expedition program.
"I admit when I first heard of Warriors & Quiet Waters, I immediately thought I need to get my husband involved in this and it kind of went over my head that I should apply as well," she says.
Paula told Emily Sather, Chief Development Officer at Warriors & Quiet Waters, about how impacted Laura was by the Warriors Taste Fest and Emily asked if Laura would be interested in applying to their new program. She immediately called Laura.
"I think Laura for the first time felt that she found a community that understood who she was and what she was going through — she was a caregiver", says Paula. "And the opportunity to take advantage of this new-found community through fly fishing came at the perfect time with what Laura was going through. I saw her struggling and I needed to help her put one foot in front of the other."
Once again, Laura says it was her ally Paula who pushed her to see that she, too was, deserving of care.
"I had been going through a particularly rough period at home, and I just remember after that conversation with Paula, I submitted my application," says Laura. "A total of six people are chosen for their caregiver fishing expeditions and I feel grateful I was chosen last year. My takeaway is that I'm of no value to my husband and family if I'm not taking care of myself. And this program reminds people to stop and energize and refuel because you're going back to a situation that requires your energy and if you don't ever recharge it can be a recipe for disaster. It reminded me to not just focus on what it is to have my most basic needs met, but to challenge me to pursue a life of purpose."
"Laura is someone who always wants to do what's right," says Emily, "and it's an honor to partner with someone who is not only service-oriented but also brings her own personal experience of being a military caregiver and the challenges and opportunities therein."
Laura returned from that trip excited to do more for the organization, but says attending that first Warrior Taste Fest was monumental thanks to one chance encounter.
"That's when we met Larry," she explains.
See more Military Appreciation Month stories here
T-Mobile Mental Health Resources
T-Mobile is helping veterans get the care they deserve by partnering with the U.S. Department of Veterans Affairs to enable real-time health care via video.
In 2020 during National Veterans and Military Families Month, T-Mobile became the first major wireless provider to make the 988 emergency lifeline immediately available to its customers, which offers real-time mental health services.
LiveMagenta houses various telehealth options for T-Mobile employees focused on mental health such as virtual therapy and well-being apps.
eM Life Mindfulness offers programs for military and veterans, and there are also immersive programs like Journey Forward: The M.M.A.P. For Success, on-demand programs like Next Evolution: Veterans - from Soldier to Civilian and a variety of mindfulness communities such as Mindful Warriors.
LiveMagenta's Live and Work Well site offers articles, videos, resources and topics for veterans.
Percipio Resources are free and available to T-Mobile's military employees including books, courses, videos and much more.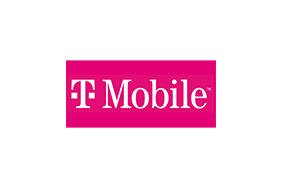 T-Mobile
T-Mobile
T-Mobile US Inc. (NASDAQ: TMUS) is America's supercharged Un-carrier, delivering an advanced 4G LTE and transformative nationwide 5G network that will offer reliable connectivity for all. T-Mobile's customers benefit from its unmatched combination of value and quality, unwavering obsession with offering them the best possible service experience and undisputable drive for disruption that creates competition and innovation in wireless and beyond. Based in Bellevue, Wash., T-Mobile provides services through its subsidiaries and operates its flagship brands, T-Mobile, Metro by T-Mobile and Sprint. For more information please visit: https://www.t-mobile.com/news.
More from T-Mobile