Published 05-12-22
Submitted by Koch Industries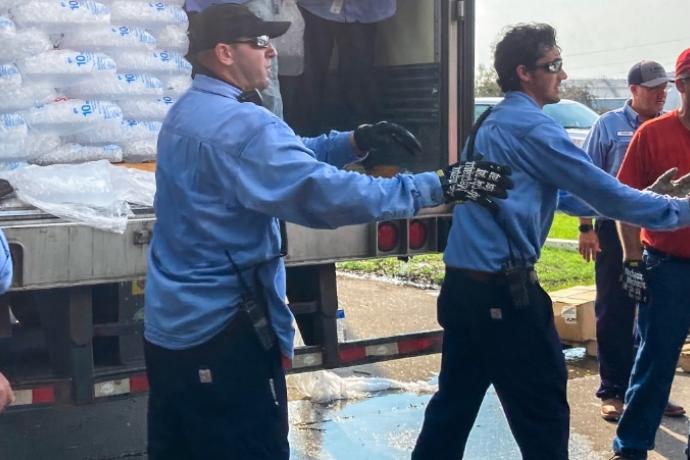 At the Koch Methanol plant on the banks of the Mississippi River, Marc Hoss was keeping a wary eye on Hurricane Ida as it lashed the Caribbean last August. The Midwesterner facing his first hurricane watched as Ida unexpectedly increased to a Category 4 hurricane and shifted course barreling towards the small Louisiana town between Baton Rouge and New Orleans where the plant is located. The team immediately began to put its response plan into action.
Quickly and safely, the St. James Parish Koch Methanol facility team shut down operations to keep the area and the surrounding community safe and prepared their own homes for Ida's arrival. Koch's emergency operations center in Wichita activated, making hotel reservations for the employees' families who needed to be evacuated ahead of the storm.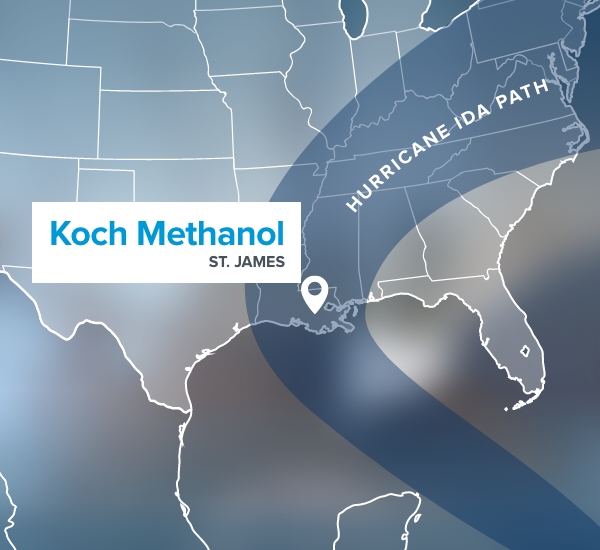 "That's one of the things I am really proud of," says Marc, a 31-year Koch veteran who is vice president of manufacturing at Koch Methanol St. James. "We wanted to get people off-site, get their houses boarded up, get the team taken care of and get their families to a safe spot. Our Wichita team scoured the southern United States to find hotels."
Marc and a small emergency team of facility employees hunkered down in the administrative offices on-site -- the "ride-out team" he calls them. In the calm before Ida hit, they felt assured all was fine.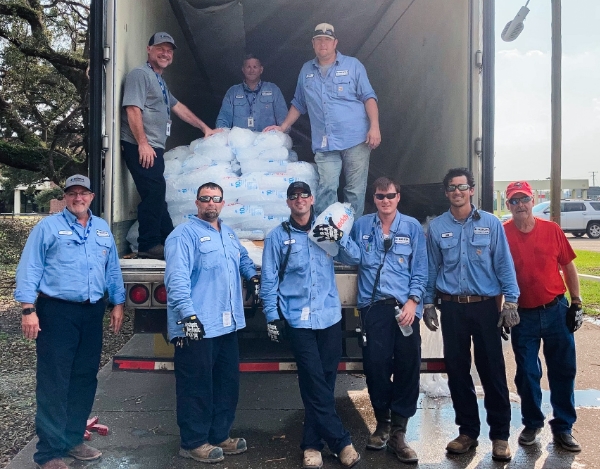 Their sense of ease quickly drained as Ida's path moved directly over St. James Parish, increasing in strength and pounding ashore. The hurricane slammed much of Louisiana with torrential rain and winds over 100 miles per hour that toppled giant trees, ripped off roofs and sent power lines crashing down. Safe in the Koch Methanol facility, Marc and his team's thoughts immediately went to the community.
"We were expecting a Category 1 or 2 and instead it was coming in as a Category 4," Marc recalls. "I was really concerned about what was going to happen to people's homes and if they'd be safe."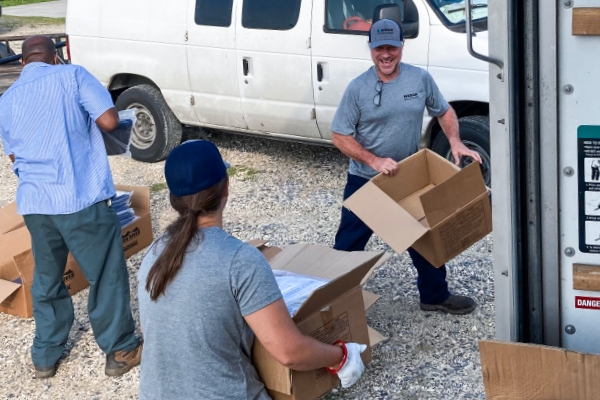 The next morning as Ida faded, Marc was relieved the ride-out team was safe and the state-of-the-art methanol facility had suffered only minor damage. But the St. James community and surrounding Parishes weren't nearly as lucky. The hurricane had caused devastating damage – homes were demolished, flooded and without power. Marc and his team realized their neighbors needed help — and fast.
"The damage was truly devastating," he said.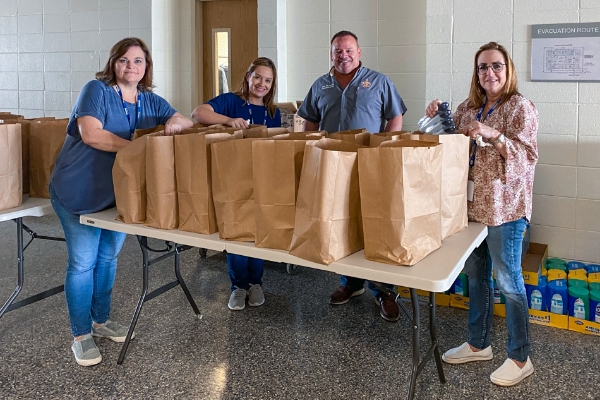 Immediately after the storm, with her own home damaged and phone network down, Baylee Mativi, Koch Methanol's human resources business partner, setup a makeshift office. There, she and others on the HR team worked to ensure all the St. James facility's employees were safe and had what they needed.
The company provided its employees everything from food and supplies — both of which were otherwise non-existent, according to one employee whose home was hit by the storm — to power generators. For one employee, the generator — delivered "from your Koch Family" — powered a fridge and freezer that stored food for multiple families who went without power for three weeks.

The next challenge was identifying the supplies people urgently needed across the community as they waited for help to arrive from the Federal Emergency Management Agency (FEMA) and the Red Cross.
"We were adapting on the fly. Since I hadn't been through a hurricane, I told the Wichita leadership team, 'let's go and ask the people who have been through these types of things,' and they started to give us excellent ideas," Marc said.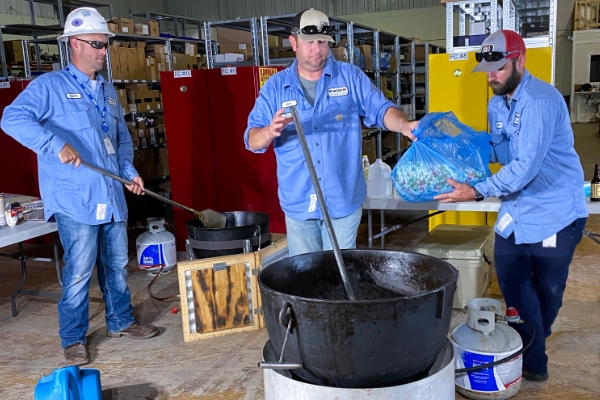 With power down across the community, Koch Methanol teams coordinated with local officials to draw up a list of urgent needs: tarps to cover damaged roofs, ice and water.
They sent the list to the Koch Wichita procurement and logistics team, who urgently tapped into the company's countrywide network to fast-track emergency deliveries. Vehicles drove through the night to deliver nearly 700 tarps and a refrigerated 18-wheeler carrying huge pallets of ice arrived.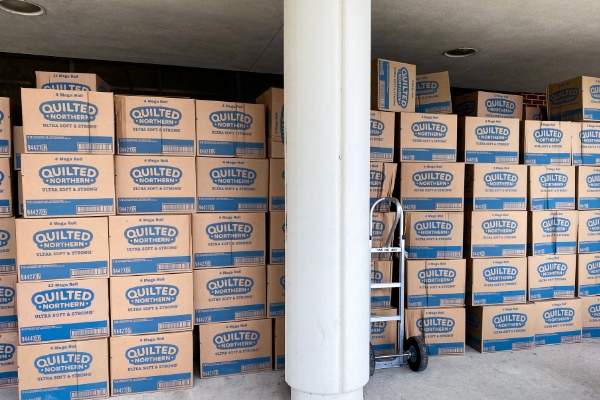 Over the next two days, Marc and his team, alongside local community volunteers, set up in a local park to hand out the supplies. After finishing their shifts at the plant, many Koch Methanol employees came to help others in the community instead of heading home to repair their own properties. Together, they unloaded the hundreds of tarps from the back of trailers and slung bags of ice into trunks as grateful people lined up. Many — including a FEMA agent who stopped by — were shocked by Koch's speed getting supplies to help Louisiana.
What impressed Marc was the enthusiasm of the plant's team to roll up their sleeves and lend a hand, despite many of their own homes being hard hit by the hurricane.
"Employees from all of our departments came together. These guys all had damage to their homes, but they're out there after working all day trying to help the community," said Marc.
Even with this support, Marc and his team saw many people still struggling in St. James as the hurricane slipped from the national news. Electricity was still out, flooded homes needed cleaning, people needed food and water. Koch Methanol employees again stepped up, sourcing and unloading huge trailers packed with supplies, including thousands of rolls of paper towels sent by Koch company Georgia-Pacific, and filling hundreds of bags with free food and cleaning supplies – even cooking huge pots of jambalaya for anyone in need of a hot meal. A sheriff helped direct traffic around the long line of cars that stretched down the road as nearly 500 people obtained help they so desperately needed.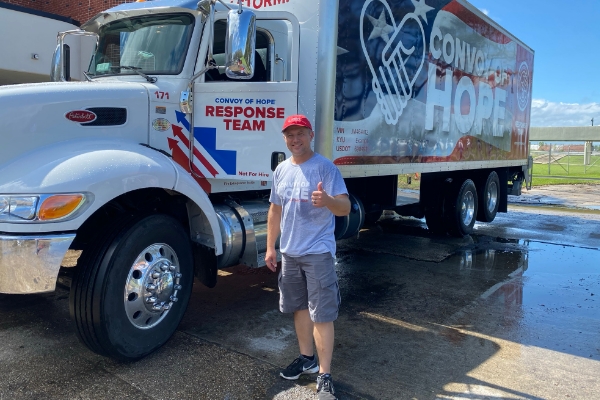 For many at Koch Methanol, helping was a welcome opportunity to show their support for their community throughout the crisis.
"People were coming out and they were energized, even in the face of all these hardships we were facing," Marc said. "I heard time and time again people saying, 'Thank you so much, I'm so glad I work for this company, and 'you guys are leading the efforts.'"
Baylee says it's Louisiana's strong community spirit that helps people get through the floods and storms that hit the state.
"My favorite thing about Louisiana is that in any disaster, everyone just comes together, it's just a natural response for anyone here," she said.
Patty Prats, Koch Methanol's community affairs coordinator, says the stream of thank you letters the company received was heartwarming in how much people in the community appreciated Koch's help.
"What's important to us is supporting the needs of the communities we call home and our quick actions to make real difference," Patty said.
The storm's aftermath became a unique experience for cementing bonds among the St. James team. Being part of a company that worked so hard — from Louisiana to Kansas to Texas and beyond — to help people made them extra proud, Marc says.
With the hurricane behind them, Marc wove lessons from Ida into a stormproof business continuity strategy. It will ensure his team is ready to make a difference again, should another crisis hit.
"We were overcoming a new challenge every 15 minutes it seemed," Marc said. "But the way that teams came together and demonstrated commitment to each other, and to the community, made us all feel very proud to be part of it."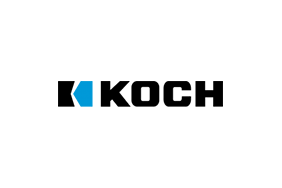 Koch Industries
Koch Industries
Creating value. Transforming life.
Our life's work is to help people improve their lives by making and innovating products and services our customers value. Our focus is on delivering mutual benefit: Win-win outcomes that make life better for customers and employees alike.
Based in Wichita, Kansas, Koch Industries is one of the largest private companies in America. A diverse set of businesses and industries across the world, we work together to keep improving and exploring new ways to make life even better.
Koch companies are involved in manufacturing, agriculture, pulp and paper, packaging, consumer products, building materials, glass, automotive components, refining, renewable energy, chemicals and polymers, electronics, enterprise software, data analytics, medical products, engineered technology, project services, recycling, supply chain and logistics, global commodities trading, and investments. Since 2003, Koch companies have invested more than $150 billion in growth and improvements. With a presence in about 60 countries, Koch companies employ more than 120,000 people worldwide, with about half of those in the United States.
Stewardship in all we do.
Our approach to Environmental, Social and Corporate Governance (ESG) is different than most. We believe in people and seek a system of equal rights and mutual benefit where individuals succeed by helping others succeed – and where people are empowered to improve their lives and their communities. It's why we focus on empowering individuals to improve their lives and communities through bottom-up solutions rather than top-down imperatives.
Environmental Stewardship
Consuming fewer resources, minimizing waste and constantly innovating to improve our manufacturing processes and performance is essential to the way we do business – benefiting our customers, employees, investors, communities and planet.
Five environmental stewardship priorities.
With more than 300 manufacturing sites across the United States – and about 100 more globally – we're one of America's largest manufacturers. Every day, across those sites, we strive to create more value, using fewer resources than the day before. We do it through constant improvement and innovation – both in the products we make and how we make them, and by managing our resources in a way that benefits our customers, employees, partners, community members and society.
Innovation
Energy Efficiency
Air Quality
Water
Responsible Resource Management
Social Stewardship
Philanthropy. Health and safety. Diversity and inclusion. Meaningful, rewarding careers and community outreach. These are just some of the vital priorities of social stewardship that empower each of our employees to develop, contribute, self-actualize and create value for the world while supporting communities in which we live.
Governance
Our management framework, Principle Based Management™, is based on proven principles of human progress and a deep appreciation for the dignity of every individual. Our private ownership, shared Vision, Values, compliance standards and oversight all help us focus on long-term value creation.
More from Koch Industries