Published 05-12-22
Submitted by Bayer

In addition to the unfolding impact of the COVID-19 pandemic, ongoing pressures due to climate change, labor shortages, socio-political instability, and other market disruptions are threatening our food system. To overcome these challenges, farmers are relying on one of agriculture's most trusted resources—human ingenuity.
From planting to harvest, farmers are further adopting tools like automation, digital platforms and other precision agriculture methods to keep food production moving in a sustainable fashion.
From Planting to Harvest and Beyond
Planting
It all starts with a seed in the ground. Plants used to rely on the wind to scatter their fruit. Or a hungry animal. But, with the advent of agriculture, there were hands willing to do the work. Then machines.
Automation was a giant leap forward for agriculture, and it now has the potential to keep our vital food systems producing, while reducing the need for physically demanding farm work.
Flying Seed Spreaders
In recent years, drones have begun buzzing over farmland. And they have the potential to help maintain production of rice - one of the world's most vital crops - well into the future.
Autonomous drones have many duties on a rice farm. But at the beginning of the season, their first job is to spread seeds.
Autonomous Planters
In many other crop systems, self-driving planters and tractors are becoming more and more popular, and affordable. Guided by GPS, these machines offer incredible precision throughout the planting process.
Modern planters measure the depth of each seed they drop, and the distance between it and its neighbor.
Spraying
Brilliant leaps in science and technology have kept agriculture moving forward, even in the face of daunting obstacles. When it comes to sustainably protecting crops and evading food loss, technology is becoming extremely precise.
On the ground and above, precision sprayers protect our food supply while using less water and reducing the use of pesticides.
Rolling Autonomous Sprayers
Like drones, rolling sprayers save time and labor. But in dry fields, they provide an opportunity for farmers to get even closer to the root of their crop - and the weed that's threatening it.
These AI-driven technologies enable sprayers to target just the weeds, and avoid spraying surrounding crops or soil.
Flying Autonomous Sprayers
Drones have incredible potential in crop protection, too. With greater precision and stamina, they cover more groud, using fewer inputs like water and pesticides.
Swooping in from above, drones can assist farmers by reducing on-field labor and unnecessary exposure in application areas.
Monitoring
Sensors in the ground and satellites in orbit monitor soil moisture, plant health, and temperature and humidity variations throughout the growing season.
These tools save farmers hours of walking through fields to gather insights. When we can minimize manual labor, farms can become more productive, efficient, and sustainable.
Satellites
Satellites the size of frying pans are orbiting miles above the earth right now. And many of them are sending information to farmers about the conditions of their fields.
These technologies can detect plant health and other threats before a farmer even notices them.
Sensors
Sensors buried in the soil can give farmers information about their fields at distinct points, every day, all year long. They can see temperature variations, moisture and nutrition levels, and more.
All of this information can be sent straight to a farmer's tablet or smartphone.
Harvesting
While automation has been prevalent in cereal harvesting for decades, the technology to pick and pluck delicate fruits and vegetables is still emerging. Although this field is one of the most visionary in agriculture technology, many see it as the answer to sustainability and alleviating manual labor.
Automation will play an important part in feeding all 8.5 billion of us in 2030 and beyond.
Pepper Pickers
Engineers and programmers have worked for years to perfect this type of machine. But as the need for robotics in agriculture has developed, so has the technology.
Lasers, cameras, robotic arms, and miniature saws. To pick a pepper, all of it has to come together just right.
Strawberry Pickers
With rubber and steel immune systems, farming robots offer an alternative to potentially dangerous manual labor.
How to save a strawberry: point a robot at it.
Learning
All of this agricultural machinery collects data. Together, these technologies act as nerve endings, feeling their way around the farm. But where's the brain? It's in the software.
Artificial intelligence and machine learning technology are changing the way we farm.
Climate FieldView
Climate FieldView uses artificial intelligence to collect, process and understand all this data.
Farmers use data to make more informed decisions that optimize inputs and conserve resources.
Agricultural innovations make our food system more sustainable. They limit our use of land, water, energy, pesticides, time, and labor. Computation limits the guesswork. Automation limits the inefficiency. And these growing technologies create different types of jobs in agriculture.
Now is the time to invest seriously in solutions that can help build a steadier food supply and create a more sustainable food system in the process. Because the only way to address some of humanity's most urgent and ongoing challenges is to pursue big, bold, and new ideas that benefit both people and our planet.
View Original Content Here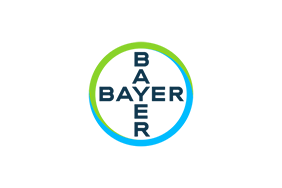 Bayer
Bayer
Bayer: Science For A Better Life
Bayer is a global enterprise with core competencies in the Life Science fields of health care and agriculture. Its products and services are designed to benefit people and improve their quality of life. At the same time, the Group aims to create value through innovation, growth and high earning power. Bayer is committed to the principles of sustainable development and to its social and ethical responsibilities as a corporate citizen. In fiscal 2015, the Group employed around 117,000 people and had sales of EUR 46.3 billion. Capital expenditures amounted to EUR 2.6 billion, R&D expenses to EUR 4.3billion. These figures include those for the high-tech polymers business, which was floated on the stock market as an independent company named Covestro on October 6, 2015. For more information, go to www.bayer.com.
More from Bayer