Published 05-12-22
Submitted by Net Impact
May 12, 2022 /CSRwire/ - Net Impact announces the 2021-2022 Chapter of the Year Winners, an award given to one outstanding Chapter in each of the following chapter categories: Undergraduate, Graduate, International Student, Professional, and International Professional. This year's distinctions were awarded to the Net Impact Chapters at the University of California, Berkeley (Undergraduate Chapter); University of California, Los Angeles - Anderson School of Management (Graduate Chapter); Delhi University; the Boston Professional Chapter; and the Bangkok Professional Chapter.
The Chapter of the Year award showcases Net Impact's objective of challenging local communities to make a positive impact in their community and the world. Each year, Net Impact selects five distinguished chapters from its network of more than 300 global Chapters. Chapters were asked to submit videos and reports detailing their accomplishments to a panel of judges from Net Impact's board and advisory council. This year's winners were chosen based on their leadership and commitment to Net Impact's values. These Chapters also overcame many obstacles presented by the ongoing COVID-19 pandemic and exhibited extraordinary contributions to their communities.
Net Impact is proud to highlight the work that its Chapter of the Year winners have accomplished within their local communities and as an important arm of Net Impact's international community. Highlights of the impact of these Chapters include:
The University of California, Berkeley (Undergraduate Chapter) demonstrated its impact by tackling 10 semester-long consulting projects for nonprofits and businesses during the academic year. One of these projects included collaborating with the Malala Fund and supporting the organization's efforts to guarantee equal access to education for girls worldwide.
University of California, Los Angeles - Anderson School of Management (Graduate Chapter) supported its members through learning and career advancement opportunities focused on equity, justice, inclusion, and community collaboration. As part of this work, the Chapter connected over 150 students with 30 nonprofits and social enterprises to produce strategic solutions to real-world challenges.
Dehli University designed a year-long, multifaceted impact plan to support local communities. As part of their impact plan, the Chapter members launched the Impact Consulting and Capability (ICC) wing which provides pro-bono consulting solutions to sustainable startups and social enterprises. The Chapter also launched a podcast, Startup Stories, which highlights the stories of young founders in India.
The Boston Professional Chapter hosted over 1000 attendees across 40 events throughout the year. As part of the Chapter's commitment to sustainability, social impact, and Justice, Equity, Diversity, & Inclusion, its members created a Racial Equity Justice monthly event series focused on topics related to environmental justice, Black History in Boston, Indigenous rights, and more.
The Bangkok Professional Chapter in Thailand demonstrated its commitment to driving sustainable change by creating a Social Progress Index. The Index measures the health, safety, shelter, education, rights, and personal freedom of the Thai people and is designed to be used by academics and public and civic society stakeholders to inform policy decisions.
When asked about winning Net Impact's Chapter of the Year award, members of the University of California, Los Angeles Chapter stated, "Our chapter is excited and honored to receive this award! We believe every person has the potential and responsibility to do good in their careers and lives, and we look forward to continue building out this mission in Los Angeles and beyond!" The Boston Professional Chapter noted, "We are thrilled to be selected as Chapter of the Year in the US Professional Chapter category. This year has been one of challenge and growth…We are indeed proud of the impressive work that our Chapter has accomplished in this last year and look forward to seeing how we continue to grow and adapt."
To learn more about Net Impact's 2021-2022 Chapter of the Year winners and to find out how to join a Chapter, visit netimpact.org.
About Net Impact
Net Impact is a global community of emerging leaders who aspire to be effective drivers of economic, social, and environmental change. With over 130,000 members worldwide, Net Impact equips its network to build a more just and sustainable world by engaging with social and environmental challenges to accelerate innovation and orient business toward the greater good. To learn more, visit www.netimpact.org.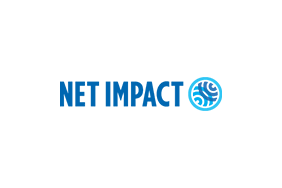 Net Impact
Net Impact
Net Impact is a global nonprofit inspiring a new generation to use their careers to tackle the world's toughest social and environmental problems. We empower student and professional leaders to act locally through our vibrant chapter network and connect globally online and through our flagship conference. By 2020, we will mobilize a million new leaders to drive positive change in the workplace and the world. For more information, please visit netimpact.org.
More from Net Impact