Published 05-11-22
Submitted by Edison International
By Casey Wian, Energized by Edison Writer
Southern California Edison will soon release the results of a long-range electric grid adaptation and vulnerability study based on global climate change models through 2070. It will examine the potential impacts of temperature extremes, flooding, sea level rise, wildfires and other factors on the company's infrastructure.

At the BloombergNEF Summit in New York this month, SCE executives shared their thoughts on the study, which will call for urgent investments in electric grid infrastructure and cooperation among leaders of world governments, public and private stakeholders and local communities.

"One of the things we learned is that we can't do this alone. This is a global issue," said Erik Takayesu, SCE vice president for Asset Strategy and Planning. "We need similar studies done by local and regional planning agencies to understand how to look at resilience overall and come up with better solutions that don't just make utilities more resilient but also make our communities more resilient. This is about public safety."

Wildfires are the starkest example of the intersecting climate change-related threat facing local communities and electric power providers. SCE is working with 50 community-based organizations to build trust and learn about their energy security needs. While SCE continues to invest significant resources in wildfire mitigation efforts, those strategies must now include adapting to the impacts of climate change.
"We are pivoting very rapidly to talk about adaptation. Because climate change is happening here and now," said Shinjini Menon, SCE managing director of State Regulatory Operations. "In the West, California and Mexico have had their driest seasons in 1,200 years; sea levels have risen eight inches in the past 140 years. These are scary statistics — things are happening fast, and our communities are at risk. To ensure there is energy security, we need to get going now."

As California moves toward a clean energy future, it's clear that more will be asked of the grid. Greater demand for electricity from buildings and vehicles and increasingly diverse carbon-free power sources will require a new grid architecture, as detailed in SCE's white paper Reimagining the Grid.

At the BNEF Summit, SCE discussed the role of battery storage, which some view as a panacea for transmission challenges inherent in carbon-free electricity generation.

"The way we look at battery storage is that it's one piece of the portfolio of solutions needed to satisfy our energy needs," Takayesu said. "Most of our portfolio will be based around clean energy resources: primarily solar and wind. Storage is valuable from the perspective that it can overcome some transmission challenges, but technical issues still need to be solved."

As the grid is revamped and new technologies are developed, a key question remains: how will a carbon-free electricity future be funded?

"Even poles and wires will need to have different standards. A lot of this sounds futuristic, but it's happening," Menon said. As SCE invests in hardening the grid, it is also keenly focused on equity and affordability considerations of climate change. Federal, state and other funding and partnerships will be critical for evaluating new technologies. "How do you make sure that energy bills are lower in the long run? We are very focused on the price of action, but we must also consider the price of inaction."

This month, BNEF ranked utilities according to their business model preparedness for transitioning to a low-carbon world. Edison International ranked 11th out of 98 global utilities and second among 37 utilities in the Americas.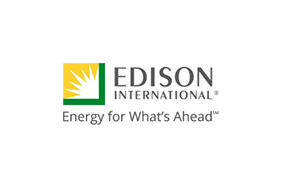 Edison International
Edison International
Edison International (NYSE:EIX), through its subsidiaries, is a generator and distributor of electric power and an investor in energy services and technologies, including renewable energy. Headquartered in Rosemead, Calif., Edison International is the parent company of Southern California Edison, one of the nation's largest electric utilities.
More from Edison International