Published 05-10-22
Submitted by Owens Corning

Originally published in Owens Corning's 2021 Sustainability Report
Our goal: By 2030, we will design our products for recycling or reuse to optimize the impact of our products over their entire life cycle, from raw materials to disposal.
Over the next nine years, Owens Corning expects that the importance of balancing growth with sustainability will become increasingly evident. We will be there to meet the demand for products that deliver performance while minimizing negative impacts. In particular, we recognize the growing demand for reduced embodied carbon, which is already shaping our approach to innovation throughout our operations. Among the other specific areas of focus Owens Corning has prioritized for the immediate future is the need to expand the number of products that are free of formaldehyde and fluorocarbons.
One way Owens Corning gauges our performance toward our sustainable growth goals is the extent to which we are addressing the trends that are shaping our industry. As we look to the future, we are also cognizant of these trends as significant opportunities to grow while at the same time meeting our 2030 sustainability goals.
Currently, we see four primary trends that represent opportunities for sustainable growth over the next decade.
Increased premium on living spaces.
The global pandemic has changed how we think about our homes, both in terms of functionality and comfort. This new emphasis on living spaces will continue to drive investments in new residential housing and renovation in the U.S. and abroad. Insulation is one of the best ways to improve energy efficiency and indoor comfort, including sound reduction.
Changing construction practices.
Even before the pandemic, we saw how labor shortages were impacting construction practices and cycles. Since early 2020, the trend has accelerated, creating the need for multi-material and prefabricated construction solutions that can drive efficiencies. Owens Corning PINK Next GenTM FiberglasTM enables 23% faster installation. FiberglasTM rebar, which is seven times lighter than steel, improves ease of handling for 50% faster installation.
Demand for sustainable solutions.
Reduction of greenhouse gases, improvements in energy efficiency, and the development of more renewable energy sources are increasingly prioritized by homeowners. Governments at all levels are also requiring increasingly stringent standards. Both factors are driving specifications throughout the industry. For example, the European Green Deal Commission proposed that by 2030, all new buildings in the European Union be zero-emission, and Owens Corning products could be part of meeting that goal.
Investment in infrastructure.
We expect to see upgrades to roads and bridges to continue around the world over the next decade. We also expect that this investment will prioritize more durable solutions, which will help ensure that investments will be more sustainable over time.
We will capitalize on these opportunities by focusing on our unique combination of material science knowledge, commercial strength, and manufacturing expertise to develop and commercialize additional product and system solutions.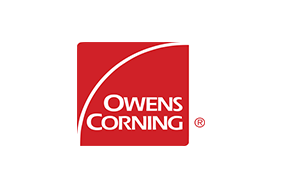 Owens Corning
Owens Corning
Owens Corning is a global building and construction materials leader committed to building a sustainable future through material innovation. Our three integrated businesses – Composites, Insulation, and Roofing – provide durable, sustainable, energy-efficient solutions that leverage our unique material science, manufacturing, and market knowledge to help our customers win and grow. We are global in scope, human in scale with approximately 19,000 employees in 31 countries dedicated to generating value for our customers and shareholders and making a difference in the communities where we work and live. Founded in 1938 and based in Toledo, Ohio, USA, Owens Corning posted 2022 sales of $9.8 billion. For more information, visit www.owenscorning.com.
More from Owens Corning