Published 05-05-22
Submitted by Franklin Templeton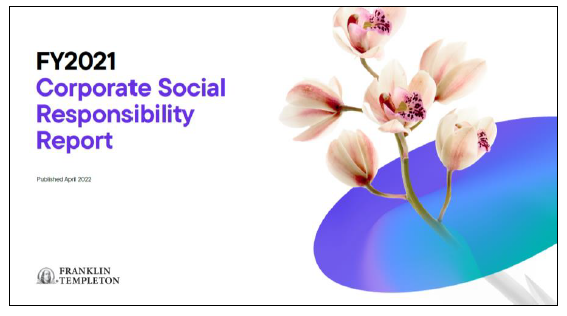 May 5, 2022 /CSRwire/ - Franklin Templeton has released its annual Corporate Social Responsibility (CSR) Report that addresses its commitment to responsible corporate citizenship and outlines its efforts to build a better future for clients, shareholders and employees as well as the communities it serves around the world.
In addition to announcing that the firm met its 2021 commitments, the 2022 report details Franklin Templeton's progress on the firm's six dimensions of CSR – stewardship and sustainable investing; diversity and inclusion (D&I); environment and climate; employee experience; community engagement; and responsible corporate practices – and outlines new priorities for the 2022 fiscal year. The firm also reported sustainability results using two widely used disclosure frameworks, the Sustainable Accounting Standards Board (SASB) and the Global Reporting Initiative (GRI). Franklin Templeton reported using SASB standards previously and has expanded its reporting to include the GRI Index in this latest report.
"Our CSR accomplishments are a testament to our commitment to progress, which is at the heart of everything we do at Franklin Templeton. As the firm celebrates its 75th anniversary in 2022, we will continue to build upon our CSR achievements while employing the highest standards in the way we operate our firm and invest on behalf of our clients," said Jenny Johnson, President and CEO of Franklin Templeton. "Looking forward, our CSR commitments and expanded reporting affirm our promise to our stakeholders to continually improve and evolve."
"Franklin Templeton's CSR goals outline the firm's commitment to sustainability, which addresses our responsibilities for taking care of people, the planet and prosperity. For investors, these are the key factors that foster long-term risk-adjusted returns: financial, human and natural. The tremendous challenges and opportunities these bring through issues like climate change, diversity, equity and inclusion, drive the strategic priorities for our organization and investment teams going forward," said Anne Simpson, Global Head of Sustainability for Franklin Templeton. "We will be focused not only on our corporate sustainability efforts, which include reducing the organization's greenhouse gas emissions and enhancing our reporting infrastructure, but also expanding our stewardship and sustainable investing practices across our global investment portfolios." 
Major 2021 CSR Achievements
Stewardship & Sustainable Investing: In July 2021, Franklin Templeton, along with its specialist investment managers ClearBridge Investments, Brandywine Global and Martin Currie, joined the industry-leading Net Zero Asset Managers initiative in support of its goal to reduce carbon emissions to net zero by 2050 or sooner. Over the past year, the firm also launched its Stewardship and Sustainability Council and appointed Anne Simpson as its first Global Head of Sustainability.
Diversity & Inclusion: In 2021, the firm published expanded gender and ethnicity representation data and developed a global D&I strategy to diversify talent at all levels. It partnered with organizations and educational institutions to recruit from underrepresented groups and contributed to the Financial Alliance for Racial Equity (FARE) CFP® (Certified Financial Planner) Board scholarship for aspiring CFP® professionals of color.
Environment & Climate: The company's energy reduction initiatives and remote work policies led to a reduction in emissions of approximately 57% since 2007, its baseline year, despite significant expansion of our business due to organic growth and acquisitions. In 2021, Franklin Templeton also expanded Scope 3 emissions reporting, set an emissions target and established an enterprise-level Environmental Committee to further advance green initiatives and drive innovation.
"At Franklin Templeton, we understand that CSR is not only good for our communities and our world, but it is also good business practice," said Kristin Kosmides, Head of Global Citizenship. "Our firm made exceptional progress on our CSR goals in 2021, despite the challenging pandemic environment, and we have identified opportunities for making further strides in 2022. Going forward, we will execute on our expanded goals while continuing to closely engage with our key stakeholders to inform and evolve our work."
Franklin Templeton established goals and key priorities for fiscal year 2022 within the following focus areas:
Key 2022 CSR Commitments
Stewardship & Sustainable Investing: Franklin Templeton will disclose climate-related risks and opportunities in alignment with the Task Force on Climate-related Financial Disclosures, an industry best practice. The firm will also advance initiatives within our commitment to the Net Zero Asset Managers initiative (NZAMI).
Diversity & Inclusion: Over the coming year, the firm will continue to integrate inclusive hiring practices, including putting forward diverse slates of candidates for senior positions. The firm will implement initiatives aimed at providing access and opportunities for underserved entrepreneurs, businesses and suppliers. Additionally, Franklin Templeton employees are setting individual diversity goals in 2022. 
Environment & Climate: The firm will complete third-party verification for scope 1 and 2 greenhouse gas (GHG) inventory, review and update its GHG inventory process and review building management systems globally for efficiency and emissions reduction opportunities.
Employee Experience: The firm will complete development of its employee value proposition to reflect the employee experience and Franklin Templeton brand.
Community Engagement: Franklin Templeton will work to further refine its charitable foundation focus areas with stakeholders and refresh the firm's global volunteerism program, Involved.
Responsible Corporate Practices: The firm will continue to expand and scale cybersecurity effectiveness testing.  
To access the report and see all of Franklin Templeton's CSR commitments, visit the Global Citizenship page on the Franklin Resources website.
About Franklin Templeton
Franklin Resources, Inc. [NYSE:BEN] is a global investment management organization with subsidiaries operating as Franklin Templeton and serving clients in over 155 countries. Franklin Templeton's mission is to help clients achieve better outcomes through investment management expertise, wealth management and technology solutions. Through its specialist investment managers, the company offers boutique specialization on a global scale, bringing extensive capabilities in equity, fixed income, multi-asset solutions and alternatives. With offices in more than 30 countries and approximately 1,300 investment professionals, the California-based company has 75 years of investment experience and approximately $1.5 trillion in assets under management as of March 31, 2022. For more information, please visit franklinresources.com and follow us on LinkedIn, Twitter and Facebook.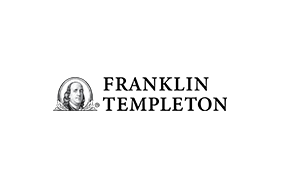 Franklin Templeton