Published 05-05-22
Submitted by Yum China
Recently, Mr Huang, a frequent visitor of the Baide KFC in Guangzhou, noticed that the restaurant has taken on an entirely new look. The restaurant has been equipped with several sign language greetings and newly-added interactive visualization devices to facilitate consumer communication with hearing impaired restaurant employees. An art wall displaying paintings, ceramics, and paper-cutting works by "Angel Employees" draws many customers to stop by and admire the creations.
This is a newly updated "Angel Restaurant", a flagship CSR initiative by Yum China, which provides job opportunities to individuals with special needs. As Yum China CEO Joey Wat stated: "We have long believed that everyone who is willing to work deserves an opportunity – including those with special needs. The 'Angel Restaurant' initiative not only provides opportunities for 'Angel Employees' but also helps them to shine on a bigger stage."
In the future, the "Angel Restaurant" will host interactive classes to help people with disabilities discover and showcase their artistic talents. The restaurant has also set up a message board where customers can leave messages of support and encouragement to "Angel Employees".
"To facilitate our work, the restaurant has installed flashing lights to give prompts and provided writing boards so that customers can write down their orders and requests. Our general manager not only teaches us necessary skills but also offers mental support. I like working here, and I feel happy, at ease, and loved," Mr Feng Hao, an "Angel Employee", said.
This March, the "Angel Restaurant" initiative was upgraded with a brand-new image. Restaurants have been equipped with visual learning materials, which helps new "Angel Employees" to quickly familiarize themselves with their positions and communicate with new colleagues. In addition, customers will also discover that there is a designated page on the KFC app for the "Angel Restaurant" initiative. Anytime a customer places an order, "Welcome to the Angel Restaurant" will appear on the screen in place of a vocal welcome from the restaurant employee.
2022 marks the 10th anniversary of Yum China's "Angel Restaurant" initiative. So far, Yum China has established 25 "Angel Restaurants" in 23 cities nationwide. With upgraded equipment to facilitate daily work and a modified management model, the revamped "Angel Restaurant" initiative will help all "Angel Employees" better integrate into society and realize their full potential.
During the recent Beijing 2022 Paralympic Winter Games, an "Angel Employee" named Mao Ying participated in the torch relay, demonstrating the positive spirit of Yum China's "Angel Employees" to the world. Seven other employees from all over the country were selected to provide catering services to Olympic athletes during the Beijing Winter Olympics and Paralympics, contributing their own strengths to the success of this global event.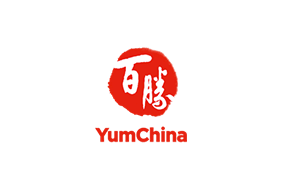 Yum China
Yum China
About Yum China Holdings, Inc.
Yum China Holdings, Inc. is a licensee of Yum! Brands in mainland China. It has exclusive rights in mainland China to KFC, China's leading quick-service restaurant brand, Pizza Hut, the leading casual dining restaurant brand in China, and Taco Bell, a California-based restaurant chain serving innovative Mexican-inspired food. Yum China also owns the Little Sheep, Huang Ji Huang, East Dawning and COFFii & JOY concepts outright. In addition, Yum China has partnered with Lavazza to explore and develop the Lavazza coffee shop concept in China. The Company had over 12,000 restaurants in over 1,700 cities at the end of February 2022.
In 2021, Yum China ranked # 363 on the Fortune 500 list and was named to TIME100 Most Influential Companies list. Yum China has also been selected as member of both Dow Jones Sustainability Indices (DJSI): World Index and Emerging Market Index. In 2022, the Company was named to the Bloomberg Gender-Equality Index and was certified as a Top Employer 2022 in China by the Top Employers Institute, both for the fourth consecutive year. For more information, please visit http://ir.yumchina.com.
More from Yum China