Published 05-04-22
Submitted by Entergy Corporation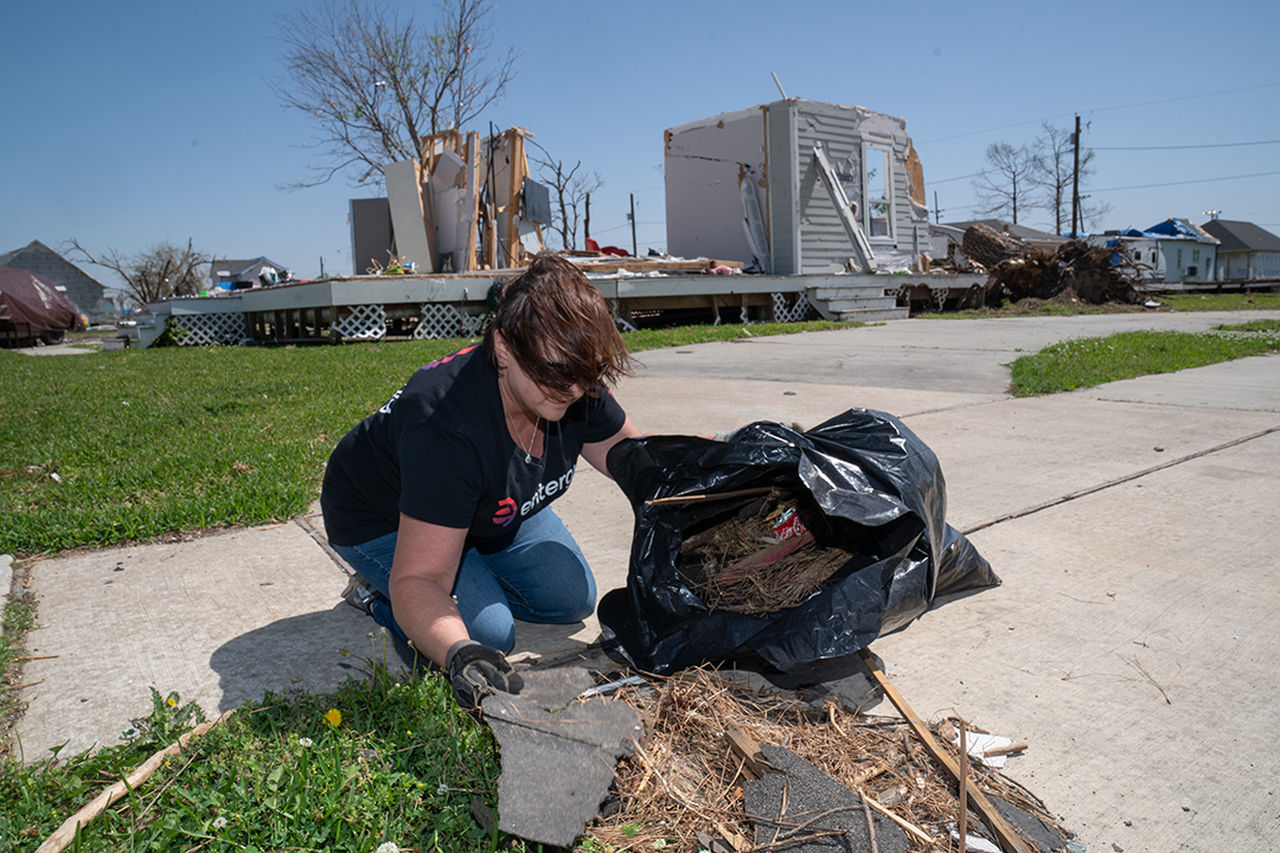 For Entergy's Louisiana utilities, monitoring and preparing for severe weather is a part of our commitment to customers to keep the lights on and gas flowing.
Last month, the company's teams rose to the occasion once again, picking up the pieces after a tornado devastated parts of Orleans and St. Bernard parishes.
On March 22, an EF3 tornado touched down in Orleans Parish and created a damage path of 11.5 miles, impacting customers' lives and businesses. The tornado's peak winds of 160 mph made it the strongest to ever hit New Orleans, complicating restoration and recovery throughout the hardest hit areas of Arabi and New Orleans East.
Following the company's "Operation: Storm Ready" process, employees were prepared to monitor, mobilize, and respond. Once the storm passed, crews descended on the impacted areas to accelerate restoration efforts.
"Our metro region lives by the creed 'one team, one fight,'" said Drew Thompson, Entergy New Orleans manager of distribution reliability. "When my community was suddenly ripped apart by the tornado, it was second-nature for our teams to immediately come together and turn the lights back on. The initial response was successful, but our work doesn't stop as we're still rebuilding and healing together."
The severe weather event caused 25,000 customers to lose power across the state, approximately 90 percent of which were restored the same afternoon. For customers who could safely receive power in the tornado-hit region, Entergy restored all New Orleans East customers in roughly 24 hours and all Arabi customers in roughly 48 hours.
The devastating tornado destroyed the Arabi substation, which will be a long-term project to replace. However, a plan was executed to support the area to ensure the system can handle customer load while the substation is being rebuilt. Damaged poles, wires, crossarms and transformers throughout New Orleans East and Arabi have also been replaced.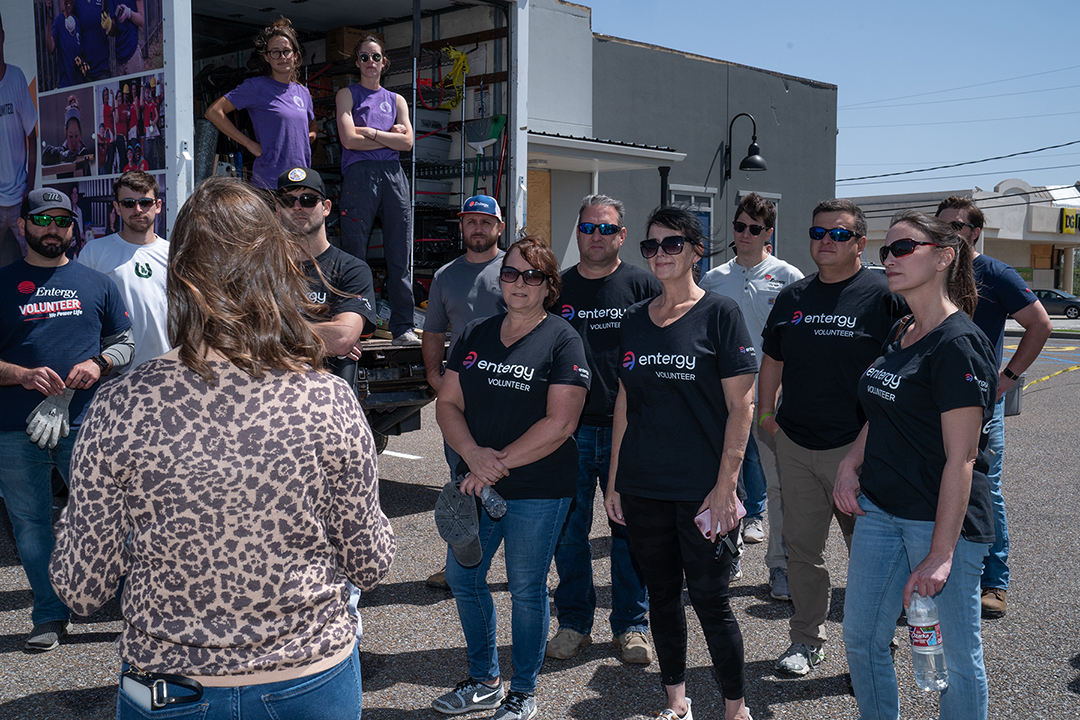 Rebuilding our communities
The restoration of the electrical system was swift, but the work of Entergy employees had only just begun. On April 7, employee volunteers teamed up with the United Way to pick up debris and clear roadways and parking lots in Arabi. So far, 30 employees have dedicated more than 120 volunteer hours to various response and cleanup efforts in the impacted areas.
In addition to the boots on the ground efforts to support the hard-hit region, the company is also providing financial support to help rebuild the community. Entergy's pre-funded grants of $250,000 to the American Red Cross and $100,000 to United Way of Southeast Louisiana for 2022 storm response have already begun to help rebuild East New Orleans and Arabi.
Since the tornado's devastating impact, Entergy's donations to UWSELA provided six pop-up distribution sites that gave essentials and gift cards to more than 700 local households. The company's continued support of the Red Cross is aiding 75 homeowners in Arabi and several homeowners in Tangipahoa Parish.
"This is my community, and these are my people," said Curtis Navis, Entergy network supervisor out of St. Bernard Parish. "Entergy's support for our region is helping us build back stronger thanks to the assistance of our New Orleans area team, other company crews and our contract resources. We've put in long, hard days of rebuilding, and everyone in the community has come together with the understanding that we will remain resilient and brighter days will come."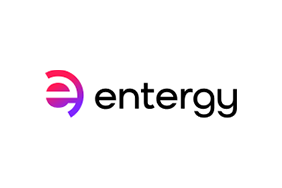 Entergy Corporation
Entergy Corporation
Entergy is a Fortune 500 company that powers life for 3 million customers through our operating companies in Arkansas, Louisiana, Mississippi and Texas. We're investing in the reliability and resilience of the energy system while helping our region transition to cleaner, more efficient energy solutions. With roots in our communities for more than 100 years, Entergy is a nationally recognized leader in sustainability and corporate citizenship. Since 2018, we have delivered more than $100 million in economic benefits each year to local communities through philanthropy, volunteerism and advocacy. Entergy is headquartered in New Orleans, Louisiana, and has approximately 12,000 employees. Learn more at entergy.com and follow @Entergy on social media. #WePowerLife
Corporate Social Responsibility at Entergy
For more than 100 years, Entergy has powered life in our communities through strategic philanthropy, volunteerism and advocacy. Entergy's corporate social responsibility initiatives help create and sustain thriving communities, position the company for sustainable growth and are aligned with the United Nations Sustainable Development Goals. Our top CSR priorities are education/workforce development, poverty solutions/social services and environmental programs. Entergy annually contributes $16-$18 million in shareholder-funded grants to approximately 2,000 nonprofit organizations in the communities where we operate. In addition, our employees volunteer more than 100,000 hours in those communities' values at more than $3 million.
More from Entergy Corporation