Published 05-04-22
Submitted by Arrow Electronics, Inc.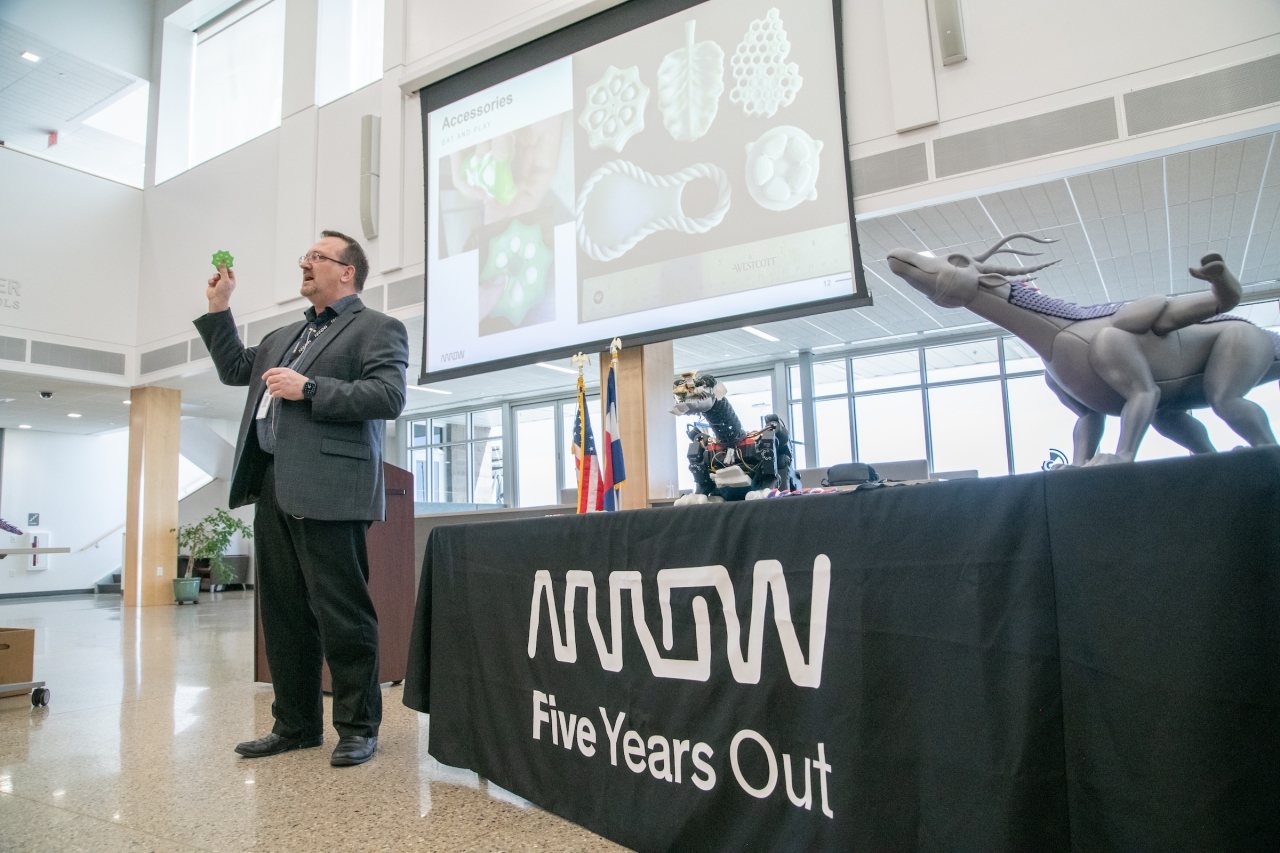 Belle's Dragon – a semi-autonomous social robot developed by Arrow Electronics – is now being used in teaching demonstrations for STEM students interested in developing novel and advanced technology solutions.
The dragon was revealed in March 2021 as a tech-for-good project with nonprofit Make-a-Wish on behalf of a middle school student recovering from cancer treatments.
It is the size of a small dog with features like dragons depicted in popular movies and books.
Belle's Dragon won a 2021 Edison Award for social innovation.
Even if it is classified as a "toy," packing the required processing capacity, plus servo motors and power management, into its slender body so it responds in ways that mythical creatures are expected to behave was a complex engineering challenge, said Frank Piotrowski, engineering project manager at Arrow.
He introduced the dragon to students at the St. Vrain Valley School District Innovation Center in Longmont, Colo.
"Appreciate, especially after you've started, that you're going to have to revisit some of your design concepts," Piotrowski told students. "Put time in any schedule you have to just live with anything you've designed. Expect to change your design in a series of iterations. You don't know what you don't know."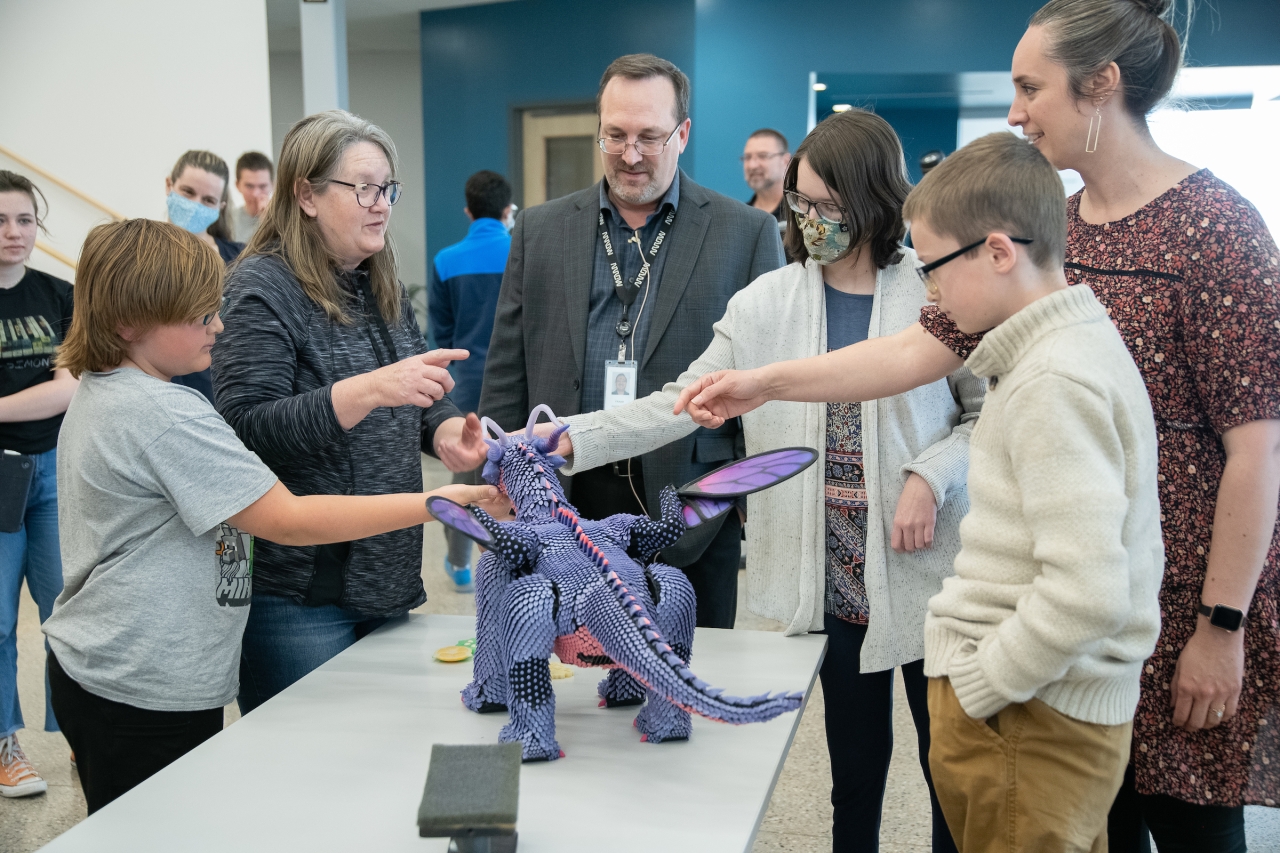 The design for Belle's dragon started in 2019 for Belle Cress. The Colorado Springs, Colo. high school student was diagnosed with bone cancer in 2018, and is now cancer-free.
During medical treatment, she asked for a dragon as a pet. She supplied drawings that served as a design template, and she met with the Arrow-led team of technology innovators.
The dragon moves fluidly, blinks its eyes, flaps its illuminated wings, and makes cooing noises. It "eats" creative dragon foods molded from silicon and embedded with radio frequency ID chips. The dragon reads the chip, which triggers various behaviors.
Cress joined the presentation with Piotrowski. She petted the dragon's snout, fed it treats and showed how its wings expanded.
When asked what Belle hoped what students would learn from the dragon she said that "anything is possible."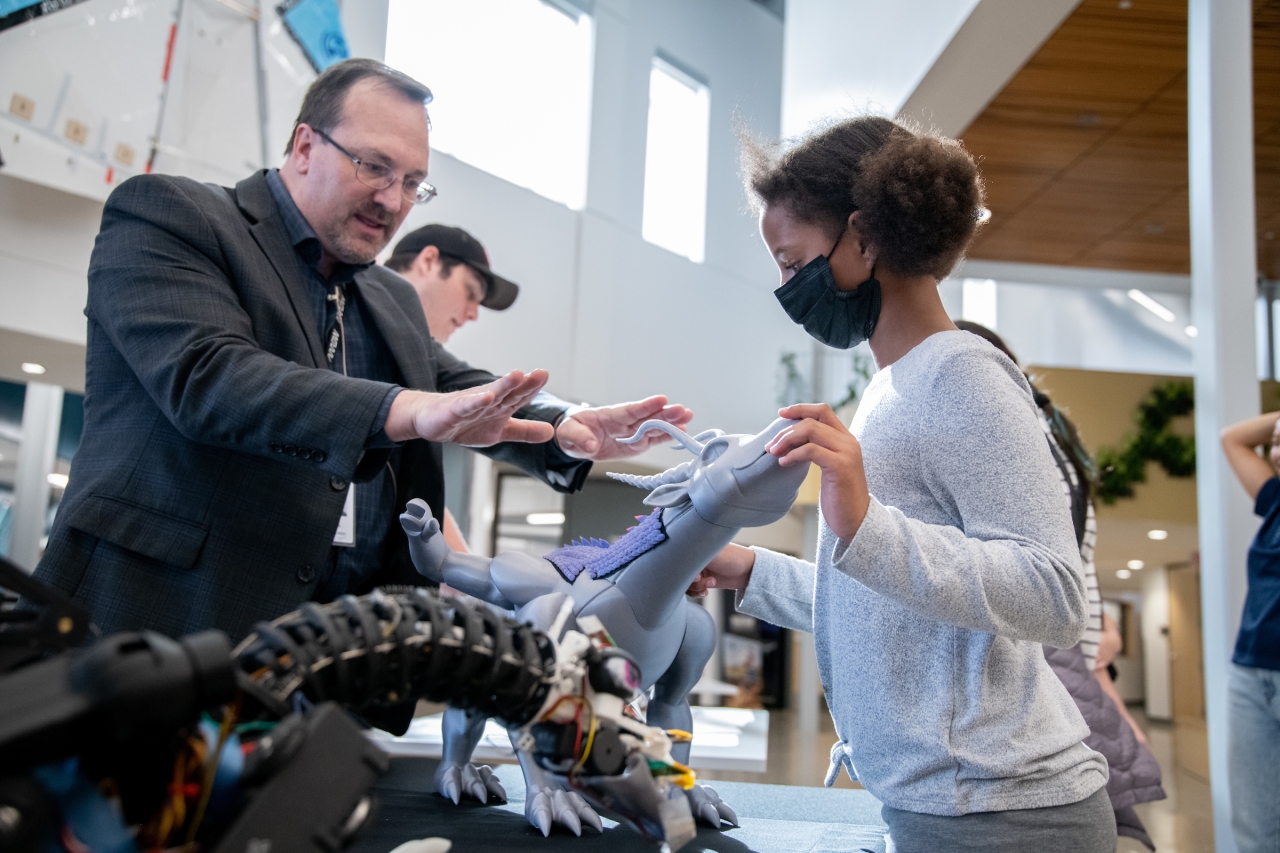 About Arrow Electronics
Arrow Electronics guides innovation forward for over 220,000 leading technology manufacturers and service providers. With 2021 sales of $34 billion, Arrow develops technology solutions that improve business and daily life. Learn more at fiveyearsout.com.
###

Arrow Electronics, Inc.
Arrow Electronics, Inc.
Arrow Electronics' Corporate Social Responsibility (CSR) program guides today's innovators to a better tomorrow. With our help, our partners will transform their ideas into real and influential achievements that will help people and the communities in which Arrow works.And just as technology touches all facets of our lives, we intend to foster new, cross-cutting collaborations between Arrow, CSR partners, customers and suppliers, so efforts yield astonishing and unforeseen results. Working together, we can make the world a better place — now and Five Years Out.
Learn more at www.fiveyearsout.com.
More from Arrow Electronics, Inc.