Published 05-04-22
Submitted by Aramark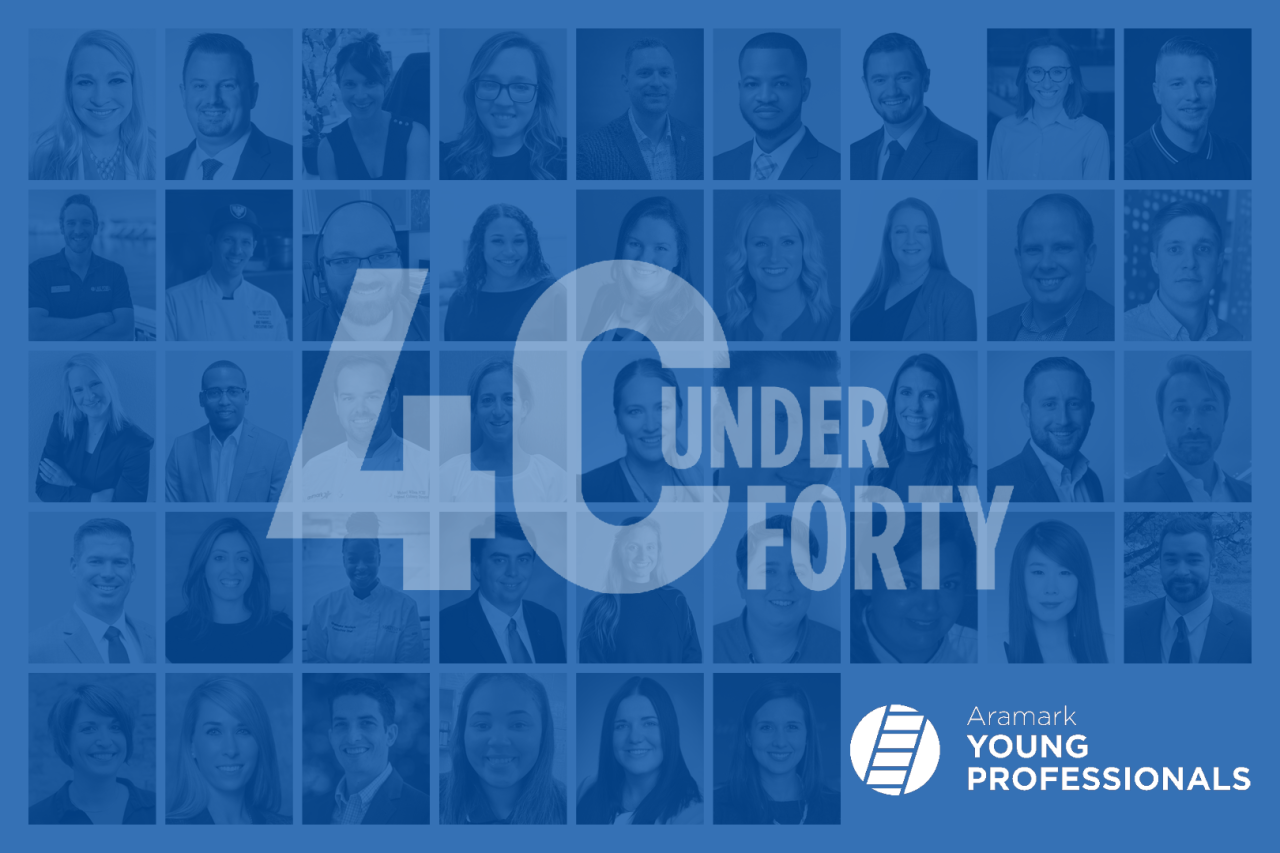 Aramark Celebrates Young Leaders at Annual 40 Under 40 Awards
PHILADELPHIA, May 4, 2022 /CSRwire/ - This week, in acknowledgement of the commitments and contributions of young professionals in its workplace, Aramark (NYSE:ARMK), a global leader in food, facilities management, and uniforms, will recognize 40 of the company's brightest young leaders with the second annual Aramark 40 Under 40 Awards.
Aramark's exceptional young professionals were nominated by their leadership teams, across the enterprise and internationally, based on their line of business and Aramark impact, broader industry influence, and community reach. Members of this year's 40 Under 40 cohort will be given a unique opportunity to participate in two days of professional development programming hosted by the Aramark Young Professionals (AYP) employee resource group (ERG), which aims to connect, engage, and empower young professionals recently entering the workforce.
"Congratulations to the 2022 40 Under 40 Awards class and our two A2L emerging leaders—thank you for creating experiences that matter every day," said Carl Mittleman, Executive Sponsor of AYP and Chief Operating Officer, International. "As I look toward the bright future ahead for these individuals, I am in awe of what they've been able to achieve in such a short time in the workforce and thank them for their contributions in making Aramark a great place to work."
The 40 Under 40 Awards professional development program will include a career pathways panel featuring various Aramark leaders, LinkedIn best practices training, learning session dedicated to creating a healthy work/life balance, and more. The two-day event will conclude with a virtual awards ceremony on May 5.
The following award recipients will be recognized for their impact within the organization, industry, and community.
Avendra Group
Judy Breen – Strategic Sourcing Manager
Zach Cocco – Transactional Services Accounting Supervisor
Corporate
Max Cavanaugh – Director of Brand & Innovation
Michael Pettinelli – Vice President, Global Risk & Insurance
Patrick Shea – Assistant General Counsel
Pia Monasterio Blanco – Assistant General Counsel
Scott Sullivan – Senior Director, Investor Relations and M&A
Shaady Ghadessy – Service Excellence Director
Correctional Services
Brianna Rushing – Food Service Manager
Nicole McVaugh – Director, IN2WORK
Destinations
Brian Smith – Conference Planning Manager
Jerod Viers – Director of Operations
Education (K-12)
Molly Bortin – General Manager
Stephanie Goodson – Chef Manager
Vanessa Mowrer – General Manager
Facilities
Brooke Miner – Operations Manager
Elcra Brown – District Manager
Katie Pokorny – General Manager
Melinda Molnar – Quality & Standards Manager
Tonya Gray – Director of Innovation and Quality
Healthcare+
Adrienne Gebele – General Manager
Frank Peacock – General Manager
Higher Education
Dwayne Pursley – Director of Operations
Michael Wilson – Regional Culinary Director
International
Gabriella Carrier – Sustainability Manager – Canada
Joe Farrell – Executive Chef – Canada
Shara Beaton – Senior Human Resources Manager – United Kingdom
Suki Li – Talent Acquisition Senior Manager – China
Susann Immig – District Manager – Germany
Vanessa Yurchesyn – Account Manager – Canada
Refreshment Services
Kate Warfield – Business Process Manager
Laura O'Donnell – Zone Sales Manager
Robert Stevens – Zone Sales Manager
Sports + Entertainment
Shameka Akinleye – Executive Chef
Uniform Services
Andrew Childers – General Manager
Greg Daily – Service Manager
Joshua Simpson – Finance Supervisor/Controller
Workplace Experience
Brian Gregorowicz – Food Service Director
Ross W. Chasko – General Manager
Shelley Double – Food Service Director
This year, Aramark will also recognize two emerging leaders from its Accelerate to Leadership (A2L) program, which offers recent graduates an accelerated career path to a leadership role within Aramark. A2L takes a dynamic "learn-by-doing" approach where program participants receive hands-on training and a depth of people management experience right away. The A2L honorees are:
Alexander Yannopoulos – Operations Associate Manager (Healthcare+)
Mia McGuin – Diversity, Equity, and Inclusion Specialist (Corporate)
Aramark's commitment to people is a core part of the company's sustainability plan, Be Well. Do Well., focused on positively impacting people and the planet. Aramark's people priority is to facilitate access to opportunities that will improve the well-being of the company's employees, consumers, communities, and people in its supply chain.
About Aramark Young Professionals (AYP)
Aramark Young Professionals (AYP) was established with a mission to connect, engage, and empower young professionals and their allies through a community that cultivates our workforce of future leaders, enhances our workplace culture through inclusion, and helps bring value to the marketplace.
Through education, networking opportunities, and exposure to a wider range of the company's business, young professionals are offered a better way to grow. AYP's goal is to jumpstart career advancement and cultivate Aramark's leaders of tomorrow, today.
About Aramark
Aramark (NYSE: ARMK) proudly serves the world's leading educational institutions, Fortune 500 companies, world champion sports teams, prominent healthcare providers, iconic destinations and cultural attractions, and numerous municipalities in 19 countries around the world with food, facilities, and uniform services. Because our culture is rooted in service, our employees strive to do great things for each other, our partners, our communities, and our planet. Aramark ranked No. 1 In the Diversified Outsourcing Services Category on FORTUNE's 2022 List of 'World's Most Admired Companies' and has been named to DiversityInc's "Top 50 Companies for Diversity" list, the Forbes list of "America's Best Employers for Diversity," the HRC's "Best Places to Work for LGBTQ Equality" and scored 100% on the Disability Equality Index. Learn more at www.aramark.com and connect with us on Facebook, Twitter, and LinkedIn.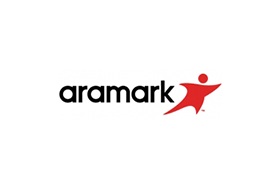 Aramark
Aramark
ARAMARK is a leader in professional services, providing award-winning food services, facilities management, and uniform and career apparel to health care institutions, universities and school districts, stadiums and arenas, parks and destinations and businesses around the world.
The company is recognized as one of the "World's Most Ethical Companies" by the Ethisphere Institute, one of the "World's Most Admired Companies" by FORTUNE magazine and one of America's Largest Private Companies by both FORTUNE and Forbes magazines.
ARAMARK seeks to responsibly address issues that matter to its clients, customers, employees and communities by focusing on employee advocacy, environmental stewardship, health and wellness, and community involvement. Headquartered in Philadelphia, ARAMARK has approximately 250,000 employees serving clients in 22 countries. Learn more at www.twitter.com/aramarknews.
More from Aramark