Published 05-03-22
Submitted by Black & Veatch
OVERLAND PARK, Kan., May 3, 2022 /CSRwire/ – Underscoring its leadership in helping clients achieve advanced decarbonization, sustainability and resilience solutions, Black & Veatch announces that the Engineering News-Record's (ENR) latest "Top 500 Design Firms" Sourcebook ranks it among the world's leaders in power, telecommunications and water.
ENR's rankings are based on revenue from the company's global operations. The Top 500 Design Firms Sourcebook ranked Black & Veatch's power business No. 2 for the seventh consecutive year. Black & Veatch remained in the top 10 for telecommunications and water, cementing the company's standing as an expert in solving humanity's critical human infrastructure challenges.
"As the megatrends shaping the world rely on engineering and construction solutions, we are working with our clients to embrace innovation and deliver the integrated sustainability, reliability and resilience outcomes that help them achieve their goals," said Steve Edwards, Black & Veatch's CEO.
The latest ENR rankings come on the heels of Black & Veatch's recent transformation of its key management and operational structures, intent on meeting the more integrated infrastructure needs of its expanding client base. The transformation was designed with sustainability-driven global megatrends such as electrification, decarbonization, digitization and resilience in mind, serving an increasingly diverse client base ranging from Fortune 1000 companies to utilities, developers and local, state and national governments.
The company said the past year has shown that the definition of -- and demand for -- critical infrastructure services and solutions has continued to evolve.
"Our strong showing in this year's rankings reflects how our organizational transformation allows us to deliver more comprehensive solutions and value to our clients as they face complex issues such as the energy transition, repowering of the power industry, water scarcity, and connecting and securing society," Edwards said.
Black & Veatch continues to drive innovation across critical infrastructure markets:
Black & Veatch served as owner's engineer on a massive, $320-million effort to bolster Atlanta's strained water supply – a project that recently won top honors as the Engineering News-Record's water and wastewater global and Southeast project of the year. The 2021 "award of merit" in the publication's yearly "Global Best Projects" contest recognizes the repurposing of a former rock quarry as a 2.4-billion-gallon raw water storage site for eventual use as drinking water in the city.
With alternative fuels offering new solutions for a carbon-free future, the company – a member of the global Hydrogen Council – is serving as the owner's engineer for the   effort to retire its original coal-fueled facility in Utah and replace it with an 840-megawatt natural gas-fueled combined cycle power plant in 2025. The project marks one of the earliest installations of combustion turbine technology designed to use a high percentage of green hydrogen. Black & Veatch also recently was named the EPC contractor for what will become the world's biggest industrial green hydrogen production and storage facility, adjacent to the IPA power plant.
Black & Veatch led the design and construction of a first-of-its-kind public charging station focused on larger-scale vehicle charging needs that last September earned honorable mention in the sustainability category of Fast Company magazine's 2021 "Innovation by Design" awards. Known as "Electric Island," the high-capacity charging station in Portland, Oregon, for medium-and heavy-duty commercial electric vehicles is a collaboration between Daimler Trucks North America and Portland General Electric.
Black & Veatch also provided analysis of carbon-neutrality projects to inform the Sacramento Municipal Utility District's (SMUD) "2030 Zero Carbon Plan." The team of management consultants performed an assessment of technologies that included biomass and biogas, carbon sequestration and storage, geothermal energy, long-duration energy storage, onshore and offshore wind, renewable hydrogen and solar PV that will accelerate the energy transition for SMUD's more than 1.5 million customers.
In addition, the company continues to provide extensive services to the U.S. government, including participation in the seven-year, $800 million indefinite delivery, indefinite quantity contract (IDIQ) for architectural, engineering and other services to support the growing global mission of the U.S. Agency for International Development (USAID).
About Black & Veatch
Black & Veatch is a 100-percent employee-owned global engineering, procurement, consulting and construction company with a more than 100-year track record of innovation in sustainable infrastructure. Since 1915, we have helped our clients improve the lives of people around the world by addressing the resilience and reliability of our most important infrastructure assets. Our revenues in 2021 exceeded US$3.3 billion. Follow us on www.bv.com and on social media.
Media Contact Information:
JIM SUHR | +1 913-458-6995 P | +1 314-422-6927 M | SuhrJ@BV.com
24-HOUR MEDIA HOTLINE | +1 866-496-9149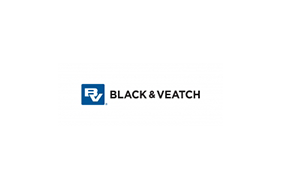 Black & Veatch
Black & Veatch
Black & Veatch is an employee-owned engineering, procurement, consulting and construction company with a more than 100-year track record of innovation in sustainable infrastructure. Since 1915, we have helped our clients improve the lives of people in over 100 countries through consulting, engineering, construction, operations and program management. Our revenues in 2018 were US$3.5 billion. Follow us on www.bv.com and in social media.
More from Black & Veatch