Published 05-02-22
Submitted by Franklin Templeton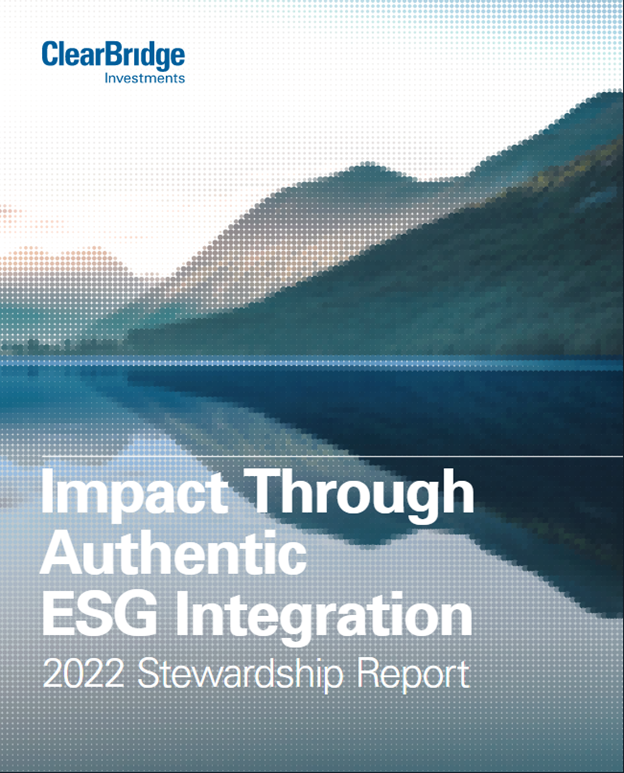 It has never been more important for asset managers to understand their portfolio companies and address the long-term environmental, social and governance (ESG) risks within them, says ClearBridge Investments.
"Since we opened our first client account with a socially responsible approach more than 35 years ago, ClearBridge has been at the forefront of promoting and communicating the benefits of considering ESG factors when choosing investments and building portfolios," said Terrence Murphy, CEO of ClearBridge. "Today, asset managers have an important role to play in actively engaging and addressing material ESG risks with the companies in which they invest. I am proud of ClearBridge's leadership in this space, and I believe our legacy and practices offer powerful examples of long-term thinking."
ClearBridge, an active equity manager with $190.7 billion in assets under management (AUM) as of March 31, 2022, is a top 20 shareholder in more than 275 public companies. It uses its influence as a significant shareholder to promote positive change through company engagement, proxy voting and thought leadership. In 2021, ClearBridge had a 100% proxy voting record, resulting in 16,885 votes cast at more than 1,000 meetings.
In its fifth annual Stewardship Report, ClearBridge details its efforts around ESG integration, reporting and disclosures as well as human capital management and diversity, equity and inclusion (DEI). The report also details engagements where ClearBridge was able to improve practices within the companies it owns.
Commitment to Net Zero by 2050
In 2021, ClearBridge was proud to join the industry-leading Net Zero Asset Managers initiative (NZAM), an international group of asset managers representing more than $57.5 trillion in AUM that is committed to supporting the goal of achieving net-zero greenhouse gas emissions by 2050.
"ClearBridge has historically engaged companies on climate-related risks, but over the past year, we began explicitly engaging on net-zero alignment," said Mary Jane McQuillen, Portfolio Manager and Head of ESG at ClearBridge. "We are encouraging companies to set ambitious carbon reduction goals that are 'science-based,' meaning their targets are aligned with the reductions needed to achieve the goals of the Paris Climate Agreement."
Emissions Reporting and Disclosures
In addition to its work with NZAM, ClearBridge has aligned its climate change reporting with the recommendations of the Task Force on Climate-Related Financial Disclosures (TCFD) since 2018.
ClearBridge integrates ESG analysis into its research and portfolio construction, and as a result, the firm has several funds classified under the European Union's Sustainable Finance Disclosure Regulation (SFDR) Article 8. The SFDR was established to promote transparency on sustainability risk integration within financial products, and many of ClearBridge's funds have been determined to promote environmental or social characteristics.
Human Capital Management and Diversity, Equity and Inclusion
DEI continued to be a firm-wide priority for ClearBridge in 2021, and the firm was encouraged by higher pass rates of shareholder proposals over the year compared to 2020.
Following its continued emphasis on human capital topics in company engagements in 2021, ClearBridge saw several companies, such as Amazon and Microsoft, explicitly acknowledge the importance of human capital management and take steps to make progress on their diversity goals and disclosures.
Looking forward to 2022, ClearBridge will support enhanced diversity disclosures within the companies it invests in and will engage companies on the increasing importance of talent as an asset in the workforce.
The entire 2022 Stewardship Report can be found here.
About ClearBridge
With $190.7 billion in assets under management as of March 31, 2022, ClearBridge Investments is a leading global equity manager committed to delivering long-term results through authentic active management, offering investment solutions that emphasize differentiated, bottom-up stock selection to move clients forward. The firm integrates ESG considerations into its fundamental, bottom-up research and stock selection process across all strategies. Owned by Franklin Templeton, ClearBridge operates with investment independence from headquarters in New York and offices in Baltimore, Fort Lauderdale, London, San Mateo, Sydney and Wilmington.
About Franklin Templeton
Franklin Resources, Inc. [NYSE:BEN] is a global investment management organization with subsidiaries operating as Franklin Templeton and serving clients in over 155 countries. Franklin Templeton's mission is to help clients achieve better outcomes through investment management expertise, wealth management and technology solutions. Through its specialist investment managers, the company offers boutique specialization on a global scale, bringing extensive capabilities in fixed income, equity, alternatives and multi-asset solutions. With offices in more than 30 countries and approximately 1,300 investment professionals, the California-based company has 75 years of investment experience and approximately $1.5 trillion in assets under management as of March 31, 2022. For more information, please visit franklintempleton.com and follow us on LinkedIn, Twitter and Facebook.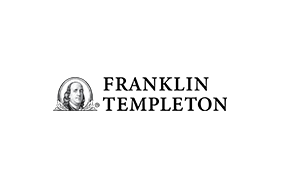 Franklin Templeton