Published 04-29-22
Submitted by Global Citizen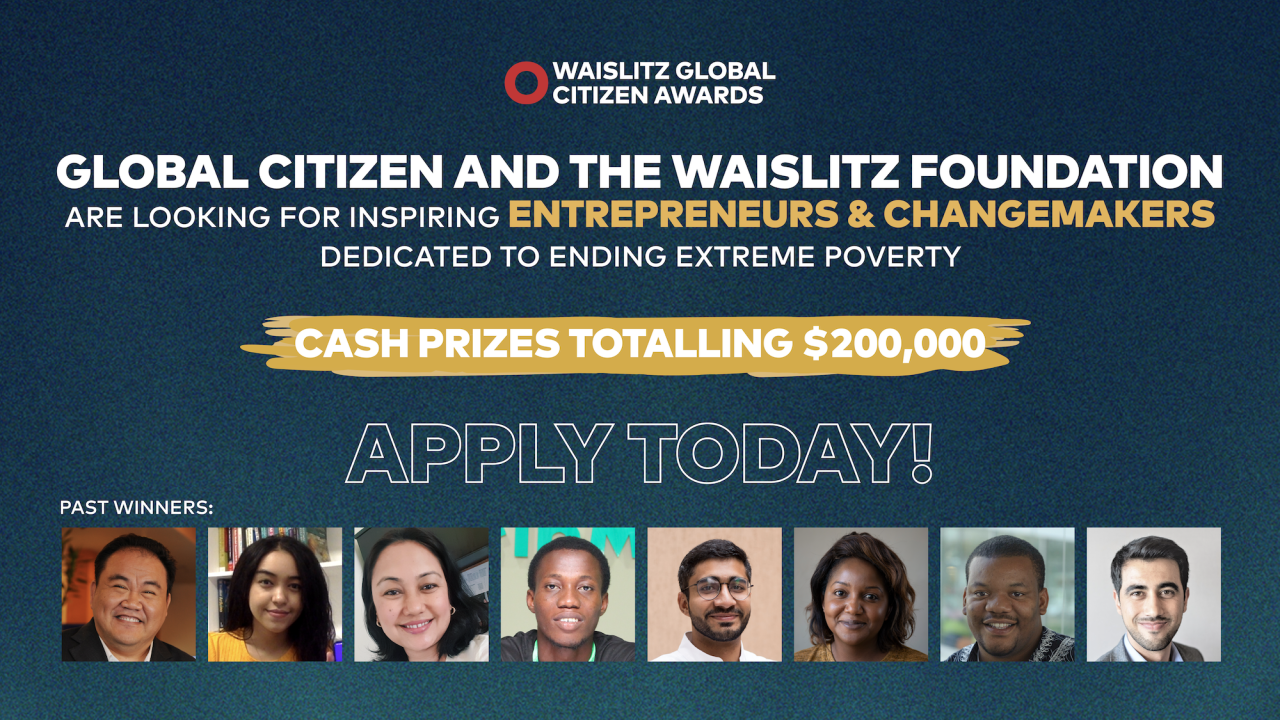 NEW YORK and MELBOURNE, Australia, April 29, 2022 /CSRwire/ - International advocacy organization Global Citizen, and the Waislitz Foundation, today announced that the application process is now open for the 2022 Waislitz Global Citizen Awards, which recognizes extraordinary individuals' efforts worldwide to End Extreme Poverty NOW.
The Waislitz Global Citizen Awards, presented by the Waislitz Foundation and Global Citizen, are annual cash prizes totaling $200,000 that support the excellence of changemakers in projects that work to end extreme poverty. The grand prize is $100,000, with two additional awards at $50,000 benefiting grassroots projects. All applicants will be judged on their ability to excel in five key areas: global citizenship, proof of concept, disruption, scalability, and adaptability.
The awards are presented by the Waislitz Foundation and Global Citizen, supported by leading U.S. and Australian-based cellular medicines company Mesoblast Ltd,
Additional prizes that will be given out this year include the Waislitz Global Citizen Disruptor Award, which is given to the applicant who created measurable impact in an innovative manner that disrupts the systems that allow for extreme poverty to exist; the Waislitz Global Citizens' Choice Award, which is selected with input from public online voting by the Global Citizen community; The awards are open to individuals or individual representatives of organizations anywhere globally working to end extreme poverty and its many causes and consequences.
Winners of the Waislitz Awards are individuals who not only disrupt the status quo, but also serve their communities in a crucial time of need. Past award winners include individuals who revolutionized access to education using technology and TV broadcast, distributed birth kits and manufactured PPE for frontline health care workers, reduced food spoilage with 100% solar-powered walk-in cold rooms, and converted women-led food carts into mobile disinfectant units to help combat COVID-19.
Alex Waislitz, Chairman and Founder of the Melbourne-based Waislitz Foundation, said: "I am very proud that the Waislitz Global Citizen Awards has grown to become one of the world's leading philanthropic initiatives, recognizing and supporting those who are making a real difference towards ending global poverty at a grassroots level."
Since 2014 The Waislitz Foundation has committed almost $2 million to the Waislitz Global Citizen Awards and their efforts to end extreme poverty NOW. On top of this personal commitment, Alex Waislitz has also secured an additional $1.35m support for the awards from private sources.
Global Citizens have taken over 30.4 million actions since 2009. Today, these actions, in combination with high-level advocacy work, have led to over $41.4 billion being distributed to our partners around the world, impacting 1.15 billion lives in the fight to end extreme poverty.
The application process opens on Thursday April 28, 2022, and closes on Sunday May 29, 2022, at 11:59 p.m. EST.
Previous Waislitz Global Citizen Award winners include:
Haroon Yasin, Co-Founder and Chairperson of Orenda
Charlotte Magayi, Founder and CEO of Mukuru Clean Stoves
Koketso Moeti, Founder and Executive Director of amandla.mobi
Caitlin Barrett, CEO of Love Mercy Foundation
Tabitha Mpamira-Kaguri, Founder and Executive Director of EDJA Foundation
Wilma Rodrigues, Founder, and CEO of Saahas Zero Waste
Clarisse Uwineza, for her work converting organic waste into fertilizer in Rwanda
Twesigye Jackson Kaguri, Director of Nyaka AIDS Orphans Project, working to make education more accessible to AIDS orphans in Uganda
Anoop Jain, Founder of Humanure Power, for his work in rural India building sanitation facilities.
For more information about the 2022 Waislitz Global Citizen Awards, please visit: Here
###
About Global Citizen:
Global Citizen is the world's largest movement of action takers and impact makers dedicated to ending extreme poverty NOW. We post, tweet, message, vote, sign, and call to inspire those who can make things happen — government leaders, businesses, philanthropists, artists, and citizens — together improving lives. By downloading our app, Global Citizens learn about the systemic causes of extreme poverty, take action on those issues, and earn rewards, which can be redeemed for tickets to concerts, events, and experiences all over the world. For more information, visit www.globalcitizen.org and follow @GlblCtzn
About The Waislitz Foundation:
After many years of involvement in private philanthropic giving, Australian investor and businessman Alex Waislitz founded the Waislitz Foundation in 2013. The foundation represents a new approach to giving. It aims to invest in, and have a direct social impact on, some of the world's biggest social problems through active participation in the projects it supports. It aims to improve the quality of people's lives through innovative initiatives and partnerships.
About Mesoblast:
Mesoblast is a world leader in developing allogeneic (off-the-shelf) cellular medicines for the treatment of severe and life-threatening inflammatory conditions. The Company has leveraged its proprietary mesenchymal lineage cell therapy technology platform to establish a broad portfolio of late-stage product candidates which respond to severe inflammation by releasing anti-inflammatory factors that counter and modulate multiple effector arms of the immune system, resulting in significant reduction of the damaging inflammatory process.
CONTACT:
Global Citizen Inquiries: media@globalcitizen.org
Media Inquiries: Sunshine Sachs on behalf of Global Citizen, gc@sunshinesachs.com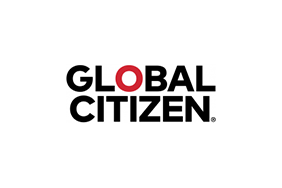 Global Citizen
Global Citizen
Global Citizen is a movement of engaged citizens who are using their collective voice to end extreme poverty by 2030. On our platform, Global Citizens learn about the systemic causes of extreme poverty, take action on those issues, and earn rewards for their actions — as part of a global community committed to lasting change.
Our Impact
Since 2011, millions of Global Citizens around the world have taken over 24 million actions to targeting world leaders to end extreme poverty by 2030. To date, the actions by our global community along with our high level advocacy efforts and with our partners, have resulted commitments and policy announcements from leaders, valued at over $48 billion that have impacted more than 880 million people by 2030. 
More from Global Citizen