Published 04-29-22
Submitted by Ericsson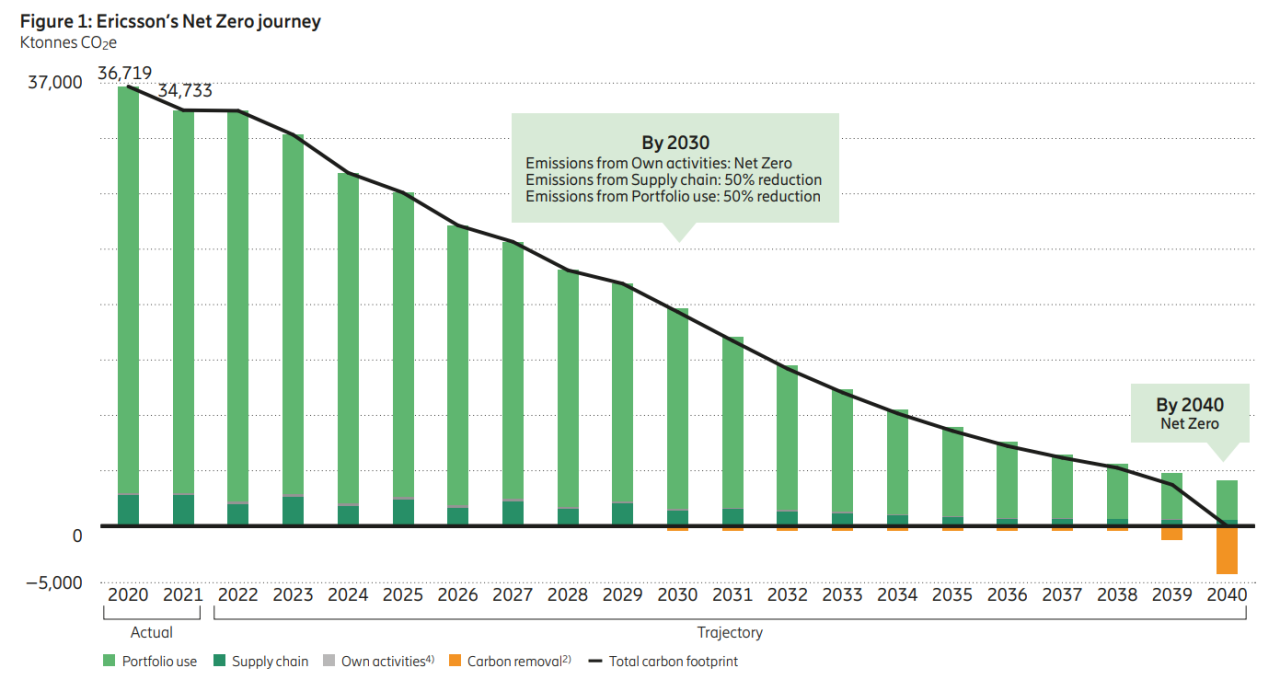 Originally published in Ericsson's 2021 Sustainability and Corporate responsibility Report
Climate change is one of the most urgent global challenges. Ericsson continues its focus on energy use and environmental impact of technology as well as operations across the value chain to be a resilient company. Ericsson will continue to address rising requirements and stakeholder expectations on the Company, particularly regarding transparency around climate-related business impacts.
Approach to environmental sustainability
Ericsson strives to minimize the negative environmental impact across its value chain. The Company's circular economy approach encapsulates everything from design, manufacturing and the use phase through reuse, product take-back and end of life processes. Ericsson has continued to make significant investments to improve the energy performance of its portfolio. The Company's work on environmental sustainability is divided into the following areas:
Improving the energy performance of Ericsson's portfolio.
Reducing emissions from Ericsson's supply chain and own activities.
Implementing a circular economy approach to product design and material use.
Demonstrating how Ericsson's business and products can enable society and other industries to reduce emissions and become more circular.
Sustainability research
Science and research underpin Ericsson's sustainability efforts. Since 2008, Ericsson has made many relevant contributions to international standards in the area of environmental sustainability. The Company prioritizes research on the direct and indirect environmental impacts of the ICT sector. Ericsson also contributes to the development of international methodologies for assessing the environmental impact of the ICT sector.
To support the ICT sector's transition to a low carbon economy, the International Telecommunication Union (ITU) has released the Net Zero standard1) to guide companies in the sector on setting Net Zero targets and strategies. Ericsson has contributed to the development of this standard, which meets the requirements of Science Based Target Initiative and UN Race to Zero Net Zero definitions.
Ericsson's Net Zero ambition
The Company has committed to following the Net Zero standard1), and in 2021 Ericsson officially set a long-term ambition to be Net Zero by 2040 across its value chain.
To meet this ambition, Ericsson is progressing against its set targets in line with the 1.5°C ambition set by the Paris Agreement. Ericsson has set a first major milestone to achieve Net Zero emissions from its own activities – as well as reducing emissions by 50% in its portfolio and supply chain – by 2030, see Figure 1.
Figure 2, shows Ericsson's carbon footprint and climate targets. The Company's initial focus is on reducing and avoiding emissions across the value chain as well as on investing in renewable energy. As a last resort to address any unavoidable emissions, Ericsson will work to remove remaining emissions from the atmosphere through approved carbon removal 2) credits. Ericsson is committed to building credibility regarding its long-term objectives in this area, with a focus on ownership of the issue and integration of its climate strategy in the line organization. The following pages cover targets, performance and the necessary actions to reduce emissions in each stage of Ericsson's value chain.
ICT is an enabler of climate action
ICT and digitalization are key enablers of reductions in global greenhouse gas emissions. According to Ericsson´s research, ICT solutions has the potential to enable a 15% reduction of emissions across industries by 20303), while being responsible for only 1.4% of the global carbon footprint.
Advocacy
Ericsson actively contributes to consultations and hearings on strategies and legislative proposals presented by different legislative bodies. Within the European Union (EU) the EU Commission has historically taken a proactive approach to environmental legislation and is now accelerating its efforts through the EU Green Deal. The Company's approach is to advocate for clear environmental legal requirements that are effective, based on science and that improve the environmental performance of the sector.
To address these areas, Ericsson is active in industry organizations such as Digital Europe, the Association of Swedish Engineering Industries, the European Round Table for Industry and other relevant forums. The Company also engages with organizations5) that are focused on global environmental standardization development.
Further, in order to communicate the benefits of digitalization in the transition to a low carbon economy, Ericsson engages with organizations such as the World Economic Forum, the European CEO Alliance, the Exponential Roadmap Initiative, The Pathways Coalition and the EU Green Digital Coalition.
Ericsson was an early supporter of the Paris Agreement and recognizes the need to limit global warming to 1.5°C, as described by the Intergovernmental Panel on Climate Change (IPCC). The Company's climate action approach and target setting for its own operations and industry impact is based on more than two decades of sustainability research.
In 2021, Ericsson conducted a climate scenario analysis in line with the recommendations of the Task Force on Climate-Related Financial Disclosures (TCFD) to further understand potential climate-related risks and opportunities relevant to its business model.
The analysis confirmed that the main climate-related business opportunities for Ericsson relate to providing customers with energy efficient networks and expanding its connectivity offerings to other sectors enabling further emission reductions. Main risks identified under the scenarios used relate to carbon pricing and business disruptions driven by physical risks, such as those caused by severe weather events. More details on this analysis and conclusions can be found on page 33 in the in Ericsson's 2021 Sustainability and Corporate responsibility Report.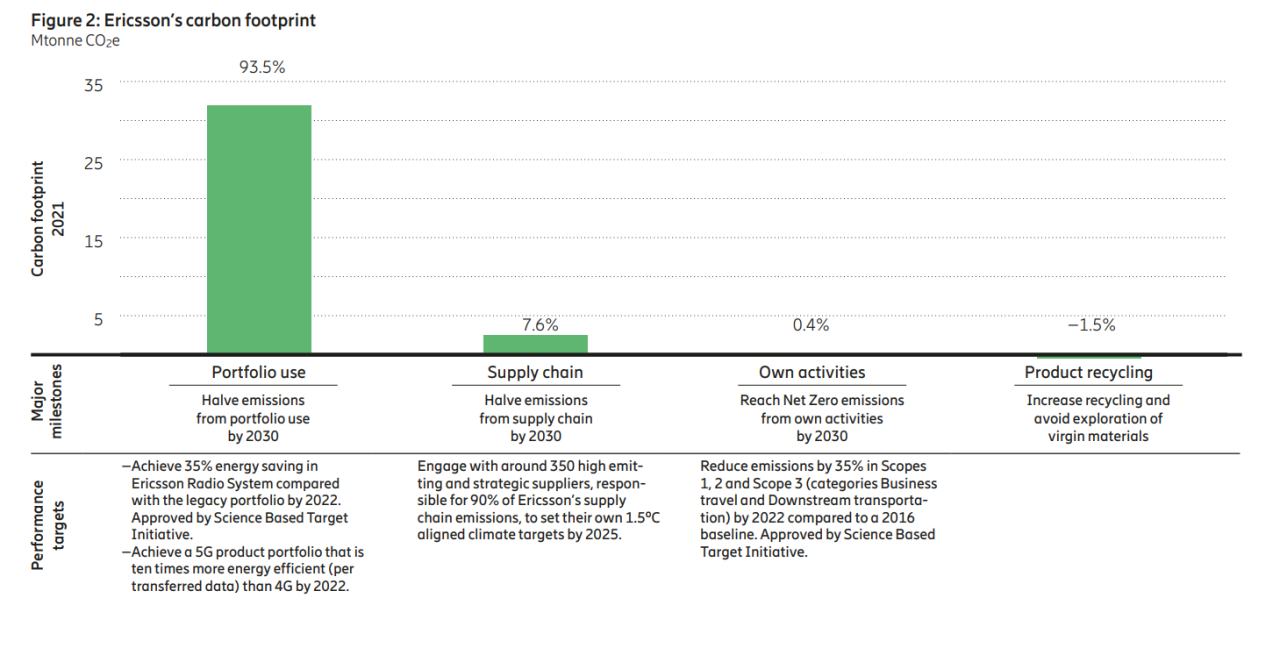 Ericsson's carbon footprint
The environmental impact and carbon footprint of Ericsson's value chain are quantified based on life-cycle assessments of products and through extensive research on the impact of the ICT industry. Figure 2 shows the Company's total carbon footprint, measured in carbon dioxide equivalents (CO2e). The impact is divided into four sections: portfolio use (including products and software in operation); supply chain (including product design, procurement, and transport); own activities (including fleet vehicles, business travel, commuting, teleworking and facilities); and product recycling, (including end-of-life products that are taken back from customers and then recycled).
As seen in Figure 2, the carbon emissions resulting from the lifetime energy usage of Ericsson's delivered portfolio corresponded to approximately 94% and supply chain emissions accounted for 8% of the Company's total carbon footprint. Ericsson's emissions from own activities are small relative to the previous two categories. They make up 0.4% of the total emissions. In 2021, the Company expanded its carbon neutral target for own operations into a Net Zero emissions target for own activities by 2030, including fleet vehicles, facilities, business travel and commuting/teleworking. Own activities previously included product transportation, this is now moved to supply chain emissions.
According to Ericsson's estimations, recycling of its products at end-of-life contribute to lower supply chain emissions. The reason for this is that emissions from recovered raw materials, such as aluminum, are lower than those from virgin raw material. Thus, product recycling results in a negative share of Company emissions as shown in Figure 2.
1)ITU L.1471 Net Zero standard
2) Carbon dioxide removal, also known as negative CO2 emissions, is a process in which carbon dioxide (CO2) is removed from the atmosphere and locked away for long periods of time. To reach Net Zero in the value chain, companies can neutralize their residual emissions that cannot be further reduced, by means of specific removal trustworthy technologies that adhere to global standards.
3) J. Malmodin and P. Bergmark, 2015, Exploring the effect of ICT solutions on GHG emissions in 2030: https://www.atlantis-press. com/proceedings/ict4s-env-15/25836149.
4) Defined as Scope 1 (facilities and fleet vehicles), Scope 2, and Scope 3 categories Business Travel and Employee Commuting (and teleworking).
5) The International Telecommunication Union (ITU), the European Telecommunications Standards Institute (ETSI) and the European Committee for Standardization (CEN) and European Electrotechnical Committee for Standardization (CENELEC).

Ericsson
Ericsson
Ericsson is one of the leading providers of Information and Communication Technology (ICT) to service providers. We enable the full value of connectivity by creating game-changing technology and services that are easy to use, adopt, and scale, making our customers successful in a fully connected world.
Our comprehensive portfolio ranges across Networks, Digital Services, Managed Services and Emerging Business; powered by 5G and IoT platforms.
More from Ericsson