Published 04-28-22
Submitted by Owens Corning

Originally published in Owens Corning's 2021 Sustainability Report
Our goal: by 2030, we will establish viable circular economy business models involving our materials and how they are used. We can accomplish this by:
Increasing recycled content and decreasing virgin raw materials used in our products.
Developing technical solutions and practical business models for our product materials and packaging, so they can be used for beneficial purposes even after they are no longer used for the original purpose.
Collaborating up and down the supply chain, with customers, suppliers, communities, academics, policy makers, government entities, and other organizations.
Our circular economy efforts are focused in two areas:
Manufacturing This work focuses on meeting our 2030 waste management goals — reducing the intensity of waste generated by our processes by 50%, and then finding ways to reuse or recycle the rest — as well as our efforts to expand the use of recycled materials in our manufacturing operations and our products, across all businesses.
End-of-life solutions We are seeking innovative technologies and business models for our products and materials to be reused and repurposed indefinitely. This work includes internal partnerships among R&D, commercial, and corporate development to shape the vision and execution in this area. We also engage with external partners to develop end-of-life solutions for our products, as well as the products where our materials are used.
Our most recent initiatives toward establishing circular economy models include the following:
The circular economy team, established in 2020, defines goals and prioritizes projects that accelerate our circular economy ambitions. The team also partners with subject matter experts and teams across our company, as well as other stakeholders in the industry.
Take-back models encourage manufacturers to accept responsibility for downstream waste from customers using their products. For Owens Corning, this can include waste generated during construction, subsequent fabrication, installation, or protective packaging. Owens Corning Paroc has established take-back models in Sweden and Finland, as well as in our metals packaging products.
Shingle recycling efforts are in place, as our Specialty Asphalt paving business is working with state departments of transportation, roofing contractors, and other stakeholders to create a circular economy model for roofing shingles.
Owens Corning is a partner in the ZEBRA (Zero WastE Blade ReseArch) project in Europe, a cross-sector consortium launched in 2020 to develop the first 100% recyclable wind turbine blade.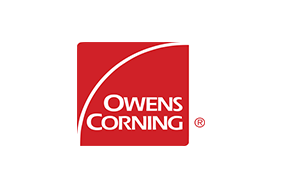 Owens Corning
Owens Corning
Owens Corning is a global building and construction materials leader committed to building a sustainable future through material innovation. Our three integrated businesses – Composites, Insulation, and Roofing – provide durable, sustainable, energy-efficient solutions that leverage our unique material science, manufacturing, and market knowledge to help our customers win and grow. We are global in scope, human in scale with approximately 19,000 employees in 31 countries dedicated to generating value for our customers and shareholders and making a difference in the communities where we work and live. Founded in 1938 and based in Toledo, Ohio, USA, Owens Corning posted 2022 sales of $9.8 billion. For more information, visit www.owenscorning.com.
More from Owens Corning