Published 04-21-22
Submitted by CSR International
April 21, 2022 /CSRwire/ - Globally renowned Cambridge thought-leader Dr. Wayne Visser is a respected expert in sustainability and environmentally responsible business practices. He'd be the perfect spokesperson for Earth Day on 22 April 2022, if he weren't so concerned with being a spokesperson for the Earth. In his new book, Thriving: The Breakthrough Movement to Regenerate Nature, Society, and the Economy, Visser explores an innovative agenda for turning our biggest international societal and environmental challenges into opportunities to thrive.
"Earth Day has been celebrated since 1970 and since then the destruction of the Earth has gone into overdrive," Visser said. "Earth Day is symbolic of how we approach sustainability, with 364 days of – business as usual impacts, and one day of feeling good about our favorite sustainability projects. In contrast, Thriving is about protecting, promoting, and restoring life on Earth every day of the year, 365 days a year, 24 hours a day. Thriving is a regenerative way of being in the world – and a positive way of acting for the world."
Thriving has resonated with readers and reviewers, earning praise and accolades around the globe. The book achieved Amazon Best Seller status in twelve countries and multiple categories, including Sustainable Development, Business Economics, and Environmental Economics. Thriving also achieved the distinction of #1 New Release in Green Business and Sustainable Development Economics.
"This persuasive call to action will inspire responsible, logical change," said Publishers Weekly's BookLife. "Readers will come away emboldened and inspired."
Kirkus Indie calls Thriving "An exceptional, encyclopedic, and hopeful vision of the future." Foreword Reviews echoes these sentiments, saying, "Thriving is a hopeful, persuasive, and inspiring resource for activists, business leaders, and policy-makers looking for effective strategies to confront Earth's many urgent problems."
Thriving strives to:
Inform about why change is necessary and how it happens in society, as well as counter prevailing despair and pessimism about the state of the world with hope and optimism,
Inspire with what change is possible and where it is already happening, showing how we can go from problems of breakdown to breakthrough solutions, and
Impel by creating a desire to turn information and inspiration into action, adding momentum to the growing regeneration movement.
"This book tells the stories of many who are working tirelessly to create a radically better tomorrow," Visser says. "The hundreds of examples I share are all testimony to the fact that each of us can be a constructive force for thriving—and, more importantly, that we can do it every day, and not just once a year."
Learn more about Thriving and Dr. Wayne Visser's books, poetry, and workshops by visiting www.waynevisser.com.
About the Author
Dr. Wayne Visser is a globally recognized Cambridge "pracademic". As the author of 40 books, he is an idea-monger, storyteller, and meme weaver. His work as a champion for thriving, strategy analyst, sustainability academic, documentary filmmaker, poet and professional speaker has taken him to more than 75 countries. He has been recognized by Trust Across America as one of the world's top 100 thought leaders in trustworthy business and named a top 100 sustainability leader by ABC Carbon.
Dr. Visser currently serves as head tutor, fellow, and lecturer at the University of Cambridge Institute for Sustainability Leadership, as well as professor of integrated value at Antwerp Management School, where he holds the world's first academic chair in sustainable transformation. He is also a director of the think tank and media company Kaleidoscope Futures and founder of CSR International. Previous roles include director of sustainability services for KPMG and strategy analyst for Capgemini in South Africa.
# # #
More about Greenleaf Book Group
Greenleaf Book Group is an independent publisher and distributor located in Austin, Texas, dedicated to empowering authors. Greenleaf's hybrid publishing model is uniquely positioned to offer the benefits of both traditional publishing and self-publishing. To learn more about Greenleaf, visit www.greenleafbookgroup.com.
Media Contact:
Sam Ofman
Greenleaf Book Group
media@greenleafbookgroup.com
512-891-6100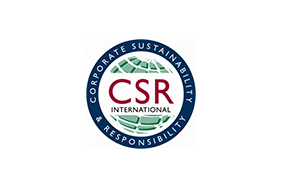 CSR International
CSR International
CSR International was founded in 2009 with the mission to be an incubator for CSR 2.0, which means Transformative Corporate Sustainability & Responsibility (CSR). Since then, we have delivered CSR training around the world, welcomed many people through our internship program, shared hundreds of CSR Research Digests and licensed CSR 2.0 Assessors & Advisors.
More from CSR International