Published 04-20-22
Submitted by Koch Industries

When Anne Lee tells people she works at Flint Hill Resources' Pine Bend refinery off Interstate 52 in Rosemount, Minnesota, they're always curious about what it's like on campus.
"Everyone knows it as the place off the interstate. It's all lit up at night and it looks magical. It kind of does seem like it is its own little town," Anne says.
Pine Bend is the largest oil refinery in the United States located in a state without any oil wells, but it has an even more important distinction: It's one of the nation's most efficient refineries. In the past five years, Pine Bend has improved its energy efficiency by 10%. That's thanks in part to Anne's diligent efforts on the facility's environmental leadership team. But the senior technical lead is quick to credit a companywide culture that prioritizes minimizing environmental impact.
"Meeting the compliance requirements is just the basic entry to the game," Anne says. "We all have to be on the same page when it comes to being mindful of our environmental impact. If we identify a potential issue or something that we're struggling with, it's easy to get the right folks engaged, because there is a sense of responsibility and why this is so important for our community."
Anne was also instrumental in helping to gather and submit data that led to Koch Industries, Flint Hills' parent company, being named a 2021 ENERGY STAR Partner of the Year by the Environmental Protection Agency and the Department of Energy, as well as Flint Hills' EPA certification in 2019, 2020 and 2021 for operating in the top 25% of all U.S. refining facilities for energy efficiency.
Throughout her career, she has seen what a difference it makes working at a company that takes environmental stewardship seriously. Before she joined Flint Hills in 2004, Anne worked as an environmental consultant helping various clients understand and follow regulations.
"Right after college, I was really excited about being an environmental consultant, because I was like, 'Awesome — I am going to help so many places solve their problems and do the right thing,'" she says. What she instead found in her prior job before joining Flint Hills was that some companies asked her how they could get around certain environmental regulations and best practices, instead of focusing on living up to their obligations.
"The point of view between how Flint Hills views compliance and its community obligations is just a lot different," she says.
When an environmental engineer job opened up at Pine Bend, Anne jumped at the opportunity to join a team where she says everyone is very focused on making sure the refinery runs more efficiently, meeting environmental regulations or answering questions from members of the surrounding community.
"One thing we have had in place for more than two decades is called the Community Advisory Council, which is an independent organization of citizens," Anne says. "Those meetings are a chance for us to engage and learn more about questions, concerns or ideas from the local community, and also share updates about the environmental initiatives at the Pine Bend facility."
Anne's job covers a broad range of responsibilities, whether that's the day-to-day monitoring of air quality or finding technology solutions for conserving natural resources at the refinery. Take, for example, the water used during the refining process. After the water is used, it goes to an on-site wastewater treatment plant where it is treated and must pass certain regulatory standards before it is returned to the Mississippi River.
"When we discharge the water, it's actually very high quality, which is pretty cool," Anne says.
There's never a question at Pine Bend about doing the right thing and meeting environmental requirements, but Anne says the team constantly strives to do more than the bare minimum.
"We're constantly asking, what else can we do?" she says.
One project the team is currently pursuing is using solar energy to power part of the refinery.
"Ten years ago, if somebody said we might be considering solar power, I would have been like, 'Yeah, right, like that will ever happen!' And here we are thinking about it today. It's just been really neat to see that evolution over time."
The feedback is also proactive. Anne says she constantly fields ideas from people across the company about how to reduce the environmental impact of their jobs. She adds that Flint Hills' willingness to invest in long-term solutions that help the facility run more efficiently — and thus in a more environmentally responsible way — is a huge advantage.
In 2019, Flint Hills made a $400 million investment in new technologies and equipment with the goal of lowering emissions and increasing the efficiency of production at the refinery. That has created plenty of room for Anne and her team to innovate.
One such project uses ammonium thiosulfate (ATS) technology. The technology takes sulfur, a major pollutant from motor fuel, and turns it into fertilizer that farmers use. In another use case, the technology can be used to create ultra-low-sulfur gasoline, which helps lower vehicle emissions and has an overall positive impact on the environment.
Pine Bend expects to produce approximately 100,000 short tons of ATS every year. A new rail and truck terminal near the refinery will enable distribution to farmers throughout the Corn Belt and Northern Plains.
When she's not on the Pine Bend campus, Anne relishes meeting members of the community and talking to them about her work — volunteer outreach that she says her supervisor and leadership team wholeheartedly support.
"My supervisor has always been really encouraging," Anne says. "I think really all of the leadership team and supervisors at our site recognize the value in helping folks connect to who our company really is, and a way for people to do that is to see faces and meet people. We're not just that big place with all the lights off of Highway 52," she says.
One of Anne's favorite volunteer jobs helps her connect with elementary school kids. Every year, she volunteers as a judge at the ZOOMS STEM Design Challenge launched by the Minnesota Zoo in partnership with Flint Hills Resources, which challenges teams of kids to work together to solve real challenges at the Minnesota Zoo, such as building an enrichment area for a red panda.
She says listening to the presentations is inspiring, and a reminder that there are so many ways to approach the same problem, something she deals with every day at work. She tells them "that truly great ideas most often come from people thinking outside the box." And that innovation does not come from relying on traditional thinking.
"Fast-forward 20 years, these kids are going to be doing my job," she says. "They have this awesome vision for the future and limitless possibilities, which is so inspirational. I think about the challenges they are going to get to try and tackle at Flint Hills in 20 years!"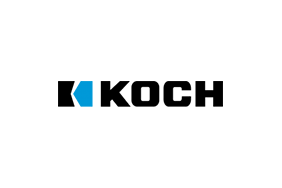 Koch Industries
Koch Industries
Creating value. Transforming life.
Our life's work is to help people improve their lives by making and innovating products and services our customers value. Our focus is on delivering mutual benefit: Win-win outcomes that make life better for customers and employees alike.
Based in Wichita, Kansas, Koch Industries is one of the largest private companies in America. A diverse set of businesses and industries across the world, we work together to keep improving and exploring new ways to make life even better.
Koch companies are involved in manufacturing, agriculture, pulp and paper, packaging, consumer products, building materials, glass, automotive components, refining, renewable energy, chemicals and polymers, electronics, enterprise software, data analytics, medical products, engineered technology, project services, recycling, supply chain and logistics, global commodities trading, and investments. Since 2003, Koch companies have invested more than $150 billion in growth and improvements. With a presence in about 60 countries, Koch companies employ more than 120,000 people worldwide, with about half of those in the United States.
Stewardship in all we do.
Our approach to Environmental, Social and Corporate Governance (ESG) is different than most. We believe in people and seek a system of equal rights and mutual benefit where individuals succeed by helping others succeed – and where people are empowered to improve their lives and their communities. It's why we focus on empowering individuals to improve their lives and communities through bottom-up solutions rather than top-down imperatives.
Environmental Stewardship
Consuming fewer resources, minimizing waste and constantly innovating to improve our manufacturing processes and performance is essential to the way we do business – benefiting our customers, employees, investors, communities and planet.
Five environmental stewardship priorities.
With more than 300 manufacturing sites across the United States – and about 100 more globally – we're one of America's largest manufacturers. Every day, across those sites, we strive to create more value, using fewer resources than the day before. We do it through constant improvement and innovation – both in the products we make and how we make them, and by managing our resources in a way that benefits our customers, employees, partners, community members and society.
Innovation
Energy Efficiency
Air Quality
Water
Responsible Resource Management
Social Stewardship
Philanthropy. Health and safety. Diversity and inclusion. Meaningful, rewarding careers and community outreach. These are just some of the vital priorities of social stewardship that empower each of our employees to develop, contribute, self-actualize and create value for the world while supporting communities in which we live.
Governance
Our management framework, Principle Based Management™, is based on proven principles of human progress and a deep appreciation for the dignity of every individual. Our private ownership, shared Vision, Values, compliance standards and oversight all help us focus on long-term value creation.
More from Koch Industries