Published 04-15-22
Submitted by United Rentals, Inc.

A group of employees at a United Rentals Denver branch was dismayed by the number of single-use water bottles the branch was purchasing. The bottles were unsustainable, and the pallets and packaging generated trash that littered the yard. Determined to take action, they encouraged the branch to switch to a filtered water cooler and biodegradable cups.
Thrilled with the outcome, they're sharing what they learned with other branches to help them adopt similar strategies. And they're using United Rentals' newest employee resource group (ERG), Planet United™, to do it.
"Planet United is focused on what we can do as a powerful, united team around our environmental and sustainability goals," said Craig Pintoff, executive vice president and chief administrative officer. "It gets to the notion of what great companies can do when they're responsible and they lead with purpose."
The ERG, initiated and led by employees, was formed to tap the shared interest and ingenuity of those driven to help the world, including the company, be kinder to the planet.
United Rentals has set ambitious sustainability goals, such as reducing its greenhouse gas emissions by 35% by 2030.
"To take our environmental sustainability goals to the next level, we need all of the United Rentals team to share their passion and ideas," explained Joli Gross, senior vice president, general counsel and Planet United's executive sponsor. "When we all work together, with 20,000+ people involved, even small efforts can have a huge impact."
A space to connect and collaborate
Collaboration is at the heart of this ERG. In the Planet United kickoff meeting, which was among the best-attended ERG meetings in United Rentals' history, suggestions put forth included everything from creating and distributing anti-idling stickers for generators and other equipment to placing energy-gathering solar panels on rooftops of certain of the company's buildings, a proposition corporate leadership is already pursuing.
Other ideas included ways to reach into local communities, by partnering with local environmental groups and joining adopt-a-highway programs, for example.
"We're always more successful when we have an open forum and a way for the team to share their ideas," said Kacie Peltier, director of inclusion and diversity. "We know what it means from a corporate level to be a more responsible company, but we want to make sure we know what it means to our team and how they think we can best accomplish our goals."
Planet United will keep the ideas and enthusiasm flowing via regular online meetings and a new Workplace page where employees can post suggestions, find educational materials and stay up-to-date on the latest sustainability efforts.
Putting ideas into action
One of the first Planet United initiatives, centered around Global Recycling Day, encourages recycling, both in the office and at home. So far, employees have received information on how to dispose of used office technology such as laptops, desktops, monitors, office phones, fax machines and old cellular devices. They also learned how to quickly and easily recycle used toner cartridges and how to safely get rid of old phones, computers and TVs at home.
Leaders of Planet United are in the process of creating plans for Earth Day, Zero Emission Day, Energy Efficiency Day and America Recycles Day.
As part of Planet United, individual branches will pilot programs, such as used engine oil recycling, to help the company iron out kinks before introducing the programs company-wide. When one branch pilots an initiative, Planet United is a means of sharing the learnings that result. One branch that's gone all electric is doing just that.
Responsible companies understand that doing well by doing good benefits the organization and the world in which it operates. United Rentals has committed to reducing its greenhouse gas emissions and shrinking other environmental impacts of its operations. By encouraging employees to join in these efforts, Planet United moves the goal posts closer.
Learn more about United Rentals' culture of teamwork and corporate responsibility on our About Us page.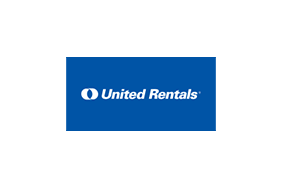 United Rentals, Inc.
United Rentals, Inc.
United Rentals, Inc. is the largest equipment rental company in the world. The company has an integrated network of 1,288 rental locations in North America, 11 in Europe, 28 in Australia and 18 in New Zealand. In North America, the company operates in 49 states and every Canadian province. The company's approximately 20,400 employees serve construction and industrial customers, utilities, municipalities, homeowners and others. The company offers approximately 4,300 classes of equipment for rent with a total original cost of $15.79 billion. United Rentals is a member of the Standard & Poor's 500 Index, the Barron's 400 Index and the Russell 3000 Index® and is headquartered in Stamford, Conn. Additional information about United Rentals is available at unitedrentals.com.
More from United Rentals, Inc.