Published 04-13-22
Submitted by Pact
April 13, 2022 /CSRwire/ - Human-induced natural disasters are exacting a heavy toll on our planet's ecosystems and by extension local communities. Pact is working hand in hand with local communities to respond to climate change. Here, we share the stories of three staff members who are making a difference in communities around the world.
Christy Owen is Pact's Thailand country director and chief of party for USAID Green Invest Asia, which helps agriculture and forestry businesses in Southeast Asia to improve their sustainable commodity production and sourcing, as well as manage environmental risks. USAID Green Invest Asia helps investors identify profitable, environmentally-astute agriculture and forestry companies, improves companies' investment readiness to qualify for climate finance, and partners with multinationals to measure and reduce their carbon footprints.
Reflecting on why she finds environment work so meaningful, Owen says, "My experience with communities, governments and the private sector has shown how the natural world is so important to our lives, yet as a global community we have managed to continuously undervalue and disrespect it. This is having real-world impacts now, in my lifetime, and will definitely create a different future for my son. So the question for me isn't so much why I've chosen this space, but how can I afford to not work on protecting the environment and reducing the impacts of climate change?"
In Madagascar, the fourth most vulnerable country to climate change, Hanta Rabefarihy is working "to leave a legacy of hope for the future" as she approaches her retirement. "As a woman, I feel that the precariousness of life hurts, thinking about the children and future generations. But my past experiences have shown that positive changes are possible so that people can have sustainable livelihoods while the natural resources are well managed."
She is Deputy Chief of Party for the USAID Hay Tao project, implemented by Pact, which is working to improve the governance and management of natural resources in Madagascar with more effective, common and constructive engagement of communities, civil society, private sector, and public administration. USAID Hay Tao has invested heavily in capacity and skills development of its partners as well as in the development of the Hay Natiora portal to facilitate access to data and information for decision-makers.
One third of the cooperatives of social and conservation enterprises supported by USAID Hay Tao, integrating climate change adaptation measures, are women-led. With improved capacities, skills and information, the hope is that better analyses and reflections will lead to solutions for a sustainable future.
Born in Ecuador and raised in Colombia, Vanessa Coronado began working in development as an assistant to the deputy chief of party of USAID's alternative development program in Colombia. She enjoyed learning about cocoa, coffee and rubber crops, silvopastoral models and environmental incentives, and traveled across Colombia during a difficult moment in the country's history. She later had the opportunity to work at national government institutions designing public policy for the social sector.
"Indigenous communities are part of the Amazon's rich biodiversity, and they are facing so many challenges. They need support to advocate for their rights and the conservation of their territories," Coronado says. "I believe SCIOA [Strengthening the Capacities of Indigenous Organization in the Amazon] complements other environmental initiatives by focusing on the capacity of Indigenous organizations to sustain their missions and strengthen their autonomy. It has been so meaningful for me to see how we are supporting these communities and how our efforts go beyond SCIOA's direct goals to the conservation of the Amazon."
She has led SCIOA for the past year and a half and says the project's work is essential when it comes to the fight against climate change. According to Greenpeace and other international organizations, Coronado notes, protecting the rights of Indigenous peoples in the Amazon is critical to the survival of the planet. Studies have shown that forests are better protected when Indigenous rights are protected.
Pact engages communities to incentivize sustainable natural resource management and livelihoods that in turn positively impacts conservation and ecosystem restoration. We empower communities to make their own resource management decisions, working within the realities of population pressure, poverty, an increasing demand for energy and natural resources, and the impacts of climate change. We work with local communities, local governments and civil society so they can develop the necessary skills to manage and responsibly benefit from the natural resources around them, from fish to forests to mineral deposits.
The challenges wrought by climate change also require collective action. Pact works with businesses and financial institutions to mobilize private sector finance to drive more sustainable low-emission agriculture, forestry and land use management. We work with governments and local communities to facilitate the adoption of more climate-resilient rural livelihoods and help community members move along the development pathway by developing nature-based enterprises that will generate sustained revenue without adversely impacting the environment.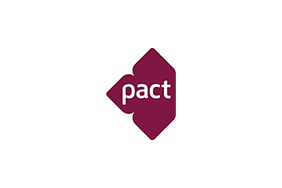 Pact
Pact
Pact is an international nonprofit that works in nearly 40 countries building solutions for human development that are evidence-based, data-driven and owned by the communities we serve. Founded in 1971, Pact works with partners to build resilience, improve accountability, and strengthen knowledge and skills for sustainable social impact.
More from Pact