Published 04-12-22
Submitted by Gen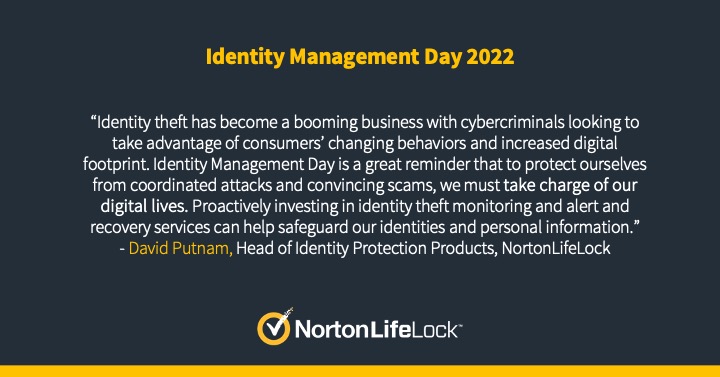 Identity Management Day is April 12 — and there's no better time to educate yourself about cybercrime and identity theft threats. Started in 2021 and hosted by the Identity Defined Security Alliance and National Cybersecurity Alliance, Identity Management Day aims to inform about the dangers of casually or improperly managing and securing digital identities by raising awareness and sharing best practices across the industry. There are many ways to participate as a consumer, practitioner, vendor or end user organization – and NortonLifeLock is an Identity Management Day Champion!
"Identity theft has become a booming business with cybercriminals looking to take advantage of consumers' changing behaviors and increased digital footprint," said David Putnam, Head of Identity Protection Products for NortonLifeLock. "Identity Management Day is a great reminder that to protect ourselves from coordinated attacks and convincing scams, we must take charge of our digital lives. Proactively investing in identity theft monitoring and alert and recovery services can help safeguard our identities and personal information."
Exploring the digital world often means trading your personal info for access to the things you and your family enjoy. But if those private details fall into the wrong hands, you may fall victim to identity theft. Fortunately, there are ways to protect yourself, and Norton can help. Today's the perfect day to #BeIdentitySmart. Learn more at Norton.com.

Gen
Gen
Gen (NASDAQ: GEN) is a global company dedicated to powering Digital Freedom through its trusted Cyber Safety brands, Norton, Avast, LifeLock, Avira, AVG, ReputationDefender and CCleaner. There's a new generation, and it's not Gen X, Y, or Z. It's Gen D: Generation Digital. Gen's family of consumer brands is rooted in providing safety for the first digital generations. Now, Gen empowers people to live their digital lives safely, privately, and confidently today and for generations to come. Gen brings award-winning products and services in cybersecurity, online privacy and identity protection to more than 500 million users in more than 150 countries. Learn more at GenDigital.com.
More from Gen