Published 04-11-22
Submitted by Biogen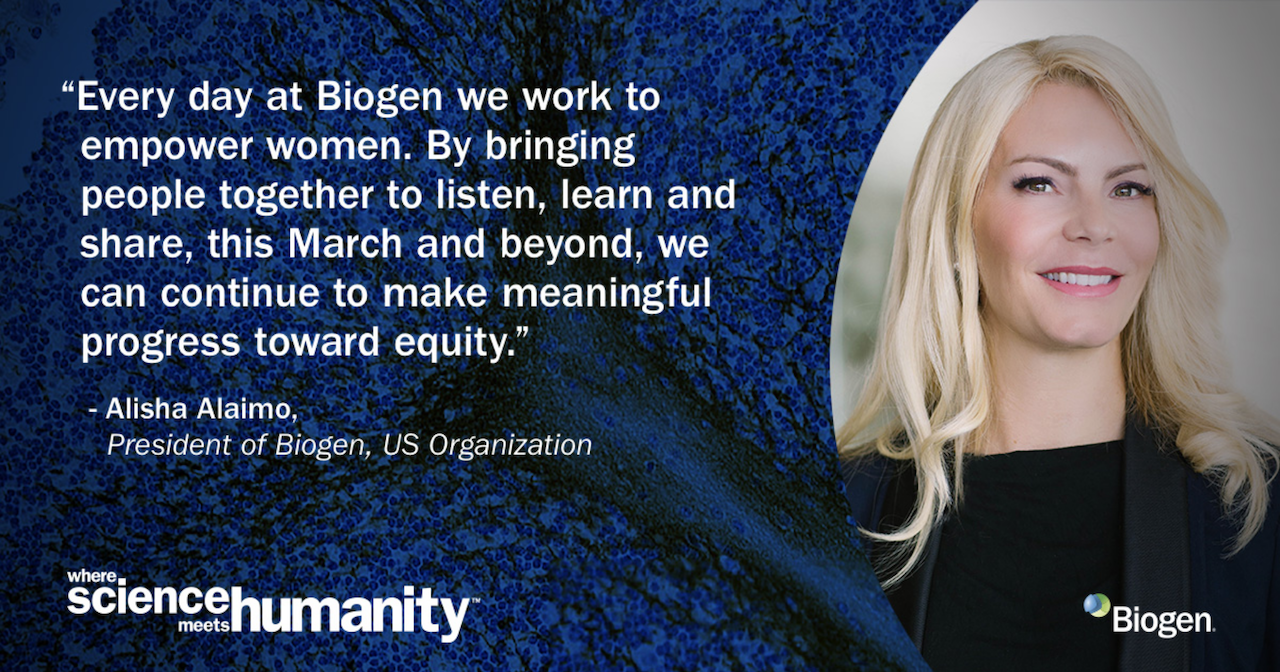 Thank you to all the women who took chances and paved the way so we could forge our own paths today. This past Women's History Month, we honored women in science by continuing our commitment to making STEM more accessible to girls and other underrepresented groups.
"Every day at Biogen we work to empower women. By bringing people together to listen, learn and share, March and beyond, we can continue to make meaningful progress toward equity," said Alisha Alaimo, President of Biogen, US Organization.
For any change to come about in the industry, healthcare providers need to reflect the diversity of the patient populations they serve. To get there, girls and other historically marginalized groups need to see themselves represented in the STEM workforce pipeline. A continuous increase in diversity – from STEM college majors to leadership roles – will open doors of opportunity to career paths not previously considered.
During Women's History Month, we asked a few colleagues why it is important for women to be represented in STEM.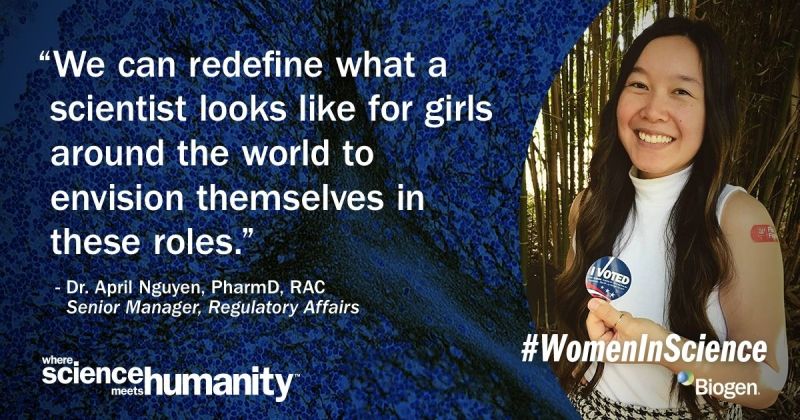 Dr. April Nguyen, PharmD, RAC | Senior Manager, Regulatory Affairs
April Nguyen believes that connections create possibilities. She created a global network community for pharmacists across Biogen to give women the opportunity to see what is possible, highlighting diverse career paths for healthcare providers.
"We can redefine what a scientist looks like for girls around the world to envision themselves in these roles."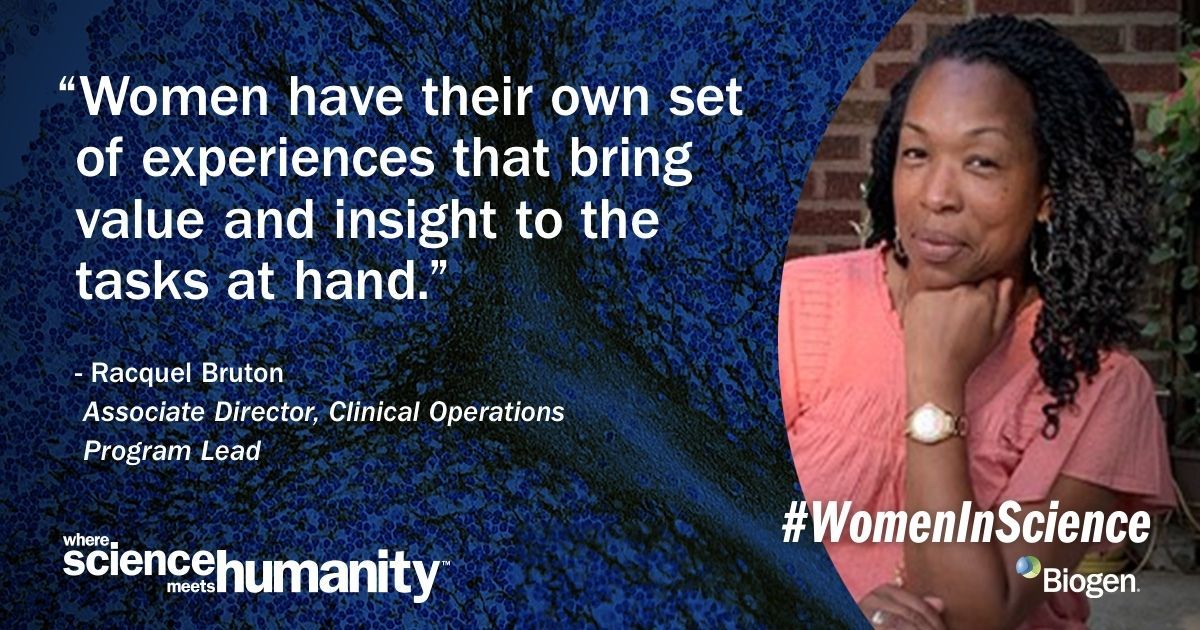 Racquel Bruton | Associate Director, Clinical Operations Program Lead
Racquel Bruton loves teaming up with colleagues on projects. She believes that the most productive collaborations come from having diverse voices at the table.
"Women have their own set of experiences that bring value and insight to the tasks at hand."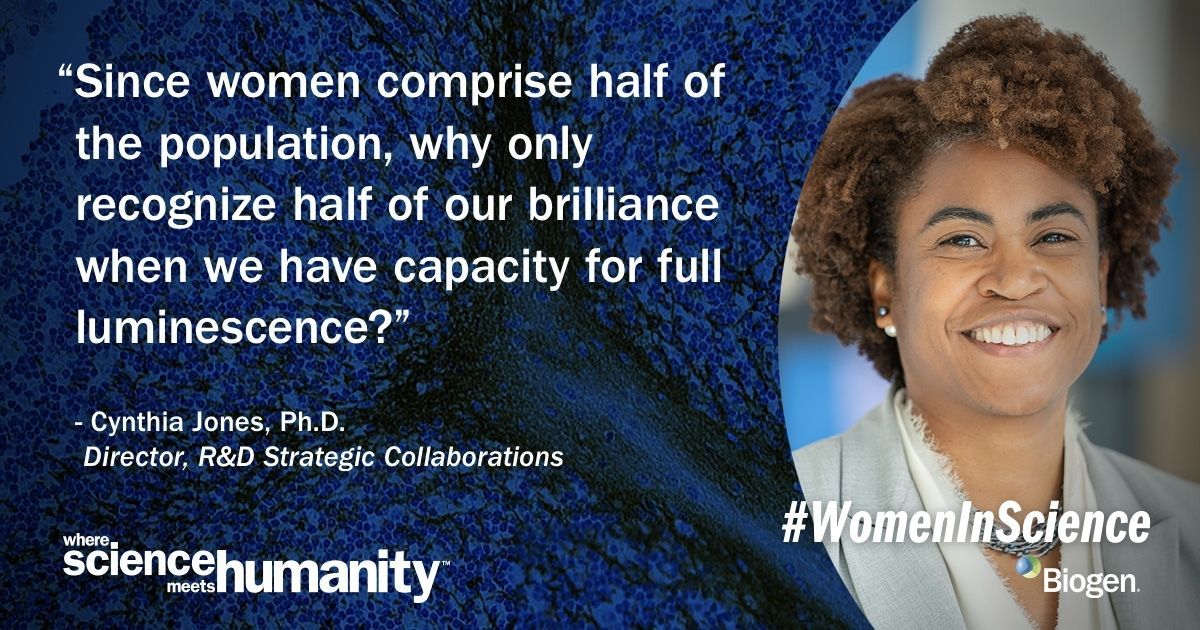 Cynthia Jones, Ph.D. | Director, R&D Strategic Collaborations
Health was always important to Cynthia Jones, driving her to epidemiology in biotech. Now Cynthia plays an integral role in helping get to health solutions by working with external partners.
"Since women comprise half of the population, why only recognize half of our brilliance when we have capacity for full luminescence?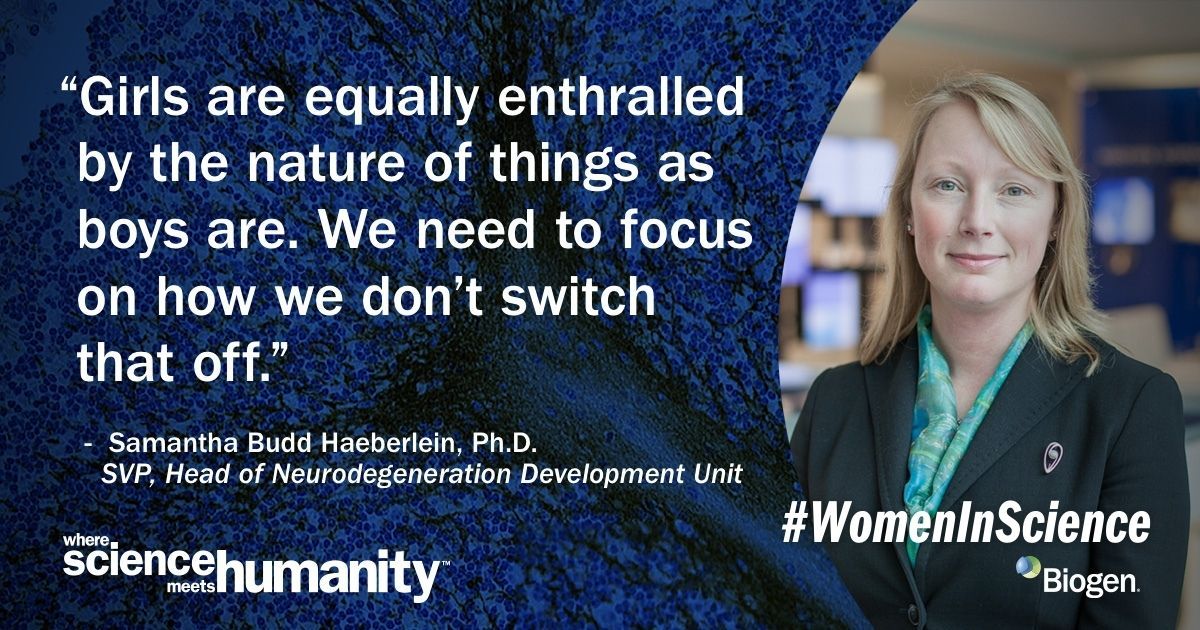 Samantha Budd Haeberlein, Ph.D. | SVP, Head of Neurodegeneration Development Unit
Samantha Budd Haeberlein was encouraged by her father to take subjects in college that she enjoyed. Being supported to make her own choices led her to follow her interest in biochemistry. Today, she uses that concept when mentoring women coming up through the ranks in biotech.
"Girls are equally enthralled by the nature of things as boys are. We need to focus on how we don't switch that off."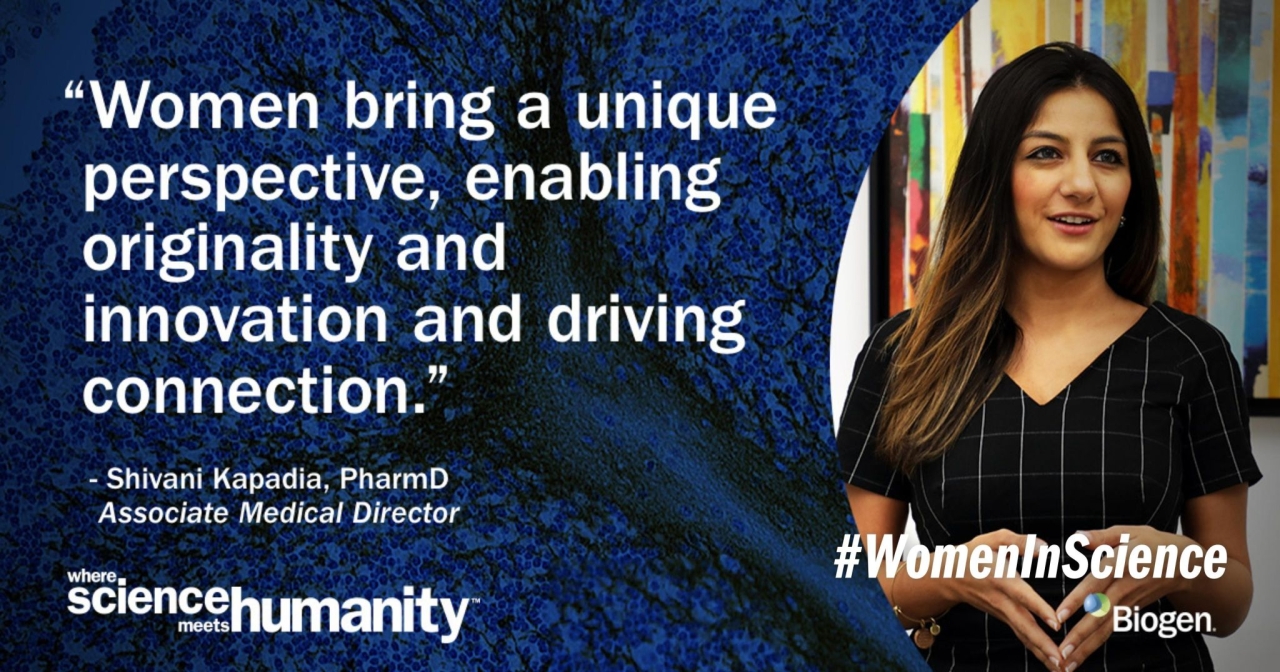 Shivani Kapadia, PharmD | Associate Medical Director
Shivani Kapadia never imagined the range of possibilities when she chose a career in STEM. Connecting her background as a pharmacist to patient outcomes on a larger scale keeps her motivated every day.
"Women bring a unique perspective, enabling originality and innovation and driving connection."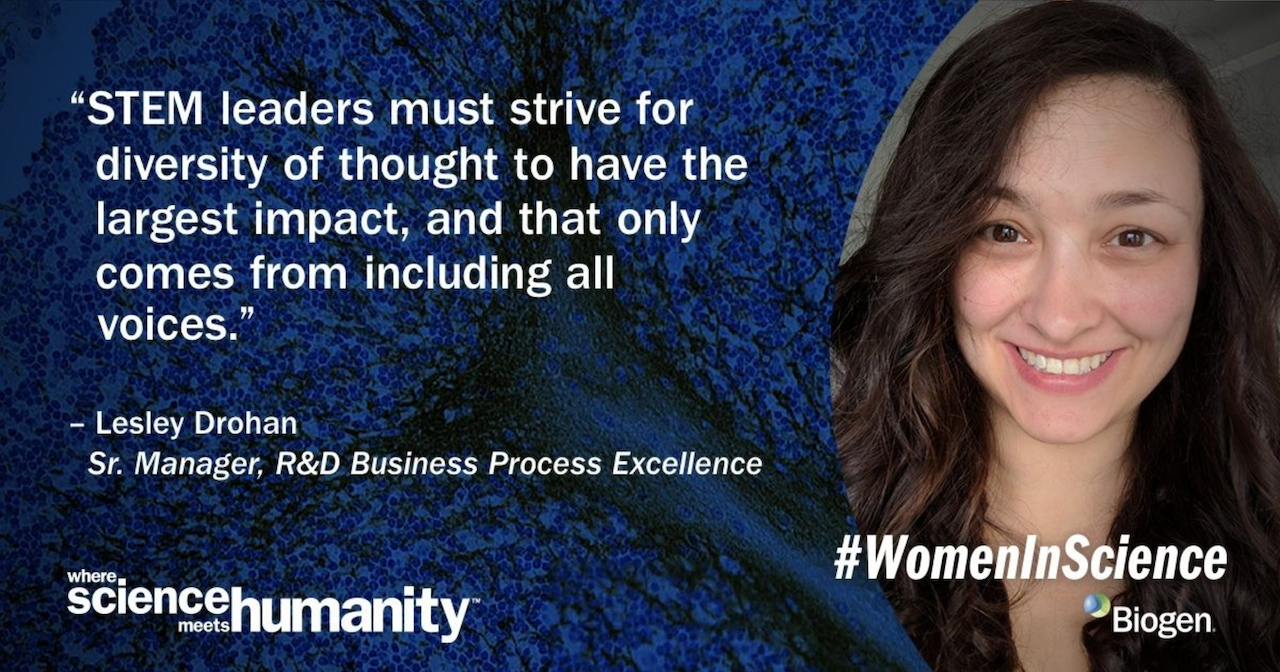 Lesley Drohan | Sr. Manager, R&D Business Process Excellence
When Lesley Drohan was studying biochemistry in college, she didn't expect a job in process management. She's been fortunate to have managers and mentors who urged her to explore roles across a product's lifecycle, leading her to discover a passion in innovation and streamlining.
"STEM leaders must strive for diversity of thought to have the largest impact, and that only comes from including all voices."
Learn about diversity, equity and inclusion at Biogen and our commitment to fostering a diverse talent pipeline through the work we do in the Community Lab.
About Biogen
As pioneers in neuroscience, Biogen discovers, develops, and delivers worldwide innovative therapies for people living with serious neurological diseases as well as related therapeutic adjacencies. One of the world's first global biotechnology companies, Biogen was founded in 1978 by Charles Weissmann, Heinz Schaller, Sir Kenneth Murray, and Nobel Prize winners Walter Gilbert and Phillip Sharp. Today, Biogen has a leading portfolio of medicines to treat multiple sclerosis, has introduced the first approved treatment for spinal muscular atrophy, and is providing the first and only approved treatment to address a defining pathology of Alzheimer's disease. Biogen is also commercializing biosimilars and focusing on advancing the industry's most diversified pipeline in neuroscience that will transform the standard of care for patients in several areas of high unmet need.
In 2020, Biogen launched a bold 20-year, $250 million initiative to address the deeply interrelated issues of climate, health, and equity. Healthy Climate, Healthy Lives™ aims to eliminate fossil fuels across the company's operations, build collaborations with renowned institutions to advance the science to improve human health outcomes, and support underserved communities.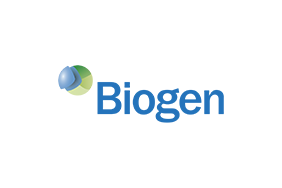 Biogen
Biogen
Founded in 1978, Biogen is a leading global biotechnology company that has pioneered multiple breakthrough innovations including a broad portfolio of medicines to treat multiple sclerosis, the first approved treatment for spinal muscular atrophy, and two co-developed treatments to address a defining pathology of Alzheimer's disease. Biogen is advancing a pipeline of potential novel therapies across neurology, neuropsychiatry, specialized immunology and rare diseases and remains acutely focused on its purpose of serving humanity through science while advancing a healthier, more sustainable and equitable world.
More from Biogen