Published 04-08-22
Submitted by GoDaddy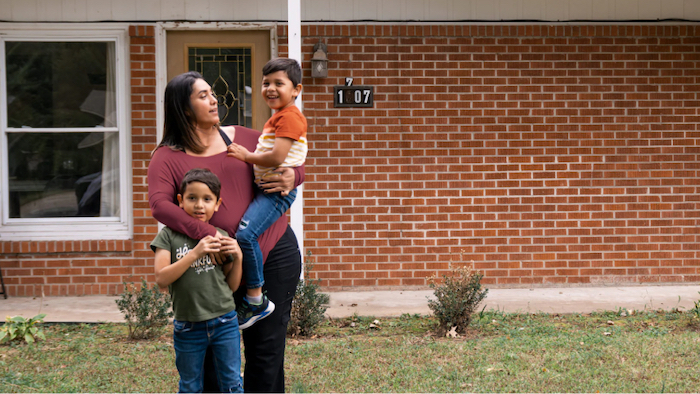 Originally published on Venture Forward by GoDaddy
Consuelo Rosales, who owns a small cleaning services business in Jonesboro, Arkansas, draws strength from adversity. A Mexican immigrant and mother of three boys, Consuelo has faced plenty of it in recent years.
Trapped inside an abusive marriage, she decided to start her business with a clear objective in mind: making sure she'd earn enough to make ends meet as a single parent. Once the business got going, she found the strength to leave her husband. But as the business gained momentum with a growing stable of clients, the pandemic hit, and most of her business dried up.
That's when she leaned on a website she had built with the help of Communities Unlimited, a nonprofit that she connected with through GoDaddy's Empower social impact program that provides digital skills training and other support to people in the rural South.
Being online has allowed her to bring in an entirely new set of customers and propelled Consuelo Cleaning Services to new heights.
"It's during difficult moments that I feel like I'm propelled forward," Consuelo says. "I'm falling down, but get back up stronger."
Today, Consuelo has an office, two full-time and four part-time employees and around 30 steady clients, including restaurants and businesses. And she has the flexibility to be home at 3 p.m. when her kids return from school.
"It's been a huge change for me," Consuelo says. "This business has helped me to believe in myself. It's helped me have this time with my kids. I can control my schedule and take them to their after-school activities. And most importantly, I'm showing them that they, too, could choose to work for themselves someday."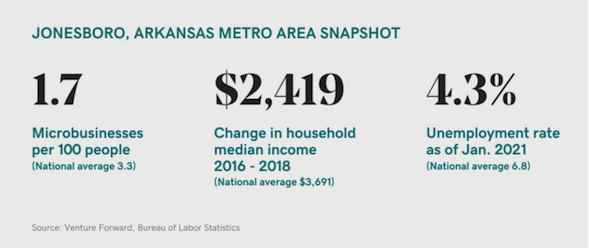 Steps to starting a business
In many ways, Consuelo is representative of micro-business owners throughout the country, 92% of whom have fewer than 10 employees, according to a Venture Forward survey. When COVID-19 hit, rather than close shop, many, like Consuelo, moved online, with 60% saying their website helped them navigate the pandemic, the survey found.
For Consuelo, the journey has been anything but easy. When she left her husband three years ago, Consuelo had been working as a housekeeper and custodian. As a single parent, she quickly realized she would need multiple jobs to make ends meet.
Her sister suggested she start a cleaning business. Her first try, with a partner, quickly flopped. Without any savings, she decided to start again on her own.
"My only asset was my know-how and experience as a cleaner and my hope of creating something," she says.
To find customers, she would go door to door, offering her services. Business picked up slowly, spreading through word of mouth. But her big break came when she connected with Communities Unlimited. The organization gave her a microloan to buy more cleaning equipment and supplies, taught her basic business skills, and helped her build a website with GoDaddy Websites + Marketing.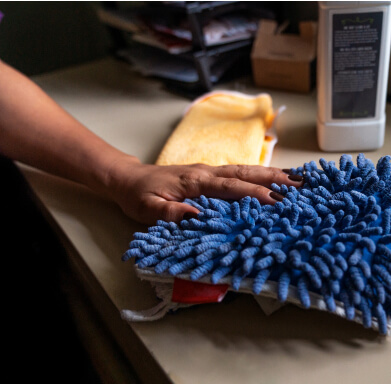 Access to capital and help with marketing are among the top challenges facing micro-businesses, according to the Venture Forward survey. In the case of women entrepreneurs, 53% report needing less than $5,000 to get their businesses off the ground. Just 34% say they need more than $10,000 compared with 40% for all others.
Meanwhile, women who own microbusinesses are 68% more likely than men to say they want to convert a side hustle into their primary income.
Growing the business during the COVID-19 pandemic
By early 2020, Consuleo had two employees and nearly a dozen clients. She felt confident enough to rent an office.
The pandemic hit a month later and derailed everything.
As customers canceled, she moved in with her father to save money.
"No one knew what was going to happen, how long it would last," Consuelo says.
Almost ready to give up, she decided to give herself two months to learn some new tech skills that might help her drum up new business.
With the help of Communities Unlimited and someone she hired, Consuelo learned new tech skills and got her website listed in Google's local search directory.
Then the calls started coming in, slowly at first, and pretty soon with more frequency. "I no longer have to go find new customers," says Consuelo. "They come to me. And once I have them in front of me, I'm good at closing the deal."
In addition to making her website more discoverable, a Facebook page with glowing customer testimonials and a reliable staff have helped.
All of Consuelo's Cleaning Services workers now follow COVID-19 protocols and wear uniforms adorned with the business's logo. Even her 6-year-old son, who sometimes accompanies her on new customer visits, has a shirt with the logo. "It makes him feel he's part of the business," Consuelo says.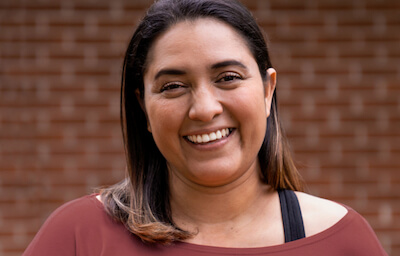 And while Consuelo still cleans on occasion, she spends more time in the office handling invoices, customer calls, inventory of supplies, and other matters. She also goes on site visits to ensure they're cleaned to her exacting standards.
Helping other female entrepreneurs
Her success has allowed Consuelo to dream big.
"I've got a long way to go before I reach my goals," she says. She wants to be able to give back, advising other women on how to start their own cleaning services, perhaps even as franchises under her name.
She's likely to find receptive ears. She believes a lot of women who lack basic business skills, English language proficiency, or access to capital could benefit from her experience.
"Maybe I can help them make fewer mistakes than I made," Consuelo says. "I'd really like to do that. It's a long-term goal."
Venture Forward
Venture Forward is a multi-year GoDaddy project looking at millions of microbusinesses, or ventures, across the U.S. and the economic impact they make on their communities and the nation. Our mission is to give a greater voice to these everyday entrepreneurs who help drive prosperity, reduce unemployment, and stay resilient in economic downturns by sharing our raw data and insights, in the spirit of making a more inclusive economy.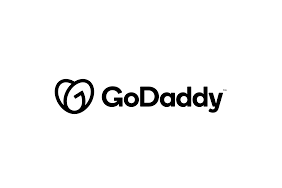 GoDaddy
GoDaddy
GoDaddy is empowering everyday entrepreneurs around the world by providing all of the help and tools to succeed online. GoDaddy is the place people come to name their idea, build a professional website, attract customers, sell their products and services, and manage their work. Our mission is to give our customers the tools, insights and the people to transform their ideas and personal initiative into success. To learn more about the company, visit www.GoDaddy.com.
GoDaddy focuses on making opportunity more inclusive for all in the communities where we work, live and play across the globe. We rally behind inclusive entrepreneurship and other critical local needs that empower people to succeed through philanthropic and in-kind donations, volunteerism, strategic partnerships and advocacy.
Empower by GoDaddy is GoDaddy's global community and philanthropic program equipping entrepreneurs in underserved communities with training, tools and peer networks to accelerate their journeys. GoDaddy rallies behind entrepreneurs in underserved communities by building their confidence and skills to strengthen their small business' digital presence.  Entrepreneurs engage in customized learning experiences, work 1-1 with GoDaddy volunteer coaches and local mentors, and gain access to wrap-around services, in-kind products and networks boosting their small businesses success.
More from GoDaddy