Published 04-08-22
Submitted by Enbridge Inc.

Society must move more forcefully to combat global warming, the world's top climate scientists warned Monday in a new report that says existing solutions and innovation offer hope—but not without action.
Enbridge welcomes the thought and discussion the study by the United Nations Intergovernmental Panel on Climate Change (IPCC) will prompt in the coming days. We are committed to building a bridge to the energy future, to remaining engaged and focused on such an important global issue, and to finding and implementing impactful solutions.
The IPCC said limiting global warming to around 1.5 degrees Celsius will require global greenhouse gas emissions to peak before 2025—at the latest—and be reduced to 43% by 2030. Global temperatures will stabilize when carbon dioxide emissions reach net zero, the report says. 
Here are some key initiatives Enbridge has taken in our quest to bridge to the energy future while continuing to provide access to affordable, reliable and increasingly sustainable low-emissions energy:
We are investing in our natural gas, renewable projects, and in low-carbon energy infrastructure—including renewable natural gas (RNG) and hydrogen. We believe that RNG provides a cost-effective way to decarbonize sectors like heavy transport. We have seven RNG projects either operating or under construction today and 55 in development in Canada, as well as another eight in development in the U.S. with more to come. We are taking action.
Enbridge was an early investor in hydrogen, with the operation of Canada's first utility-scale power-to-gas plant. This 2.5 MW hydrogen energy storage project (expandable to 5 MW) helps balance Ontario's electricity grid. We are also developing a renewable energy ecosystem based on hydrogen in Ontario and Quebec, with 10 to 15 hydrogen projects in development, and since we move about 20% of the natural gas consumed in the U.S., we are working actively to determine how much hydrogen can be blended into our natural gas transmission and distribution system there.
We currently have the capacity (either operating or under construction) to generate about 2,175 MW (net) of zero-emission energy through our renewable energy assets. We continue to pursue further investment in renewable projects designed to grow our existing European offshore wind portfolio. 
In November 2020, we announced greenhouse gas emissions reduction targets aligned with the ambitions of the IPCC and the Paris Agreement. While we have set and met GHG targets in the past, establishing a net-zero-by-2050 target represents a meaningful next step in our GHG emissions reduction journey.
Enbridge was recently awarded the right to pursue development of a carbon dioxide (CO2) sequestration hub west of Edmonton, Alberta. Once built, the Open Access Wabamun Carbon Hub will be among the largest integrated carbon capture and storage (CCS) projects in the world.
Learn more about Enbridge's commitment to reducing emissions and accelerating the energy transition here.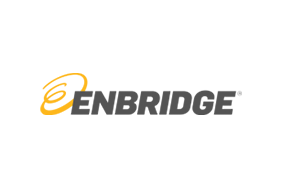 Enbridge Inc.
Enbridge Inc.
Enbridge's vision is to be the leading energy delivery company in North America. We deliver the energy people need and want—to heat their homes, to keep their lights on, to keep them mobile and connected.
We operate across North America, fueling the economy and people's quality of life. We move about 25% of the crude oil produced in North America, we transport nearly 20% of the natural gas consumed in the U.S., and we operate North America's third-largest natural gas utility by consumer count. Enbridge was an early investor in renewable energy, and we have a growing offshore wind portfolio.
We work collaboratively every day to provide safe, reliable energy. Enbridge connects energy supply with growing markets in North America through our three core businesses:
Enbridge was named to the Thomson Reuters Top 100 Global Energy Leaders in 2018; we were selected to Bloomberg's 2019 and 2020 Gender Equality Index; and we have been ranked among the Best 50 Corporate Citizens in Canada for 18 years running, through 2020.
Enbridge Inc. is headquartered in Calgary, Canada. We have a workforce of about 13,000 people, primarily in Canada and the United States. Enbridge (ENB) is traded on the New York and Toronto stock exchanges.
More from Enbridge Inc.