Published 04-07-22
Submitted by Pact
Roger-Mark De Souza is Pact's Vice President for Sustainable Markets. Over his more than 20-year career, De Souza has built social, economic, health and environmental justice and resilience programs, teams and movements across the world to encourage local ownership and empowerment. David Bonnardeaux is the Director of Pact's Environment practice. A seasoned environment and natural resource management practitioner, Bonnardeaux has more than 15 years of experience living and working across the globe, from Malawi, Ghana, Ethiopia and Zimbabwe, to Vietnam, Myanmar, Thailand, Mexico and Peru.  Cristina Villegas  is the Director of Mining at Pact. She specializes in rural development strategies, mineral sector governance and local capacity development, and has direct field experience across Africa, Asia and Latin America.  Matthew Cullinen is Pact's Renewable Energy Senior Director. He has extensive experience in research and program development in both the public and private sectors.
Why is ESG important?
There has been a  growing consumer interest in social and environmental corporate responsibility, with consumers demanding not only high standards of sustainability but also quality in employment from prospective employers. Value chains are global and as such, investors have the unique power to hold companies accountable for child labor practices, environmental degradation and poor governance through divestment or the funding of competitors. And policymakers and regulators see ESG frameworks as a way to leverage the corporate sector in the fight against social and environmental problems such as climate change and racial diversity in the workplace, for example. In many geographies, ESG reporting will soon become mandatory. For example, 50,000 large and listed companies in Europe will soon have to follow rules under the Non-Financial Reporting Directive, which requires companies to disclose information on their social and environmental challenges.
At the same time, companies with robust sustainability strategies have shown to be more resilient in the face of crises such as the ongoing Covid-19 pandemic, or climate-related impacts, and in turn are more attractive to the ever-growing ESG-savvy investors.
How can we better understand companies' progress on ESG?
There are a multitude of ESG metrics and reporting frameworks, in many cases inconsistent and non-comparable. Nevertheless, there is a drive to simplify the process and ensure better alignment and transparency to verify and assure companies are delivering on their ESG goals. At COP26 a major step was taken to globally align ESG reporting, with the creation of the  International Sustainability Standards Board, which will provide the foundation for consistent and global ESG reporting standards.
What are some of Pact's key ESG offerings?
For more than a decade, we've worked in the  mining  sector supporting companies that are improving conditions for miners, mostly artisanal and small-scale miners. In central Africa, Pact implements ITSCI, a traceability due diligence program for the responsible sourcing of tin, tungsten and tantalum. Our programming also helps stop child labor in mining and boosts women's economic empowerment, labor rights and worker safety for miners, who historically have been some of the most exploited yet vital laborers on the planet. Our  Moyo Gems program  is a great example of how we empower miners to earn fair prices through ethical sourcing.
In the  environmental  space, Pact provides technical advice on sustainable production methods and agricultural and forestry practices with an emphasis on mitigating the impacts of climate change. We also develop financial models and connect sustainable business models with responsible investors. In addition, we help companies to work with local communities to align their practices with sustainable certification standards, allowing them to access new markets. In Madagascar, for example, we're helping local businesses to obtain Green Globe certification for sustainable tourism.
In the realm of  livelihoods, Pact supports better access to finance and jobs in communities in private sector value chains, and we build understanding of labor rights and access to labor and social protections. Our work on  energy focuses on expanding access to renewable energy and on helping communities to use energy productively, such as to farm more efficiently and increase local incomes. We offer corporate consulting to identify future energy-related opportunities that will help end energy poverty. 
What does the future hold for Pact's ESG work?
Climate change. The Covid-19 pandemic. Gender, racial and income inequality. Human rights violations. These are just some of the critical global challenges that the private sector can help to address. ESG is one key way to ensure that companies and organizations are doing their part, and NGOs like Pact also have an important role to play.
In addition to expanding work with our current ESG partners, we have a lot to offer new partners. We believe there is greater opportunity for traditional and electric vehicle companies, as well as tech companies. We are already working in the Democratic Republic of Congo to  build responsible supply chains for cobalt, a key ingredient in the batteries that power electric vehicles and portable consumer electronics. There is a great need going forward to ensure that these components can be sourced without forced labor, child labor and major environmental degradation.
We also see a lot of opportunity to improve ESG outcomes through partnerships with electric utilities and energy equipment manufacturers, to ensure that electricity is a resource available to all of us, rather than just the privileged. We also hope to partner with apparel companies, as there is a lot of progress to be made globally in labor rights and protections in the garment industry.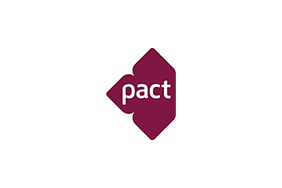 Pact
Pact
Pact is an international nonprofit that works in nearly 40 countries building solutions for human development that are evidence-based, data-driven and owned by the communities we serve. Founded in 1971, Pact works with partners to build resilience, improve accountability, and strengthen knowledge and skills for sustainable social impact.
More from Pact