Published 04-05-22
Submitted by CRB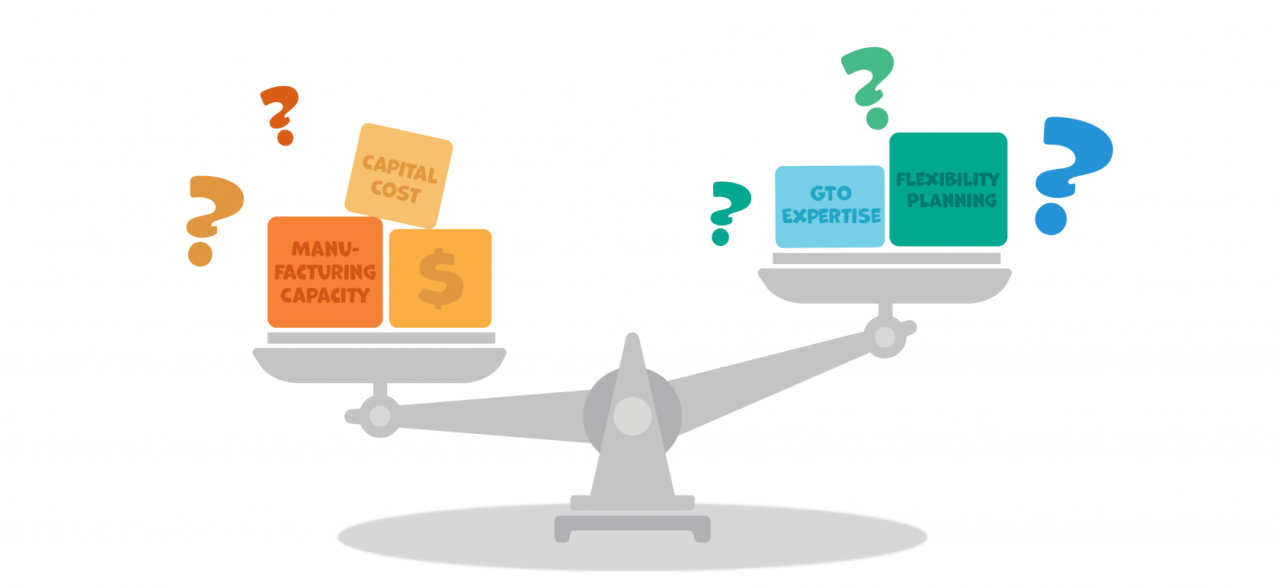 Commercializing cell and gene therapies efficiently requires timely decisions about whether to engage a CDMO or develop internal manufacturing capacity. Sometimes the best solution is to do both.
The speed with which innovative cell and gene therapies (CGT) are being developed and marketed is astounding. Globally, there are more than 60 approved CGTs, with thousands of candidates in clinical trials. But getting these promising therapies to market can be daunting for both startups and established biopharmaceutical companies, even those with extensive manufacturing experience.
Drug developers and manufacturers hoping to scale up the production of CGT products have identified significant challenges that extend through clinical trials to commercial production. These include a lack of:
Adequate existing manufacturing capacity to meet demand.
Expertise required for the transition from manual, open processes that drive R&D to the closed, automated processes of large-scale manufacturing.
Available skilled workers across the manufacturing areas.
Startups to mid-size biopharmaceutical companies need to weigh the pros and cons of whether to build the internal capacity to manufacture their own drug candidates or outsource that production to a contract development and manufacturing organization (CDMO). Many factors impact the efficiency and cost-effectiveness of that ramp-up effort, including manufacturing capacity, capital cost, sourcing cell and gene therapy expertise, and planning for flexibility. Biopharmaceutical companies need to weigh these different factors to determine what path is best for their needs.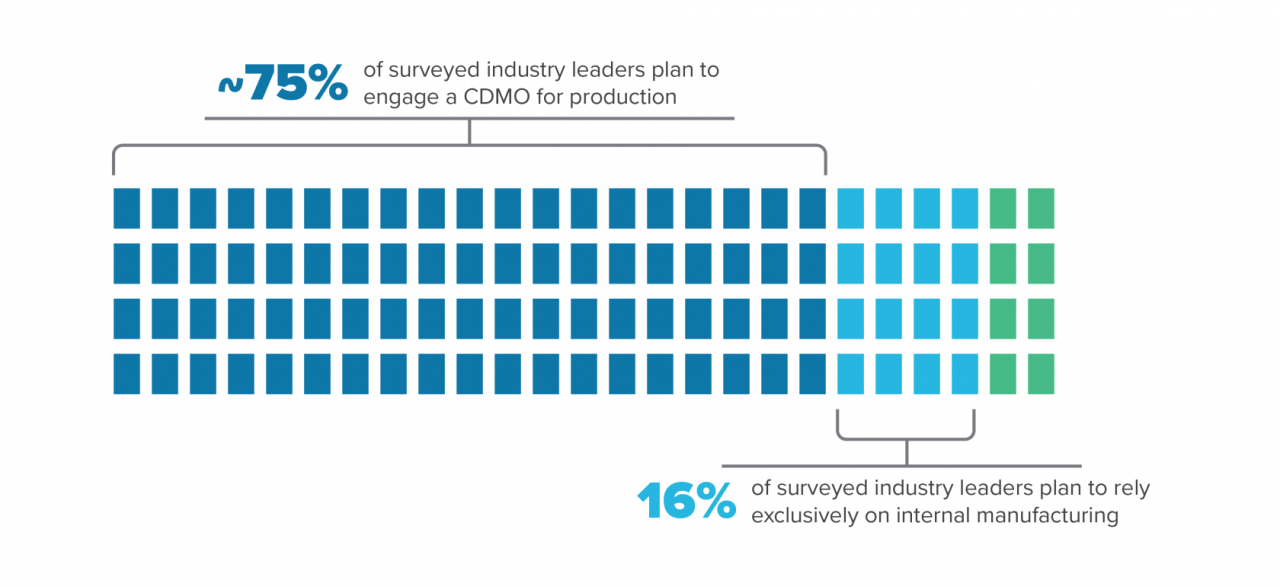 Startups are more likely to partner with a CDMO
In addition to a potential lack of existing capacity, smaller companies whose therapies are still moving through their R&D or clinical pipeline may lack experience with commercial manufacturing. They may run into challenges with capital demand, their ability to establish a robust quality program, and understanding GMP regulatory requirements.
A company with a strong research focus may benefit by hiring a CDMO that can provide it with the regulatory experience needed, including multiple site inspections, process validation, and product approvals. This is reflected in responses from the more than 500 industry leaders we surveyed for our Horizons Life Sciences 2021 report. Almost three-quarters of those at startups plan to engage a CDMO for production while only 16% plan to rely exclusively on internal manufacturing. A CDMO is designed to meet GMP requirements and understands how to collect data and build quality into the process, smoothing the path to regulatory approval.
Alternatively, a startup wanting to bring production in-house can hire consultants to design and construct its new facility that will meet GMP requirements and include the necessary support functions to manufacture CGTs at scale.
Larger biopharmaceutical companies are more likely to use internal manufacturing or a combination of internal and outsourced production. This occurs because established companies—even those new to the CGT sector—have the capacity and workforce to bring drug products to market and are likely to have more capital available to build a new facility.

Manufacturing capacity continues to constrain production
Biopharmaceutical companies looking to outsource CGT production are hampered by the continued industry-wide lack of availability of manufacturing space. In fact, there can be up to a two-year wait to rent manufacturing space from a CDMO, which is a challenge for those unable to project their process requirements that far in advance while still working through process development. Building internal capacity becomes more attractive in these conditions.
The decision hinges, largely, on predicting the probability of a successful clinical trial. If a company is bullish about the prospects of its therapy, then it needs to decide whether to reserve future space at a CDMO or begin a feasibility study for building its own facility.
Building a new facility, or retrofitting an existing one, however, also impacts the schedule of commercialization. It involves design, construction, and commissioning qualification, a process that could take approximately two years. Additionally, 92% of the industry experts we surveyed indicated that they had experienced a shortage of consulting, design, and construction service providers, with almost one in five stating this shortage was extreme. Given this timeline, the earlier a company can plan its production strategy, the better, which also allows for building in strategic flexibility.
Fortunately, CDMOs are rising to meet the demand for production by expanding existing manufacturing space for advanced therapies, while more companies are entering the sector. Within five years, there should be increased capacity to relieve the current pressure to scale up production. In the meantime, the need continues to design and build new CDMO facilities to alleviate this bottleneck.
Capital costs can impact the decision
When considering whether to work with a CDMO, a company will have to assess the relative merits of minimizing the capital costs of construction and the purchase of expensive manufacturing equipment versus shouldering the recurring cost of leasing space. A hybrid option may be feasible, depending on initial funding, in which a company starts with a CDMO and then, when there is more capital later in the product life cycle, considers bringing production to in-house manufacturing. One thing to keep in mind with this option is the challenge of moving out of a CDMO if the company does not have access to the CDMO's process-related data.
Case Study: Overcoming a lack of access to process IP during a tech transfer
Our client was a startup with a promising gene therapy progressing through clinical trials. Early on, to minimize capital costs and increase speed to market, the startup hired a CDMO to produce clinical material, with the long-term goal of constructing a new facility and bringing production in-house. It contracted CRB to design and build that in-house manufacturing using ONEsolution™, our integrated project delivery method.
The startup hit a hurdle when it came time to pull batch information on the manufacturing process from the CDMO, which maintained proprietary intellectual property (IP) that included process parameters. This meant that our client was unable to access information about its own product from the CDMO, such as the manufacturing documentation, batch records, and the quality testing requirements. This caused two main challenges:
The startup had to re-develop its manufacturing process
CRB had minimal information with which to design and build the new facility
Without owning the process used for its clinical materials, our client needed to reverse engineer which parameters were critical; it ran the risk of having the clinical data nullified if the re-developed process did not resemble the previous one.
This can cause heavier time and capital investment during or after clinical trials than was initially anticipated, potentially setting startups back. We recommend that any company planning to outsource to a CDMO insist, ahead of time and in the contract, on access to the information it will need to internalize the manufacturing process. In other words, the company maintains the right not only to sell the cake, but also to the recipe to make the cake.
To create a basis of design, we collected the available process information and requirements. While we didn't have access to the CDMO's detailed manufacturing information, we were able to make assumptions about the process using our experience on other gene therapy projects with the same viral vector. Designing in flexibility was key to give the start up more room for change and growth as they develop their manufacturing platform.
Lack of skilled labor can hamper progress
Taking a new CGT drug candidate from the lab to commercial production requires a diverse, highly skilled, and trained workforce. Finding these resources has been a concern for some startups, which have identified a lack of skilled labor as a top driver for their decision to work with a CDMO. This sidesteps the need to hire and train qualified experts who are familiar with advanced manufacturing processes.
Building in flexibility is key during the design phase
Given the speed with which process development is evolving, flexibility—in terms of equipment, space, and staff—is essential in the design of all projects in the cell and gene therapy field. Biomanufacturers need nimble clean rooms and support areas for commercial-scale facilities that maintain the flexibility necessary to keep up with the industry's continuous changes and innovations, thus protecting the value of its manufacturing assets. To make that level of flexibility happen, manufacturers need an adaptive space and a plan for continuously assessing that space throughout project delivery.
For those planning internal production, considering flexibility early on ensures adaptability for any changes in process development that are likely to occur during the facility design cycle. And, if you are considering a CDMO, it is important to understand its capabilities and if there is sufficient flexibility to meet your needs. CDMOs tend to have different clients, with different CGT products, and should have a facility that is adaptable to a range of products.
Planning for this will depend on the type of advanced therapy to be manufactured, processing techniques, and the equipment needs. In most cases, the product type is known (e.g., an autologous cell therapy) and project owners can narrow the parameters based on industry expertise.
Some variables to keep in mind include:
Increasing production for autologous cell therapies requires scaling out production, while allogeneic cell therapies can be scaled up. This impacts clean room square footage and equipment requirements.
Switching from adherent cell culture to suspension culture is a transition that many foresee impacting manufacturing processes. Suspension cultures rely more on automated processes, one of the most impactful technological advancements in manufacturing. Suspension cultures can use single-use bioreactors, and allow larger culture volumes in a smaller footprint to increase production value.
Biomanufacturers will want to source labor with a range of skills and experience who are capable of running processes for different products and adapting to different batch schedules should this be required.
Ready to scale up your cell and gene therapies?
Scaling production of advanced therapeutics requires a difficult choice: whether to build and develop your internal manufacturing capabilities or lease space from a CDMO partner. By considering your manufacturing needs, capital costs, and need for flexibility, we can help you make this decision.
Let's talk about the support you will need to commercialize your CGT product.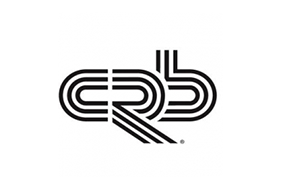 CRB
CRB
CRB is a leading global provider of sustainable engineering, architecture, construction, and consulting solutions to the life sciences and food and beverage industries. Our innovative ONEsolution™ service provides successful integrated project delivery for clients demanding high-quality solutions -- on time and on budget. Across 21 offices in North America and Europe, the company's nearly 1,800 employees provide world-class, technically preeminent solutions that drive success and positive change for clients and communities. See our work at crbgroup.com, and connect with us on social media here.
More from CRB