Published 03-31-22
Submitted by Carol Cone ON PURPOSE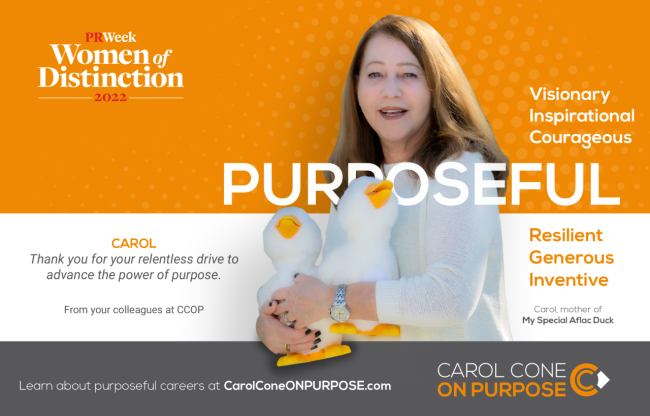 NEW YORK, March 31, 2022 /CSRwire/ - PRWeek's Women of Distinction and Women to Watch honors communications pros who set the bar higher within their organizations.
Out of over 250 nominations, PRWeek selected 26 women to be inducted into the 2022 Women of Distinction class, including Carol Cone, CEO of Carol Cone ON PURPOSE. Cone is best known as the "pioneer of purpose," having launched the business + purpose movement in the early '80s. Since then, she has helped hundreds of brands, companies, and nonprofits launch movements, save millions of lives, and raise billions of dollars for causes.
"I am honored to have been selected for this designation, especially given the incredible achievements of the other honorees," said Cone. "This is an elite group of women who are changing the world in profound ways."
One of Cone's most recent initiatives is My Special Aflac Duck, a social robot she conceptualized for Aflac to help pediatric cancer patients cope with their treatments.
Now in its seventh year, PRWeek selects women who have achieved success within their own organization, inspired colleagues and, through innovative and transformative work, elevated the practice of public relations to new heights.
"Every single Women of Distinction and Women to Watch honoree is a role model. They have proven themselves to be tireless, fearless, compassionate and effective business leaders — especially in recent times of crisis; but even more important, they are, quite simply, good people. Many spend their spare time raising up other women in the industry by educating, empowering and advocating for them," says Diana Bradley, associate news editor at PRWeek.
The 2022 Women of Distinction will be profiled in the March-April print issue of PRWeek and honored at a celebratory event on June 9 in NYC. This event will feature networking and panel discussions with experts providing women with the tools and insights needed to help them chart a path all the way to the C-suite.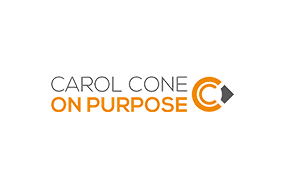 Carol Cone ON PURPOSE
Carol Cone ON PURPOSE
Carol Cone ON PURPOSE is a pioneering consultancy helping companies, brands, and organizations harness the power of social purpose to advance their business and social impact. CCOP's proven approach meets clients at any point on their  purpose journey to unlock opportunities to build reputation, inspire employees, exceed financial targets, and support the greater good. The consultancy is led by Carol Cone, regarded as one of the founders of the purpose movement in the early 1980s and has been internationally recognized for her work.
More from Carol Cone ON PURPOSE