Published 03-30-22
Submitted by Carol Cone ON PURPOSE
Eat, Play, Love with Ella's Kitchen
"Don't play with your food" may be a phrase you heard as a child, or perhaps have said to your own children. As it turns out, children really should be playing with their food. Because when they do – especially with vegetables – they're more likely to eat them later in the day and in the years to follow.
Today, 30% of UK children are classified as overweight or obese by the time they turn 5. Ella's Kitchen, the UK's number one baby food brand, believes intervention is coming too late. The company's purpose–to improve children's lives through developing healthy relationships with food–started with founder Paul Lindley in 2006 and lives on today with CEO Mark Cuddigan. Determined to raise the next generation, Ella's Kitchen has marched on the House of Parliament with children, engaged retailers, launched new products, made healthy products more affordable, and launched informative campaigns. In addition to caring for the health of their little consumers, Ella's Kitchen is implementing sustainable practices into operations and bringing its supply chain partners along for the journey.
We invited Mark Cuddigan, CEO of Ella's Kitchen, to share how he advanced the company's purpose and sustainability initiatives since taking over from Lindley.
Listen for Mark's insights on:
How a new CEO can sustain and advance a company's purpose while leaving their own mark after the departure of a founder.

How to maintain a values-based culture after a company has been acquired.

How to help supply chain partners adopt sustainable and purpose-driven practices.

Why it's sometimes okay to take a financial loss if an investment advances purpose over the long term.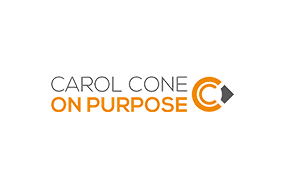 Carol Cone ON PURPOSE
Carol Cone ON PURPOSE
Carol Cone ON PURPOSE is a pioneering consultancy helping companies, brands, and organizations harness the power of social purpose to advance their business and social impact. CCOP's proven approach meets clients at any point on their  purpose journey to unlock opportunities to build reputation, inspire employees, exceed financial targets, and support the greater good. The consultancy is led by Carol Cone, regarded as one of the founders of the purpose movement in the early 1980s and has been internationally recognized for her work.
More from Carol Cone ON PURPOSE